Harmony in the face of discord: the best music of 2016
Album of the year: In 2016, Jessy Lanza yelled (and sang) "Oh No" with the rest of us
Hang on for a minute...we're trying to find some more stories you might like.
In a banner year for music — with career-best albums from legends like Beyonce, David Bowie and Radiohead — Jessy Lanza quietly released album of the year "Oh No," a gospel for the dancefloor as tense and insane as the year in which it was released.
Jessy Lanza is a smalltime pop maestro hailing from Ontario who can craft a catchy hook as much as she can be ruthlessly experimental. She's a talented singer and producer, in the vein of R&B greats like Aaliyah or Sade, heavily influenced by hip-hop and classically trained as a jazz musician. She would seem primed to shoot to the top of the charts — but her music deals in anxiety, not ecstasy, and that's what sets Lanza apart.
That nervy, relentless energy comes from the album's beats, which make "Oh No" the total headrush that it is. Every track except the brief intro is absolutely skittering, even the "slow" songs. "Going Somewhere" should be, in theory, a soft, crooning ballad — but Lanza laces it with a beat like a hand tremor as she grows increasingly desperate, her voice starting to crack and plead towards the end. That might sound weird. And it is, but listen to it once and that drum machine will ricochet between your ears enough times to get lodged in your brain. It's one of many non-love songs on the album that is less romantic and more frustrated — one of "Oh No"'s many relatable qualities. The unhinged "Vivica" works in the same headspace, a song that descends into an awesome incoherence, all rattling drums and impassioned vocals that are positively electrifying. It also exemplifies Lanza's ability to musically tease with minimalism — after a long, airy introduction, she suddenly drops these monster synths at what seems like just the right moment. It's total ear candy, tough to chew on, but incredibly addictive.
Lanza's voice also deserves a nod. She took a major risk on "Oh No" by disregarding the conventional vocal chops she showed off on her first album, and contorting her voice to fit the track at hand — and it totally pays off. Lanza's usual register is blissful, breathy and controlled — think Ariana Grande with more air — but that's mostly gone here. Instead, she plays with her voice like another instrument, artificially increasing its pitcj so it sounds childlike, and sometimes breaking her voice to achieve an effect that only heightens the nervousness. Her breath is also all over this album, in a very '80s fashion — she yelps, gasps or exhales to accent these tracks at every turn. But none of this actually induces the cringe it very well could have — it feels right, and that's a testament to her abilities.
A lot of albums in 2016 were politically and socially conscious — Beyonce, Solange, Frank Ocean and Kendrick Lamar all released LPs in this vein — but Lanza's album just feels conscious, emotionally attuned in a way that's difficult for most artists to achieve. Much of the album deals with relationships in some way; the songs frequently deal in jealousy, annoyance or rejection, all these banal emotions that are forgotten or seen as unimportant. But "Oh No" imbues the everyday with energy and fire in its music even as Lanza sings about what would be considered pathetic situations: she pleads "say you love me," her voice breaking; she yells out, "It's never enough for you," almost sounding petulant, but the track in question ("Never Enough") stomps so hard that she doesn't seem weak or pitiful. This leaves Lanza herself in an unusually vulnerable position on the album, which makes it so easy to connect with. The brilliant, neon-dripping title track "Oh No" sees her dealing with an existential crisis in her relationship, leaving her unable to say much else but the title, over and over again. The album climaxes at the instrumental bridge of this song, when the instrumentation becomes a dizzying siren in a moment of unexpected beauty.
All that said, "Oh No" does reflect some of the unfortunate realities of living in 2016. Single "VV Violence" is a fun bubblegum pop track you'll never want to spit out until you realize it's about a neo-Nazi who would harass Lanza at her studio. And then there's lead single "it means i love you," which turns a quasi-love song on its head and reveals itself to be a frustrated anthem about catcalling in a bit of lyrical genius. It's also one of the best songs of the decade.
Pages could (and should) be written about "it means i love you," the album's glimmering centerpiece. "It means i love you" thankfully got a bit more attention than "Oh No" itself, and for good reason: the song is intoxicating, music that gets straight to the bone. The song, like much of "Oh No," is defined by a heady mix of world influences here: there are tinges of South African electro, Chicago footwork, Japanese pop and more. It should be a Frankenstein monster of a song, but it's not. It's all anchored by a tabla sample, of all things, which is heavensent. It could have coasted from here, but its true power comes as it builds to a fever pitch with an increasingly harried drum pattern that skitters off the wall as Lanza loses her mind vocally all over the track. The lyrics are also funny and brilliant — don't be put off by whatever "agenda" you think she might have by discussing an issue like catcalling. Lanza doesn't work with Very Important Social Issues; she works in the micro, human realm of connection, so the lyrics deal in a very specific incident and a very specific frustration. Here, her emotional directness is perfect — "You know that you don't belong" — and her frustration is as universally palpable as it is danceable. And it is seriously danceable — this thing hits your feet like a virus.
The only exception to "Oh No"'s general chaos is the soft intro, "New Ogi," which seems like the quintessential electro-pop song, something Madonna or Ariana Grande would sing over. But still, Lanza leaves her mark, because there's something a little off — these plush, lovely synthesizers approach the makings of a chord progression but refuse to actually finish it, going back in circles, leaving the melody unresolved. "Oh No" manages to find tension wherever it may venture musically; in the end, it's all unresolved conflict, unanswered pleas, unsolved annoyances. But it's deeply gratifying to hear, pop music that gets in your bones and everywhere else, really — and perhaps the biggest compliment I can give "Oh No" is that you can't ever quite pin down why, but you're going to go back to the dancefloor to try to figure it out anyway.
Must Listen: "it means i love you"
Other Albums of the Year:
RY X's "Dawn":
This Australian songster does Bon Iver one better — it's still mellow, gentle folk, but laced with luminous synths and strings, giving this a unique kick. RY X's voice is also uniquely fantastic — softly whispered but powerful all the same. Listen for that marvel if nothing else.
Must Listen: "Haste" is the kind of song that's so good you want to listen to it even more than the already-excellent stuff it sits between — an atmospheric torch song that turns into a wildfire dance anthem by the end, this one's yearning, electro-pop heaven.
Solange's "A Seat at the Table":
After eight years, Solange surprise-dropped this amazing LP that is as calming as it is seething with rage about racism and injustice in America. These softly beautiful tracks contain powerful, searing messages about cultural appropriation ("F.U.B.U") and empowerment ("Rise") that only increase their punch.
Must Listen: "Scales," a brilliant duet with Kelela about self-worth, with shy, knotted vocals that bloom in your ears before you know it.
Frank Ocean's "Blonde":
Another surprise drop, Frank came back this year in a big way with a daring opus as gloomy as it is quietly rousing. Like "A Seat at the Table," the album's general chill is belied by a sense of righteous fury, but it remains satisfyingly intimate.
Must Listen: Though fan-favorites "Ivy" and "Pink + White" are fantastic, "White Ferrari" is a particularly genius song that feels like pop inverted, taking the excess — of money, love, fun — common to most pop songs and casting it all as a haunting, drugged-up fantasy.
Death Grips's "Bottomless Pit":
These Sacramento recluses surprise no one with yet another fantastic release — their sixth in as many years — that still completely demolishes most hip-hop in its wake. They are still one lightyear ahead of the pack, even as many artists (i.e. Kanye) try to co-opt a hollow version of their sound — this stuff goes harder than most death metal albums but is miraculously pop-influenced. They just keep winning.
Must Listen: No one could say how, but "Houdini" is infectious, ecstatic and impossibly nihilistic at the same time, just as elusive and gripping as a great magician.
Danny Brown's "Atrocity Exhibition": Fringe rapper Danny Brown gets — somehow — even weirder on this album, which easily lives up to its the name. This is mind-blowing rap music, both because of its quality and the simple fact that it exists. He raps over beats that are like shambled sonic trash, but he finds gold in it. Kendrick Lamar features.
Must Listen: "Dance in the Water" is a joyous congregation, with a heart-stopping beat and a bass lick as catchy as anything this year.
Angel Olsen's "MY WOMAN":
This '60s-inflected LP from the acclaimed singer-songwriter has something for everyone: the irresistible uptempo pop of "Shut Up Kiss Me" to the slow balladry of "Woman" and the particularly haunted "Sister." Olsen kills it in whatever lane she chooses, and that it remains coherent — despite having as many types of songs as it does songs — is a marvelous achievement.
Must Listen: Piano ballads have a very, very low success rate, but "Pops" is a winner: ghostly, beautiful and satisfying.
Mitski's "Puberty 2":
Easily the rock record of the year, Mitski Miyawaki's treatise on happiness and growing up is brutalizing in the best way — just when it gets too harsh, she upends the noise with a stunning melody or vocal line and you're addicted all over again.
Must Listen: "Happy" hits you like a train — the drums sound as relentless — but a killer chorus keeps it stuck in your head.
Fakear's "Animal":
Paris has a burgeoning dance music scene, and Fakear is its star — these tracks are a reminder of the simple pleasure music can bring. He builds these churning dance tracks from small vocal samples and synth melodies into addictive monsters. This stuff is pure, easy and fun.
Must Listen: "Ankara" sounds utopian, a song people in 2050 would get down to, channeling pure bliss. That it's here already is thrilling.
Beyonce's "Lemonade":
Some might say that "Lemonade" commodifies social justice, inauthentically exploiting it to advance Beyonce's career. Those people are probably right but it doesn't matter because this album is still a powerhouse, the best mainstream pop album in years — a heady mix of R&B, indie rock and soul all topped off by Beyonce's killer voice.
Must Listen: "Freedom" is murderous and hopeful at the same time, with a great verse from Kendrick Lamar and that chorus, a soaring burst of horns that feels liberated.
Jenny Hval's "Blood B****": Closer to pure insanity than anything from this year, this avant-garde pop album is as fun as it is strange. Some of the songs here are spoken-word interludes, and some even just collages of sound — but underneath it all is an undeniable pop sensibility. It's probably the most "difficult" album on this list but, once untangled, just as satisfying.
Must Listen: "Conceptual Romance" is one of the best singles of the year, a hushed and stripped-back synth ballad that sounds like a rickety haunted house. But it's less horror and more existential dread as Hval deals with that universal struggle to be vulnerable with someone — and, in doing so, produces one of the most lovely songs of the year.
Youth Code's "Commitment to Complications": This album sounds like a miracle, a musical blender of genres that outputs something close to the "Stranger Things" soundtrack, except fast, loud and blaring. Youth Code spin together horror and magic until they sound inseparable and altogether exhilarating.
Must Listen: "Glass Spitter," like much of the album, is exalting, heavenly and pummeling. It doesn't need to make sense on paper, because it will in your ears.
Apothek's "Apothek":
Synthpop at its finest, this Norwegian duo's debut is totally singular, a set of melodic gems that gleam with fantastic hooks and singer Morten Myklebust's crooning vocals. Though it's synthetically crafted, it feels like anything but — there's a visceral, operatic quality here that feels somehow new and ingenious.
Must Listen: There are several gorgeous moments on the album, but "Waiting for the Thunder" is electric, shimmering and soaring with Myklebust's fantastic voice.
Huerco S.'s "For Those of You Who Have Never (And Those of You Who Have)": This bucolic release from the prodigious ambient producer Huerco S. will go down as one of the great ambient albums. Soft enough to lilt in the background but elusive and beautiful enough to hold your attention rapt, this is music for everyone, especially for those of you who have yet to listen.
Must Listen: Ambient is best taken in the album form, but "Lifeblood" is as good a place to start as any. Huerco takes a jagged string sample — like a violin just slipping out of tune — and loops it into a cascading, rhythmic melody that's utterly transportive.
Jay Som's "Turn Into":
Jay Som is the alias of Melina Duterte, a talented songwriter who crafts intimate pop dreamscapes with little more than a guitar, her voice and a synthesizer. The songs here are slow, meditative and frequently stunning.
Must Listen: "Unlimited Touch" is a capsule of pitch-perfect dream pop, Duterte pairing beautiful choral vocals with her languid guitar to brilliant effect.
Preoccupations' "Preoccupations": An album of bottled-up nervousness set to pop — one of the songs here is literally called "Anxiety" — this rock band formerly known as Viet Cong turn noise rock into something beautiful on this memorable LP. It's probably too short, but it's all gold.
Must Listen: Closing track "Fever" is one of the best musical catharses of the year, as a rising synth melody bumps against singer Matt Flegel's fading voice. There are no answers, but in that uncertain space Preoccupations find beauty and meaning.
Not an album person? Check out our Spotify playlist compiling the best tracks from last year:

About the Writer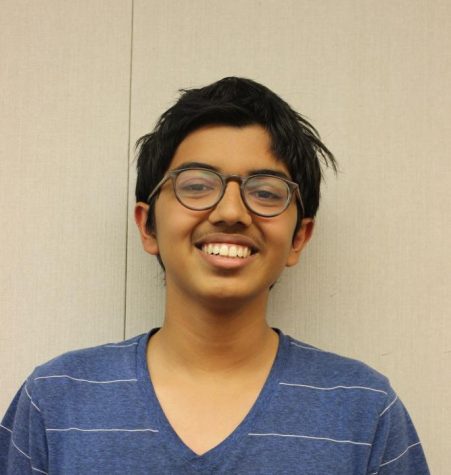 Armaan Rashid, Editor-in-Chief



Armaan joined this class because his friend told him it was fun. He didn't take it too seriously at first, but...

...in his first year he became super interested in the class, and was Assistant A&E...