Grimes becomes an "Art Angel" with daring, vital new album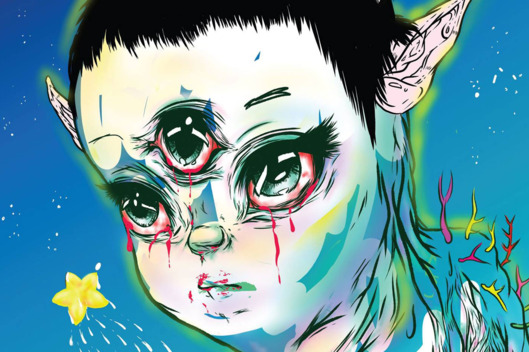 Even those unfamiliar with Canadian singer-songwriter Grimes (AKA Claire Boucher) will most likely enjoy her radical "Art Angels," a big step away from her previous works, ditching the stylized "witch house" genre in favor of '90s and 2000s dance-pop. Love it or hate it, Art Angels brings bigger beats and stronger vocals to the table, with some like-minded musical guests for the ride.
Following a momentous, dramatic string introduction, listeners are taken in head-first by "California," which samples Rihanna's star-making "Pon de Replay." It sounds like a Hannah Montana B-side, but in a good way. As per usual with Grimes, a sinister vibe underpins the track, with lyrics about exploitation and vapidity, as Grimes' voice strains over it all. The tables are quickly turned with single "SCREAM," a highly unconventional track featuring vocals by Taiwanese rapper Aristophanes with an occasional sample of Boucher herself howling. The repetitive guitar lick grows in intensity until the tune's insane climax. The strongest single by far, however, is "Flesh without Blood," the sweetest breakup tune of 2015, featuring gleefully weak guitars and a great performance from Boucher herself. Title track "Artangels" feels like a better-structured version of "California," topped with filter sweeps hearkening back to Eiffel 65's "Blue." In "Kill V. Maim," a previously unheard bubble-punk growl roars over electric guitar and insane synth melodies descending towards madness. "REALiTi", "Venus Fly" and "Butterfly" stand out as dancepop filtered through Grimes' idiosyncratic and detailed ear for melody and rhythm.
Regardless of her decision to head for a more accessible sound, Grimes is too unique to disappear completely because of it. To more dedicated Grimes fans, this shouldn't be a shock — her sound has been known to be an eclectic mix of styles that shift frequently and dramatically. "I go through phases a lot," she claims.
Perhaps most intriguing are the varied and interesting lyrical sentiments Grimes peppers throughout "Art Angels." On the biting "California", Boucher lampoons the boxing-in of her persona: "California! / You only like me when you think I'm looking sad." On "Flesh without Blood," Grimes ironically kisses-off those who would judge her for going mainstream and peg her as "just another popstar," using mainstream instrumentation as counterpoint. But Grimes finally destroys any doubts her fans may have and asserts her artistic integrity on the album's thesis, "Butterfly", with a beautiful chorus: "Why are you looking for a harmony? There is harmony in everything." Grimes offers up some food for thought and throws away any preconceptions, asserting herself as an artistic force who can, and will, find harmony in everything.
Other Notable Releases:
Adele's "25": A predictably great release from the pop powerhouse showcases Adele's somehow even stronger vocals, forgoing her usual piano dirges for a more eclectic mix of sounds. Country-tinged acoustic guitar, compressed bass lines and grandiose strings back up some fantastic melodies, courtesy of more upbeat and varied piano tones. It feels adequately hopeful in being a "make-up record," but the lack of intimacy on some songs here — swallowed by the epic scope of some tracks — lessens the emotional wallop her songs usually pack.
Should have been a single: The powerhouse "Water Under the Bridge" crystallizes Adele's make-up with herself, featuring a classically great performance overlaying infectiously syncopated guitar leads and some great multitracked harmonies and pianos on the chorus, forming a catchy and blissful yet still powerful pop tune which earns its catharsis after so much heartbreak and reflection.
Oneohtrix Point Never's "Garden of Delete": Experimental electronic auteur Daniel Lopatin stuns yet again with a fantastic seventh release on Warp Records, using waves of synthesized melody and dissonance to pack a serious and complex emotional punch throughout a quick 45 minutes. The instrumentation is an indescribable palimpsest, samples and synths distorted beyond recognition, but the sparse lyrics on display in some tracks form an interesting narrative around sonic chaos.
Should have been a single: "Mutant Standard" forms the eight-minute, shining center of "Garden," featuring an ebb and flow that keeps the listener on the edge of their seat until waves of melody and dissonance overtake the song at its climax to great effect.
Logic's "The Incredible True Story": The Maryland-based rapper's sophomore effort is a grandiose concept album, lasting over an hour, that fails to sustain much of its length with weak bars only buoyed by consistently great instrumentals. The diverse, sample-based collection of guitars, synths, twitchy hi-hats and occasional piano is absolute earworm heaven that will stick in your head while a murky narrative fades.
Should have been a single: "Lord Willin'" stands out with interesting lyrics (in contrast with much of the LP) and a constantly evolving instrumental which jumps from synths to expertly placed vocal samples to a glorious string paean all in the span of four minutes.
Jamie Woon's "Making Time": The London-based singer-songwriter, famous for working with dance music duo Disclosure, FINALLY releases his sophomore LP, a gloriously slow-burning collection of post-dubstep infused with a lounging vibe which lets the album's many emotional zeniths creep up on you. The eclectic sounds include punchy 808s, atmospheric synths, vocal samples distorted beyond repair and Woon himself, with a voice as amorphous as the instrumentals in which it is featured.
Should have been a single: "Celebration" features Woon's voice paired with an acoustic guitar instrumental and some horn flourishes which mix to great effect on the chorus.
Arca's "Mutant": The Venezuelan producer returns just a year after his debut with a cluttered, aimless and shockingly boring second release after gaining fame by working with powerhouses Kanye West and FKA twigs. The industrial, abrasive synths and rhythms blend together during the overlong LP, failing to form any interesting melodic or rhythmic patterns which are the slightest bit memorable or evocative.
Should have been a single: "Vanity" piques interest with some jittery stop-start rhythms underlying percussive piano tones distorted beyond belief, interesting for the track's sadly short length.
Justin Bieber's "Purpose": A generally well-meaning but completely bland fourth release from the polarizing pop star. Bieber's vocals range from emotionally evocative zeniths to sad, dispassionate croons for whatever girl has wronged him. The lyrics are INCREDIBLY inane and sexist, usually unintentionally, and the instrumentation has the same identity crisis as much of pop music today. It's an eclectic mix of EDM, traditional synth-based dance tracks and piano ballads which are catchy, but doesn't offer any sort of melodic depth that truly sticks in the brain.
Should have been a single: Forget English for a few minutes and enjoy the forgettable dance track "Children", another Skrillex contribution, which is uplifting and well-produced (the resonant tropical rhythms on the chorus are great) and actually fun, unlike most of the over-serious LP — try your best to ignore the awful, trite lyrics.
Iglooghost's "Chinese Nü Yr": Absolute insanity from the 17-year-old producer becomes palatable and extremely enjoyable with eclectic, too-fast-to-process melodies and rhythms which haunt and remain long after being heard. It's synthpop ripped through a time machine and cut over the jagged edges of a disco ball.
Should have been a single: Closer "Peach Rift" stands out as an indescribable flurry of synths and hi-hats which captivate for a shockingly quick five minutes.