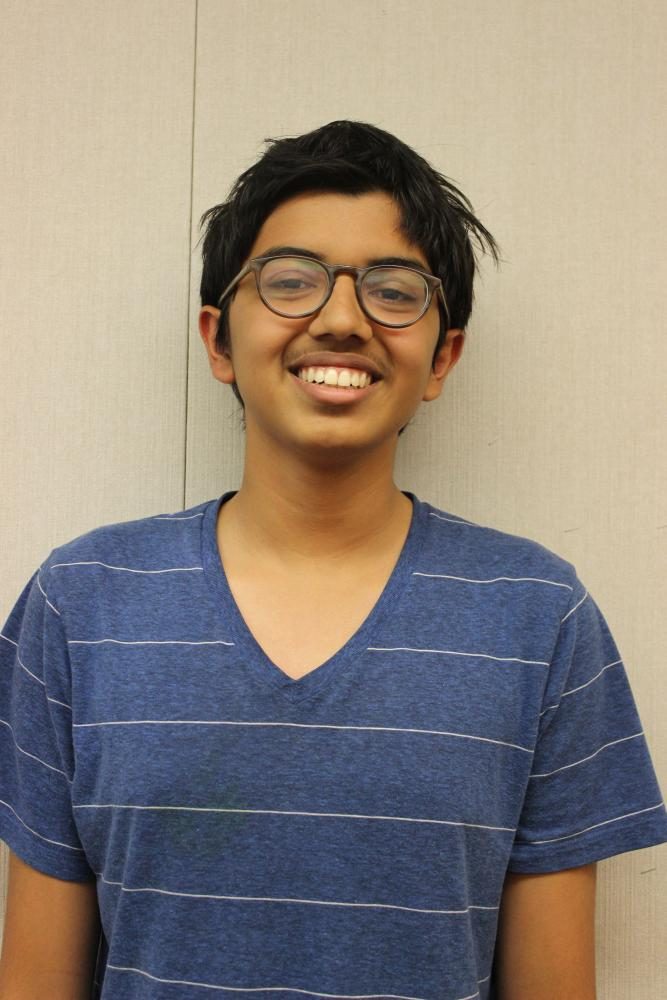 Armaan joined this class because his friend told him it was fun. He didn't take it too seriously at first, but...

...in his first year he became super interested in the class, and was Assistant A&E Editor. Later on he was promoted to Managing Editor (with Amanda Su), and now they both serve as Editor-in-Chief.

He is a very slow reader, which is ironic.


Armaan Rashid, Editor-in-Chief
Jun 08, 2018

SRVUSD implements pilot program for multi-gender multi-stall bathrooms in district high schools

(Story)

May 15, 2018

You're missing out on the deal

(Story)

Mar 08, 2018

You're missing out on the liberal bias

(Story)

Mar 03, 2018

You're missing out on a history

(Story)

Feb 01, 2018

You're missing out on the conspiracy

(Story)

Jan 27, 2018

Off the beaten path: Somerville

(Story)

Nov 30, 2017

You're missing out on pop music

(Story)

Oct 26, 2017

The Rise of Chinpreme: From inside joke to schoolwide movement

(Story)

Oct 26, 2017

You're missing out on fascist dog whistles

(Story)

Oct 26, 2017

'Kardashians' 10th anniversary proves just how vital their lives are to our lives

(Story)

Sep 28, 2017

You're missing out: a brief introduction

(Story)

May 26, 2017

Men's Tennis qualifies for NCS at match against Amador Valley

(Story)

May 19, 2017

"Narkopop" turns pop music inside out

(Story)

Mar 28, 2017

Men's Tennis shoots down Foothill Falcons

(Story)

Jan 30, 2017

Harmony in the face of discord: the best music of 2016

(Story)

Jan 11, 2017

Poke Don delivers deep-water delights

(Story)

Nov 22, 2016

Real talk: you don't have a better grasp on reality than your political opponent

(Story)

Oct 07, 2016

Hillman's legacy carries on with Kravitz as new DVHS Principal

(Story)

May 17, 2016

Female musicians speak out about sexual assault

(Story)

Apr 14, 2016

"The Community of Hope" mirrors the ignorance of an insensitive, hyperreactive America

(Story)

Apr 14, 2016

Anna Meredith crushes genre boundaries like "Varmints"

(Story)

Apr 13, 2016

Timeless Ghibli classic "Only Yesterday" remains just as brilliant as it was 25 years ago

(Story)

Feb 12, 2016

Sophomores and Juniors rush to take "old" SAT in face of changes

(Story)

Feb 09, 2016

Everything Everything "Get to Heaven" and back

(Story)

Feb 08, 2016

Mainstream artists poised to sweep Grammys once again

(Story)

Jan 14, 2016

The International Baccalaureate: are AP students getting the short shrift?

(Story)

Dec 09, 2015

Grimes becomes an "Art Angel" with daring, vital new album

(Story)

Dec 06, 2015

Terror pervades Paris

(Story)

Nov 04, 2015

College and Career Center downsizing to accommodate new offices

(Story)

Nov 01, 2015

A Listener's Almanac (October)

(Story)

Oct 10, 2015

A Listener's Almanac (September 2015)

(Story)

Oct 07, 2015

Construction disrupts Dougherty campus

(Story)