US sports pause during powerful protests
Shock rippled through Kenosha, Wis. on Sunday, Aug. 23 after the police shooting of Jacob Blake, a Black man, causing nationwide sports teams to protest police brutality and systemic racism. Officer Rusten Sheskey, who is white, shot Blake, 29, seven times in the back as he got into a car where his three children were already seated. According to the BBC, officers were called to a house after a woman complained that her boyfriend had appeared at the location and was not supposed to be present. Blake is currently paralyzed from the waist down and suffered extensive internal injuries. The incident sparked hundreds of protests throughout Wisconsin, some of which have turned deadly.  Multiple sports teams boycotted their games in a powerful sign of support for Blake and his family.
One of the first professional athletes to initiate a boycott was George Hill, an NBA player for the Milwaukee Bucks (the city is less than an hour away from Kenosha). Hill urged his fellow teammates not to play in their playoff game on Aug. 26, believing it was their responsibility to protest the police brutality against Black people.
"It's imperative for the Wisconsin state Legislature to reconvene after months of inaction and take up meaningful measures to address issues of police accountability, brutality and criminal justice reform," Hill said.
That same day, the Bucks organization was able to reach out to Blake's father. "We came together as a team, went in a circle, talked to his dad and his dad was tearing up telling us how powerful what we did on that day was for him and his family, and that's bigger than basketball to me," said player Giannis Antetokounmpo.
Encouraged by the Bucks and the rest of the NBA, sports leagues around the country forfeited their games in protest. This included the Women's National Basketball Association, or the WNBA. With over 80% of the players in the league being people of color, and historically standing up in cases of police brutality, the WNBA was clear in their message; they would not play their beloved game in order to make a statement that shootings like Blake's are unacceptable. This decision was even more impactful considering that the games that the NBA and the WNBA boycotted were playoff games, and critical to their career.
In an interview with CNN, Elizabeth Williams, a WNBA all-star playing for the Atlanta Dream, said,
"
"I think from the beginning, our decision to play this season in the bubble, our focus was on social justice."
— Elizabeth Williams
She then added, "We thought, especially for WNBA, we were in a unique position having so many televised games that we would be able to show our activism."
Following their inspiration, Major League Baseball players also boycotted their respective games. The Oakland Athletics were the first to boycott their game, followed by the Minnesota Twins and the Detroit Tigers. Teams around the league also honoured Jackie Robinson, the first Black player to play in the MLB. The New York Mets and Miami Marlins took to the field for 42 silent seconds, Jackie Robinson's jersey number, and walked out after. 
These protests received support from all sports, and Major League Soccer was no different. Despite early games continuing, because of fans and players voicing their protests, they ultimately called off five games. They also released a statement saying, "We continue to stand with the black community throughout our country – including our players and employees – and share in their pain, anger and frustration." They also added that "the entire Major League Soccer family unequivocally condemns racism and has always stood for equality, but we need to do more to take tangible steps to impact change. We will continue to work with our players, our clubs and the broader soccer community to harness our collective power to fight for equality and social justice."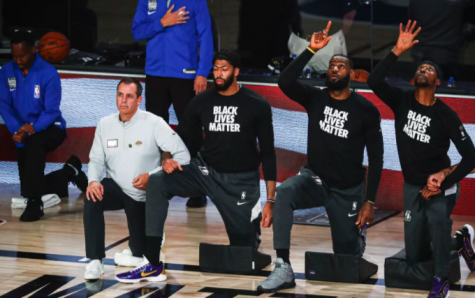 The Jacob Blake protests aren't the first instances of sports protests; they've been a mainstay within sporting events for years. As a matter of fact, protests within sports date back to the New Roman Empire when chariot racers attempted to appeal the death sentence of three rebel leaders who happened to be fans of the teams the racers were on. Emperor Justinian denied the appeal and as a result, the two teams, who were historic rivals, banded together and freed all the prisoners resulting in a riot ending with a death toll of over 30 thousand. 
Sports protests are sprinkled throughout history, all of which had various impacts and legacies, some still standing today. From well-known protests like Jesse Owens' record-breaking 4×100 meter relay in the 1936 Olympic games in the face of Adolf Hitler to disprove Aryan Supremacy, to lesser-known protests like Gertrude Ederle's swim across the English Channel in 1926 to cement women's place in sporting events, sporting events have historically been displays of social progress. 
In more recent history, Colin Kaepernick chose not to participate in rising for the national anthem on Aug. 14, 2016, and his subsequent kneeling on Sept. 1 sparked controversy across the nation. Kaepernick chose to kneel to protest the lack of accountability for members of law enforcement responsible for the shootings of Black people.
US President Donald Trump attacked Kaepernick at a March 2017 rally, stating that NFL team owners were not signing Kaepernick out of fear of backlash from Pres. Trump. This brought into the spotlight the long-standing debate on politics in sports for many. 
Dubbed the 'Kaepernick Effect' by some, following the mass media coverage of Kaepernick kneeling, many other sporting events had their own players and occasionally entire teams show solidarity with Kaepernick's platform of calling out police brutality. Most notably numerous NBA and WNBA  teams hosted events focusing on topics such as police-community relations and racial issues within the organizations.
Regardless of the backlash, it was seen that the Kaepernick effect had a lasting legacy on using sporting events as a political platform, which leads us to today.
Though the Jacob Blake protests are far from the first in sports history, they set a powerful precedent. Ironically, this stems from the fact that they actually revolved around a lack of sports.
"Never before has the world of sports spoken so emphatically," said Kurt Streeter for the New York Times. "No longer was sports offering gentrified protest, with league-endorsed slogans on basketball jerseys…players took action."
The spontaneity and timing of the protests proved effective as people from all over the country stopped to watch the walkouts unfold. The decisions were completely those of the players, without sports franchises taking advantage of the situation for publicity or profit. The silence was loud, and people listened.
Boston Celtics player Jaylen Brown emotionally echoed how many players felt that day: "Are we not human beings? Is Jacob Blake not a human being? He deserved to be treated like a human being and did not deserve to be shot."