College sports recruitment goes virtual amid pandemic
On March 11, East Bay Athletic League (EBAL) announced that all athletic events will be cancelled, with the exception of California Interscholastic Federation (CIF) and North Coast Section (NCS) events. Two days later, the district completely shut down schools and cancelled any remaining athletic events for the 2020 spring sports seasons.
The shortened spring sports seasons create multiple hurdles in the paths of student athletes. First, athletes can possibly lose grasp of their sports skills because of lack of practices and games. Dougherty Valley High School spring sports coaches, however, are hoping to keep their athletes fit.
"I'm sending them workouts every day to do ice work, suggesting to do workouts that don't require a lot of equipment," DV Men's Lacrosse Coach Mike Keyser said.
In addition, the college sports recruiting process became completely virtual as a result of the COVID-19 pandemic. According to the original National Collegiate Athletic Association (NCAA) recruiting system, recruiters would usually watch practices and games and meet players face-to-face. However, due to the national social distancing guidelines, this is no longer an option. 
Recruiters will have one less season of information on their athletes, which will complicate the process of filling college rosters. This time is defined as a "dead period" until further notice, meaning that coaches cannot meet athletes face-to-face.
"
"Practice and meets being canceled has put most athletes' growth on hold.
— Madeleine Kan
Now would usually be an evaluation or contact time for spring sports on the regular recruiting calendar. The ways that colleges will adapt to this change is not fully decided, but high school student-athletes' chances of being recruited should not be negatively affected.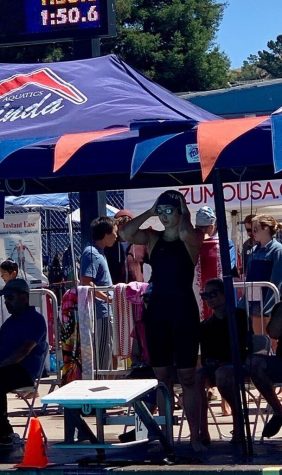 This is because for most athletes, there are other years of gameplay and recruiter observations to serve as evidence for recruitment. The NCAA does not anticipate that the newfound lack of evidence will change high school players' recruitment chances. 
"They still have the ability to play a summer season to be recruited at summer showcases in tournaments," Keyser noted. 
He also emphasized that the complications caused by COVID-19 improved players' relationships with college recruiters: "This quarantine has given the visibility to get in touch with coaches that they normally wouldn't have."
Madeleine Kan, a student-athlete from Monte Vista High School, also faced the negative effects of COVID-19. As a competitive swimmer, her season was cut short, as practices and championship meets including EBALS and NCS were canceled. 
"We have started social distancing at the peak of the short course season, which hinders recruitment because coaches are allowed to reach out to swimmers the summer after their sophomore year. Additionally, practice and meets being canceled has put most athletes' growth on hold, " she said.
The only way for recruitment officers to select student-athletes who will be a good fit for their team is to virtually contact them with online athletic profiles, such as Hudl. Luckily, the NCAA has extended the recruitment deadline to May 31, allowing ample time for student-athletes to contact college coaches. Despite the different form of recruitment, the process remains lenient toward everyone who is affected by the pandemic.