DV athletes Melinda Yuan and Samantha Tran commit for fall 2020
Teju Anand, Assistant Photography Editor
February 8, 2020
Melinda Yuan
Senior Melinda Yuan, captain of the women's varsity varsity golf team, has committed to play NCAA Division III Golf at Williams College in fall 2019 and will sign her national letter of intent in February 2020. She will be majoring in physics with aspirations to become a patent lawyer in the future. 
"First of all, I want academics to be the focus of my education because I don't want to be a professional golfer, so I wanted a more academically focused school. Williams is undergraduate focused and so there's a lot of programs that you can do — you can  publish papers with your professors. For a lot of big universities, this stuff is only open to graduate students, but because there's only undergrad it's open to a lot of undergrad students. I was considering a lot of other schools. I got offers from Pomona, and I was talking to Carnegie Mellon too, but I ultimately chose Williams because I think it just fits me the best," Yuan said. 
Inspired by her father, who played golf for fun, Yuan has been engrossed in the game for 11 years now. She started playing at the Tri-Valley Driving Range at Livermore and is currently a member of The Bridges Golf Club.
"Golf is very useful, like outside of just the sport itself. It teaches you a lot of skills throughout life that you're just going to continue to use, like discipline and just being able to practice every day, even when you don't feel like it," Yuan stated.
Yuan has been playing varsity golf at DV since her freshman year. She became captain alongside seniors Dani Suh and Jacqueline Ha in her senior year. 
"Melinda is a great player and an even better co-captain. Throughout the whole season, she dedicated a lot of her time towards the team by practicing for hours everyday so that she can play her best at every match. What I admire the most about her is her ability to manage golf with the rest of the other activities she has in her life such as school. Even when she gets really busy, she always makes sure that she is there for the team so that we can achieve our season-long goals. I had the opportunity to play with her in several matches and every time, it is always very enjoyable. She has the ability to make me laugh and feel relaxed on the course so I don't feel as tense in high pressure scenarios. As a co-captain, she was always very inclusive and made sure that all of our teammates were enjoying themselves playing on the team throughout the season," Ha reflected.
According to Yuan, there isn't any hierarchy in the team. They are just "one big team and family."
Yuan has placed high in many tournaments. In fact,  she placed second in Individual North Coast Section (NCS) last year.
While she doesn't have major obstacles in regards to playing the sport, her biggest challenge is dealing with the game mentally. According to Yuan, when she occasionally loses faith in herself, it affects her performance. So "the biggest challenge is just overcoming that mental hurdle, then the rest is okay."
Her most prominent role model for her golf career has been "Tiger Woods because he's an outstanding player, but he also went through a lot of personal difficulties and just with his game too, and he was able to emerge out of all that and just be even stronger than before."
With the team by her side, Melinda has enjoyed her golf experience at DV and is looking forward to her journey at Williams.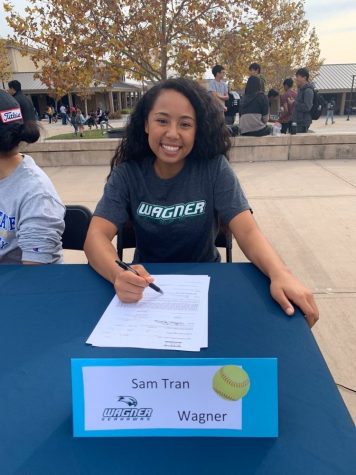 Samantha Tran
Signing her letter of intent on Nov. 14, 2019, senior Samantha Tran has committed to Wagner College to play for their Division I softball team after receiving a scholarship. 
"I choose Wagner because it's really close to New York City, and I really like New York City. I get to play at the DI level, and I like the scholarship they gave me. I really like how their school is academically, it's not the best academic school, but I like their liberal arts teaching style and I wanted to experience something new," Tran said. 
Tran has been playing softball ever since she was 11 years old. Her softball journey started out with her mother telling her to play softball because of how cute the outfits were. She later found her passion for it and has continued playing it ever since. 
"I like playing softball because I love the sport. I love competing with girls that have the same interest as me; I love being part of the team and just the sport overall," Tran stated.
Tran initially started playing softball at San Ramon Valley Girls Athletic League. After two years, she joined a travel softball team in San Jose where she played for about a year. She kept playing for more competitive teams and is now currently a part of Cal Nuggets in Belmont — one of the most competitive National teams.
"On my travel team, we're a lot more competitive than we are at Dougherty. So the practices are harder compared to Dougherty and you don't work as hard as you do in travel. Our coaches are more competitive, like we have people from the USA team. So it's just really different;. Everyone's skill level is just different," Tran reflects. 
She made varsity her freshmen year and has been part of the team ever since. She has been an outfielder since her freshmen year. 
"Sam is a very outgoing and thoughtful person. She like to get things done and she does what's on her mind. Nothing can stop her when she puts her mind to it. She works hard every day at what she wants to be good at, and she just motivates me so much. She is the most wonderful person I have met, and I am really sad to see her go to New York when she goes, but I know she's going to be a great athlete at college," Tran's friend and softball teammate Rylie Barber exclaimed. 
Even though she competes in a lot of tournaments, Nationals is the hardest. Her Cal Nuggets team is one of the very best teams in the U.S. that gets selected to play at Nationals. 
"Usually you know what teams you are gonna play against, but in Nationals there are teams from Georgia, Florida and all over the country. They're just really good players and they're committed to really good schools. So it's just hard playing against them but it's fun because when we are against everyone else in the world, you see if you're actually good or not. You get to compete at a different level. It's kind of like college," Tran expressed.
According to Tran, her role model is Sarah Romero. She played softball at Michigan and is now a professional player. Tran is inspired by her hard work and her game in the field. 
Tran has received many awards for softball. For instance, she was MVP freshmen year, she was given honorable mention for EBAL since freshman year, and her Cal Nuggets team placed tenth in the country. 
Apart from softball, Tran also plays basketball. She has been playing basketball for three years and is currently a part of DV's varsity team. 
"I play because it's less stressful, and it's a good workout. I just have fun with it," Tran said.
Overall, Tran has enjoyed her softball career so far and is really looking forward to her new adventure at Wagner.