Lana Del Rey exudes intimacy in "Norman F*****g Rockwell!"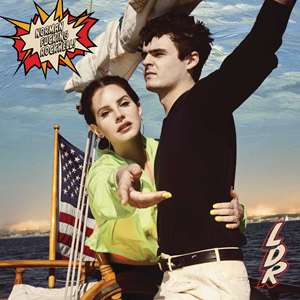 Lana Del Rey expresses confidence and nonchalance in her sixth studio album, "Norman F*****g Rockwell!" With her infamous smoky vocals and intricate lyrics, this record proves to be her most intimate and deep one yet.
It suffices to say that Del Rey has come a long way since the release of her breakthrough album in 2013, "Born To Die." Initially garnering attention from a younger audience, Del Rey has seemed to evolve with her fans. It's evident within her catalogue that with the release of each album, she's grown more confident and comfortable with the music she puts out. Each of her albums follows different themes and sounds nothing like the previous ones, showing her ability to explore sonically and still maintain the audience she gathered almost seven years ago.
Del Rey takes a step back from her usual "sadcore" production found in her discography to a more stripped-down, happy record in "Norman F*****g Rockwell!" The production of this record is unlike anything she's ever done, and part of that is credited to Jack Antonoff — the acclaimed producer known for his work with Taylor Swift, Carly Rae Jepsen and Lorde. Antonoff's signature synth style seen in most of his co-produced work is barely audible on this album. Instead, Del Rey's voice on this record is often accompanied by the keys and muted guitar riffs. Only on rare occasion, hidden among deep cuts like "Cinnamon Girl" and "F***it I Love You" do we hear full instrumentals and hints of Antonoff's '80s synth-pop influence. 
Most of Del Rey's past studio albums have involved heavier production on not just the instrumentals but also on her voice itself. Vocal layers, filters and echoes have often infiltrated her backlist, but this record takes a step back from overproduction and lends itself to a more raw and impactful tone. Del Rey also seems to step away from her raunchy and risqué lyrics and turns to more vulnerable topics. Both sonically and lyrically, this album seems to be the most intimate she has ever been on a record.  
However, this album, while sonically cohesive, can get tedious as it goes on. It's no secret that Del Rey likes to make her records lengthy and this one is no different, lasting 67 minutes long with 14 tracks. Most of that is attributed to the nine-minute long track "Venice B****." This song wanes your interest after seven minutes as the production starts to get uninteresting. It is understandable from a production standpoint, with all the synthetic and psychedelic elements of the song for its length, but it gets repetitive towards the end. 
On the other hand, some songs feel as if they end too soon. "Cinnamon Girl" and "California," while five minutes long, keep you reeled in as Del Rey's intricate vocals twist and turn around the melody. This unbalanced feel to the structure of the album pulls the audience out of the record, making it feel a little dull in some places. 
"Norman F*****ing Rockwell!" doesn't necessarily stand alone due to her discography. Sonically, it's very reminiscent of previous albums like "Honeymoon" and "Lust for Life." What sets this album completely apart from her backlist is the lyrics. When listening to her previous catalogue, it feels as if you're listening to sad high school poetry — whiny and a little repetitive at times. This one strays away from the narrative she spent the last decade building. "Love Song," "Cinnamon Girl" and "How to disappear" reflect Del Rey's love life over the past year or so, showing that she's matured into healthier relationships. "Doin' Time," a cover of Sublime's acclaimed song, is one of the only upbeat songs on the record. Sticking to the original sound, Del Rey uses her smoky vocals to warp the listeners in, making it uniquely her own. "Mariners Apartment Complex," the lead single, sets up the feel of the record well. With opening lyrics, "You lose your way just take my hand / you're lost at sea then I'll command your boat to me," Del Rey shows that she has grown and is much happier where she is now. This is a mature spin for her catalogue so far. 
"Norman F*****g Rockwell!" proves to be Del Rey's most sophisticated yet. Discarding the very image she's built from "Born To Die," it writes like a warm love letter to her listeners. Her fanbase loves every word and note of it.