Kimberly Wiese represents Team USA's Weightlifting Team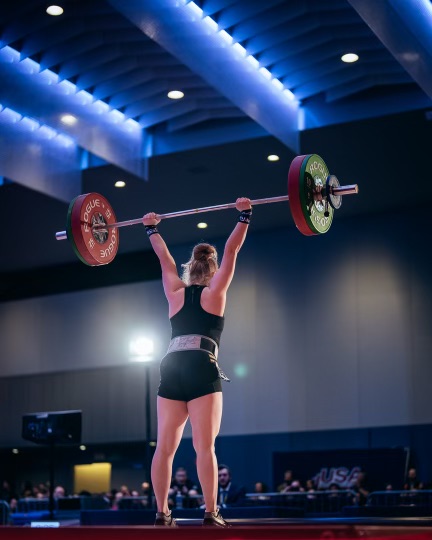 Emily Wong, Arts and Entertainment Editor
April 26, 2023
Junior Kimberly Wiese represented Team USA, which placed second out of the 58 competing countries, at the 2023 International Weightlifting Federation Youth World Championships from March 25 to April 1 in Durres, Albania. 
She qualified for the event at the 2022 National Championships based on her totals and secured her spot on Team USA during the weeks leading up to the Youth World Championships. 
"It was a bit stressful knowing that there were certain lifts you needed to make throughout the week [or] you could be kicked off the team even before you go to the World Championships," Kimberly said.
Being on a world stage for the first time was nerve-wracking and mentally challenging, yet Kimberly persevered under the pressure and individually placed 12th overall. She successfully snatched the 71kg and 74kg, but missed the 77kg. However, she didn't let that phase her and was determined to continue a strong performance on her next stages. She cleaned and jerked 92kg but missed the jerk for the first time in four years for the 96kg and 99kg, possibly due to nerves. 
"I was very shaky and very anxious because so many people [before me] had missed their clean and jerks. The fact that I made at least one was good," Kimberly said.
Despite the setbacks, her coach and parents were beyond proud of her hard work and determination to reach this level of elite competition.
"I know Kimberly would've liked to have a different outcome, but you never know what the competition will throw at you. She did great under pressure and learned a lot about being on Team USA," her coach, Ed Johnson, said. "Seeing her achieve something she has worked very hard for is a special moment. The journey has had its ups and downs and uncertainties, but Kimberly has remained diligent in her pursuit of a world team member slot."
Making the team was one of Kimberly's main goals as an athlete, so representing her country at such an elite competition made the accomplishment even more meaningful.
"It was a super proud moment to realize that this young lady embodies the commitment, the spirit, the fortitude [and] the ethos of the United States of America," her father, Jim Wiese, said.
However, to prepare for such a big event takes more than just the athlete; it takes a full team. Along with her parents and coach, her nutritionist, sports psychologist and physical therapist helped her reach the best state of mind and body on the day of the youth championships. Not only did Kimberly train physically for the competition, but she also had to build mental strength.
"In weightlifting, preparation is essential leading up to a major competition," Johnson said. "Managing our daily routine in the gym is a daily task because we constantly look at fatigue, workload and performance to optimize the body to peak on the day of competition. Weightlifting is an individual sport where you are the only person on the stage performing a lift in front of a crowd and judges, so it can be mentally challenging leading up to a competition."
To help build that mindset, Kimberly participated in many competitions prior to the championships to get comfortable with the stage setting and read her Bible to help her build trust and confidence in herself. 
"
I'll ask God, 'if you want me to make this lift, please help [make] whatever you want to happen, happen
— Kimberly Wiese
"I'll ask God, 'if you want me to make this lift, please help [make] whatever you want to happen, happen,'" Kimberly said.
Keeping a consistent thought process and routine helped Kimberly respond in any type of situation. 
"I push through my feet or extend all the way, focusing on the same thing over and over and over again," Kimberly said. "So it doesn't matter if you're in the gym training or on a platform at a competition [but] that it's the same thing you're thinking about [so] you're in a routine."
Furthermore, the routine of maintaining the same thoughts before every lift can make the difference between a shaky performance or a successful one. 
"My thoughts can be all over the place and rushing around, even while I'm setting up the bar on stage," Kimberly said. "But if I make the last thing I think about before I pull the bar off the ground, 'I'm gonna make it, I'm gonna make it,' [then] it helps [me focus]."
Another aspect Kimberly trained for leading up to the competition was tabling her emotions. This method involves accepting emotions felt in the moment, such as stress and anxiety, and then putting them aside while doing the task at hand. 
"When you might be really stressed or really anxious [like] 'oh, I need to go lift on stage, I've never done this way before,' you need to take all your emotion and put it aside and say 'yes, it's okay to feel that way.' But at the moment we have something we need to do and that's going to take precedence. Then we can come back to how you're feeling after," she said.
Though she is still mastering this method, Kimberly believed that practicing it during this competition improved her mindset. In addition to the experience of competing at the Youth World Championships, Kimberly gained lasting friendships.
"It's a valuable thing to go up to different countries and say hi or even try to exchange something. It is the best experience, getting to meet other countries, and you can make so many connections," she said.
Kimberly hopes to meet these athletes again and even more from around the world at Pan Ams, which she qualified for with her performance at this championship and will take place in August in Venezuela. These competitions form the stepping stones to reach her goal of representing Team USA at the 2028 Olympics. Though it's an individual journey, Kimberly will continue to work with her team to take her weightlifting career to the next level.
"I'm just proud of her for being able to go out there and be on that stage and do the best she could and continue to grow," her father said. "She's only 17 years old, which is so much pressure in this kind of venue. So we're just happy that she got through it. She's not hurt. She has a new fire lit under her to keep pushing forward."
And while this journey to the Olympics will have its ups and downs, Kimberly plans to persist through the challenges she faces on the way. When times are tough, reminding herself of her goal motivates her to keep reaching for her dreams in weightlifting and any aspect of life.
"When things get hard, it's easy to give up. But if you just try one more time, try for one more day, a lot of amazing things can happen. Just know your reason and keep fighting for it," Kimberly said.