Junior Ella Lin dominates on the national badminton team
Junior Ella Lin placed in the top eight at the Badminton World Federation (BWF) World Junior Championships in Santander, Spain, this October, making a splash during her first year in the U.S. Junior Badminton team. 
Lin started playing badminton eight years ago after dabbling in other sports like tennis. She played for club teams before joining the U.S. Junior Badminton team. But her career initially started in a recreational badminton club in Dublin where her older brother Ethan learned the sport. 
"Because I took lessons, Ella also wanted to take lessons, and that's how she got into badminton. And that's where her career took off," Ethan said.
However, unlike her brother, Lin set her sights on going down the competitive path fairly quickly. 
"I actually started because of my brother. He started playing first before me," Lin said. "So I just got into [it] for fun, but then I realized I liked the sport more than he did, so I went [down the] competitive path."
She has spent the last eight years training competitively in singles and doubles events. Her first game at the 2022 BWF World Junior Championships was a women's single event where she faced off against China's Xu Wen Jing. Lin lost the first set with a score of 21-14, but rallied to win the next two sets.
"[The] first match was actually really hard, so then after I won, I was like, 'Whoa, I actually did something,' so maybe I'll just try to go a bit further and still have fun, no pressure," Lin said. "And I feel like I did really well because I actually went there with no expectations of getting anywhere. So then when I made [it], I was really proud. It was a really good feeling."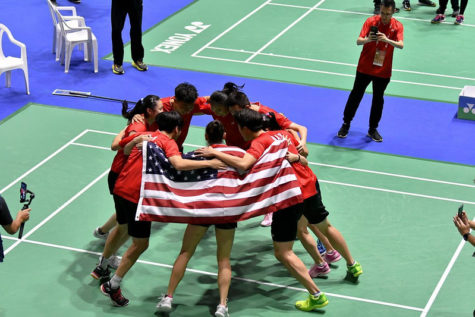 Lin's victory over Xu paved the way for her to advance to the round of 64 players, where she defeated her opponent in a single's match. With her partner, U.S. Junior Badminton player Chloe Ho, Lin also won the women's doubles match. Though Lin specializes in singles, she enjoyed competing with Ho.
"Having someone by my side who I've known for a long time — it felt nice to experience something so big for the first time with them and have fun," Lin said.
During the next round, Lin won both individually and with Ho to secure a spot in the round of 16. There she faced Thailand's Sirada Roongpiboonsopit in a women's singles match. Lin took the first set with a score of 21-11, though she faltered in the next set, losing by a margin of seven points. She came back to win the third set with a score of 21-15. Lin's success in the BWF World Junior Championships earned her a spot in the quarterfinals as one of the eight players remaining in the tournament.
"I thought [it] was really cool," Lin said. "I was not [expecting] to go that far, because in badminton, Asian countries usually dominate this sport. So then I was like, 'Oh, it would be a good experience playing them.'"
Lin's winning streak came to an end in the quarterfinals, in which she lost in two sets, with scores of 21-19 and 21-6, to China's Yuan An Qi. However, Lin chose to look past the last game and take pride in the previous matches. In hindsight, she attributes her unexpected success to her relaxed attitude.
"I ended up in the top eight because, when I played, I had no pressure at all. There were no expectations," Lin said. "I just went there to have fun and give it my all, so I feel like I performed well compared to other people."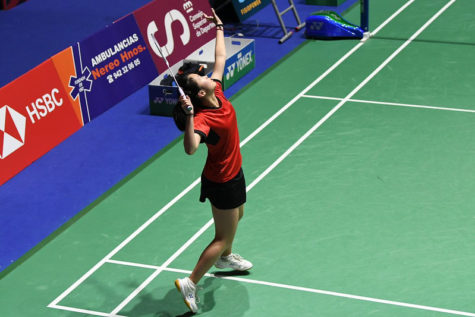 Lin's seemingly relaxed attitude in the Junior World Championships is a far cry from her mindset when she first started playing badminton. Back then, losses used to be debilitating. 
"She would cry a lot because she had that drive to win. She still has that drive to win, but her mentality when it comes to losing is just [to] accept it and learn from it. She took all of the losses into account, gained experience and changed her mentality," Ethan said. "Now, she purely plays [the] sport for fun. Every time I talk to her about it, she's always talking about [how much] she enjoys it, rather than like, 'Oh, I'm super stressed about this.'"
Lin's relaxed yet driven attitude only pushes her to further succeed competitively in badminton. She looks forward to spectating and eventually competing in the Adult National Badminton Championships, as well as qualifying for the U.S. Junior team again. Tryouts for the U.S. Junior Badminton team happen every year in April. Fresh off her success at the World Junior Championships, Lin is aiming to snag one of the four spots for women on the team. 
"The junior team changes every year. This is my first year on it," Lin said. "So I'm hoping to do well and get selected again."