Junior Mylia Perez commits to Stanford for softball
Dougherty Valley junior Mylia Perez committed to Stanford University early this November to play softball beginning fall of 2024. Her talent and grit, combined with her academic strengths, allowed Mylia Perez to receive offers from various Ivy League schools. 
The youngest of three children, Mylia Perez has always been very competitive with her siblings. Her older brother played little league baseball, which started her initial interest in softball.
"She couldn't wait for her turn to participate in sports and [her siblings] helped [with] her passion for sports, particularly softball, grow while watching [them]," Annalyn Perez, Mylia's mother, said. 
Mylia Perez started playing softball and soccer when she was eight years old, though she gave up soccer in her freshman year of high school, determined to play softball for college. She originally started off as a center fielder due to her speed, but now plays as a shortstop. 
"I remember when I hit my first home run," Mylia Perez said. "I was so shocked for a second, and then I just had the biggest smile on my face and it was great because my teammates were sharing that same emotion with me."
When Mylia Perez was nine years old, she began participating in the Major League Baseball competition, Pitch Hit & Run, in which she reached the All-Star game placing second. The next three years Mylia Perez placed first, and even represented the Oakland Athletics and the San Francisco Giants in the championship rounds. 
Mylia Perez's performance on Dougherty Valley's varsity softball team doesn't go unnoticed either. As well as being junior captain of the team, Mylia Perez is a mentor to many of her younger and newer teammates, and also boosts the morale of the team's atmosphere. 
"
"She's the kind of person that pushes herself not to be good, but to shoot for greatness
"I just love that she plays with her heart. She plays for the love of the game. She plays for all the right reasons, and it's great when you see her have success," Vince Felix, the DVHS varsity softball coach, said. "It fires up everybody: coaches, parents, fans, teammates." 
In the off-season, Mylia Perez plays with a traveling team called Universal. During the school year, Mylia Perez and her family would travel to tournaments on the weekend, either in-state or out of state. Mylia Perez's busy schedule on her parents' support, especially with all the necessary transportation. 
"I was an athlete myself growing up, and I love the fact that she has the same passion. I would rather be here with her watching her play than doing anything else," Annalyn Perez said. "I choose her every time."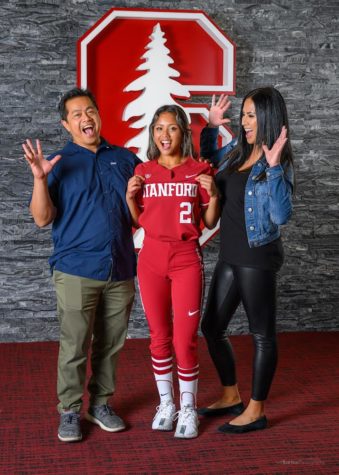 This past summer, Mylia Perez and her family traveled every single weekend to attend different tournaments across the country. 
"That meant [Mylia] didn't get to see her friends on the weekends. She sacrifices a lot in her personal life, but she's achieved her goals," Mylia Perez's mother said. 
While Mylia Perez practices with her travel team once or twice a week in the off-season, she still manages to find extra time to practice softball everyday.
"There are times when she is out here doing work before practice or doing work after practice," Felix commented. "She's the kind of person that pushes herself not to be good, but to shoot for greatness." 
In addition to practicing softball with her team, Mylia Perez often spends a lot of time putting in the extra work at home or at the gym, whether that's lifting, cardio or batting. 
"Even if it doesn't sound like a lot, 30 minutes of your time just to focus on practice accumulates to a big percentage," Mylia Perez said. 
Besides Mylia Perez's commitment to softball, she still manages to balance and prioritize academics over her sport. 
"The reality is [that] when it comes down to a conflict and a timing issue, academics took precedence," said Lloyd Perez, Mylia's dad. 
As a stellar athlete, her academics only embellished her recruiting process. The sacrifices Mylia Perez made in order to balance academics, softball and her social life paid off. 
"In the beginning, I was only thinking about softball; Arizona State University, Oklahoma or Oregon State were my dream schools," Mylia Perez said. "But over time, when I was discussing it with my family, I eventually narrowed it down to schools that would fit my academic needs, like Stanford."
For student-athletes, a major part of the admission process relies heavily on self-promotion. Since college coaches are not allowed to contact players about recruiting until Sept. 1 of their junior year, Mylia Perez sent emails and used social media as a way to interest coaches in her athletic performance during her sophomore year. 
"She religiously did that every single weekend, pretty much every Sunday," Annalyn Perez said. 
On Sept. 1 of her junior year, 19 division one coaches who were interested in her abilities contacted Perez, with a few more in the following days. In the following month, Mylia Perez and her family toured colleges. Stanford was the last school she visited. 
"
"It's a gift for her, but also a gift for Stanford
In the end, Mylia Perez received offers from Brown University, Northwestern, UC San Diego, Lehigh University, and Dartmouth, but ultimately decided on Stanford.
"It was the fastest I've ever clicked with some of the softball players. I just really thought the coaches would help me develop as a softball player as well, and I just felt [I would have] care and support throughout my career at Stanford," Mylia Perez said. 
As Mylia Perez looks forward to her future at Stanford, her plans don't end there; Mylia Perez hopes to play for the Olympics if the opportunity arises. Her passion for softball continues to thrive and grow as she continues her high school career. 
"Don't pursue something that you don't enjoy, because it's not a good use of your time. So just make sure that [the] passion is still there," Perez said. 
While her story may seem like one of talent and opportunity, it is one filled with grit and inspiration. 
"It's a gift for her, but also a gift for Stanford," Felix said.