Novak Djokovic breezes past Stefanos Tsitsipas for 22nd Grand Slam title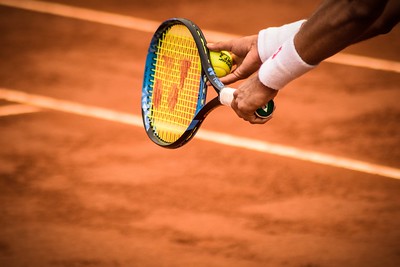 On Jan. 29, tennis legend Novak Djokovic won his 10th Australian Open title with set scores 6-3, 7-6 and 7-6, in a victory that equaled rival Rafael Nadal's record of 22 Grand Slam wins in total — the most in the history of men's tennis.
The Grand Slams consist of four major tournaments: the Australian Open, the French Open, Wimbledon and the US Open. Nadal, Djokovic and Roger Federer, often referred to as the "Big Three" of tennis, won the vast majority of these tournaments in the years leading up to 2020. Not many tennis players came close to matching their sheer skill and talent. With Federer announcing his retirement from competitive tennis in 2022 and Nadal leaving the 2023 Australian Open in the second round due to a hip injury, Djokovic's win at the Australian Open gave him an opportunity to pull ahead of the others.
Djokovic edged through six rounds of elimination to earn his spot in the finals, and went on to win. This achievement was of utmost significance considering Djokovic was banned from even entering Australia and competing in the tournament last year due to his refusal to get a COVID vaccine. He was detained upon arrival, and his passport was revoked. However, he was granted a medical exemption to participate in the tournament this year.
"I was really looking forward to com[ing] back and play[ing] tennis because that's ultimately what I do best… I'm looking forward to play in front of the people and hopefully bring them some good fun and good vibes." Djokovic said in a press conference before the match.
A glimpse into the tournament
Djokovic established his dominance from the very first round of the Australian Open. On Jan. 17, he beat Spanish tennis player Roberto Carballés Baena in straight sets. Aside from his match against Enzo Couacaud in the second round, he beat each of his opponents in three sets, continuing on his path to the final with ease. 
"
Going into this year's final, Djokovic had won every single one of the nine Australian Open finals he had played in."
Djokovic's comeback surpassed all expectations from the media and the tennis world. Despite suffering from an leg injury last year, he dominated each game. His unreturnable aces and drop shots made him a fierce competitor, while his tactical down-the-line backhands were often his opponents' downfall.
Meanwhile, his competitor Stefanos Tsitsipas had a more difficult path to the final, playing a five-set game against Jannik Sinner in the fourth round and later almost losing against Karen Khachanov in the semi-final. However, there were mixed opinions on the outcome of their final game. Tsitsipas is 11 years younger than Djokovic, and he was expected to put up a fight or even go on to win the tournament.
"As Tsitsipas has smothered one opponent after another, he has been dynamic, fit, mobile, attentive," tennis author Joel Drucker said. 
However, the odds were not in Tsitsipas' favor. Going into this year's final, Djokovic had won every single one of the nine Australian Open finals he had played in.
"I honestly feel great in Australia, and my results are [a] testament to that," Djokovic told Australian Open TV.
The grand finale
Although Djokovic claimed victory in straight sets, the match was a constant back-and-forth that could have swung in either direction. 
To start off the final, Djokovic quickly took the first game, claiming each point with either an ace or two swings. Not far behind, Tsitsipas struck back and took the following game, leveling the score 1-1. Djokovic proceeded to win five out of the next seven games in retaliation, winning the first set with considerable ease.
In the second set, the two players were neck and neck and unable to "break" the other's serve. Djokovi's precise shots caused Tsitsipas to dance around the court in frustration. However, he made a comeback following a series of well-aimed top spins. The game alternated in both players' favor until the scoreboard read 6-6, with the set hinging on a tiebreaker. With a tie-breaking score of 6-4, Djokovic delivered a powerful ace that Tsitsipas was unable to return in time. After winning his second set, Djokovic needed one more set to claim the Australian Open title for the tenth time. 
The third set mirrored the second almost exactly. The even plays and the energy of the duo were evident until they ventured into the 13th game with a tiebreaker once again. In a final burst of energy, Djokovic led with a score of 5-0. However, Tsitsipas did not let his opponent's advantage deter him. He pushed through and won five consecutive points, thus leveling the score. Djokovic cut off his momentum with a serve down the middle of the court and took the lead. Three championship points later, Djokovic took his third set, the match and his 22nd Grand Slam win. The ecstatic tennis player charged up an arena of excited fans before celebrating his historic win with his delighted family.
"I started off really well … but in the second set he was the better player. He had his chances but didn't use them. I just held my nerves in both tiebreaks in the second and third to win." Djokovic reflected in his post-match press conference.
Djokovic's future
Djokovic's momentous win leaves him one step away from tying Serena Williams' record of 23 Grand Slam wins and two Grand Slams away from ending the "Greatest of All Time" debate within the sport. He is further set to retake the Association of Tennis Professionals' world No. 1 ranking from the 19-year-old Spanish tennis player Carlos Alcatraz, who last beat Djokovic in the Madrid Open Final in May 2022. Djokovic will continue his record-breaking streak of 374 weeks as the world's No.1 in 2023. The entire tennis world will be watching with bated breath as he takes on the French Open this May in a bid to claim his 23rd Grand Slam title.