The world from the top: a look into Roger Federer's everlasting legacy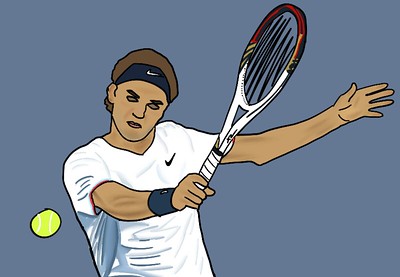 In 1998, a 21-year-old young man with undeniable talent and charm graced the tennis courts and spearheaded a new era of the sport. Now, after nearly 25 years of dominating the world's largest courts, winning 20 Grand Slam titles and gaining millions of fans around the world, Swiss tennis champion Roger Federer has announced his retirement from the sport, after playing his final match in the Laver Cup on Sept. 23. 
Federer first announced his retirement on Instagram on Sept. 15, writing, "tennis has treated me more generously than I ever would have dreamt, and now I must recognize when it is time to end my competitive career." 
In the years prior to his announcement, Federer's long history of knee and back injuries cast doubt on the future of his competitive career. Therefore, his retirement did not come as a shock to the majority of his fans, although many had harbored wishes of seeing him continue his competitive career.
However, in a final act to commemorate his career, Federer announced his intentions to play at the 2022 Laver Cup as part of "Team Europe" alongside teammates Novak Djokovic, Rafael Nadal, Stefanos Tsitsipas, Casper Ruud, Andy Murray and Matteo Berrettini. 
A whirlwind of a weekend later, Federer officially stepped down from his long-spanning international tennis career with an emotional goodbye that brought his friends, family and fans around the world to tears.
"It was lovely for me to be on the court one more time. I'd never thought it would feel so great, and even if I cried a lot, they were tears of satisfaction," Federer told media representatives at the Laver Cup.
As many say goodbye to Federer, who is considered one of the greatest athletes of all time, they remember his legacy with fondness. While his career in professional tennis may be over, millions of avid fans around the world will continue to follow him through the new opportunities ahead of him. 
"
While his career in professional tennis may be over, millions of avid fans around the world will continue to follow him through the new opportunities ahead of him. 
A new era
Born in 1981, Federer was only 11 years old when he took up the position of a ballboy in the Swiss Indoors tournament held in Basel. Inspired by the enthusiasm and zeal of professional tennis players, Federer began his own competitive tennis training. He made his first appearance as a juniors player on the Wimbledon courts in 1998, where he notably won both the boys' singles and doubles. Later in the year, he made his first Association of Tennis Professionals "ATP" debut, at the Swiss Open Gstaad.
Right off the bat, Federer made waves as an exceptional young talent. He entered the top 100 international ranking at the end of his second year of professional tennis. His sudden rise to international acclaim became more well-known, especially after he won his first ATP title in the 2001 Milan Indoor Tournament, defeating French player Julien Boutter in the final. 
Speaking about his loss against Federer in a January interview with ATPTour.com, Boutter explained that Federer "was already considered the future Pete Sampras, but at the time he was still untested and quite nervous at court."
Back then, very few in the tennis community could predict how accomplished of a tennis player the rookie would become. Federer's initial win made way for international success when the then 19-year-old beat the defending champion and Grand Slam leader Sampras in a historic match at the 2001 Wimbledon Championships. In the years to come, his successes on the grass courts would surpass the achievements of his predecessors. 
Rise to fame
As he started winning major international matches on courts, Federer began to become a household name. A strong force both on and off the court, his passion and dedication to his game were apparent in each match he won. He had learned the importance of hard work at a young age, and these values shone through in the way he fought for each serve, point and game.
Above all, Federer has said that maintaining a positive attitude in tough situations was extremely crucial to his victories. Speaking in an interview on tennisnet.com, he described how his attitude and work ethic had shaped his success in this game.
"You have to train extremely well, always prepare first-class. You mustn't allow yourself a slouch," Federer said. "You just need a great deal of self-discipline and clarity in your work." 
This mentality translates to his "never-give-up" attitude on the court. Over the years, Federer has received immense praise from his supporters, friends and rivals, who marvel at his perseverance.
"
You have to train extremely well, always prepare first-class. You mustn't allow yourself a slouch
But achieving the status of "one of the best in his era"' has not come without its own set of challenges. In 2002, Peter Carter — Federer's close friend and coach at the time — passed away in a car crash. Carter had been Federer's mentor, and the news of his passing hit hard. Afterward, Federer began to train twice as hard and build an image he knew would make Carter proud.
Seven years later, Federer faced a more positive interruption in his career: the birth of his twin daughters Myla Rose and Charlene Riva to his wife, Mirka Federer. In 2014, Mirka Federer gave birth to another set of identical twins: Lenny and Leo Federer.
Raising four children shaped Federer's mindset as he dealt with the unique challenges of parenting off the court. 
"The [twin] girls were born, and from that moment on, 2010 and 2011, I didn't win any slam," he explained in Today. "I remember changing the diaper, bathing the girls and just being a dad." 
Federer's closest friends and family continue to play a significant role in his life, motivating him to bounce back up from serious injuries, and supporting him through multiple knee surgeries. 
While these injuries accumulated, Federer turned to charity work, revealing the selflessness beneath his sportsmanship and appreciation for his family, team and opponents. In 2003, he founded the Roger Federer Foundation, an organization dedicated to providing educational opportunities to children in Switzerland and Southern Africa. According to the foundation's website, over 80% of children in low-income countries do not have access to early education, so the foundation funds programs that empower children through education. Since the organization's inception until the end of 2021, Federer's foundation has improved more than 9,000 educational institutions, and as of 2022, it is conducting school readiness programs in Switzerland and six Southern African countries.
In an interview with CNN, Federer expressed his desire to make a difference in the lives of young children through his foundation, foreshadowing his desires for his legacy to be greater than his tennis accomplishments. 
"My dream would be that I would be more famous for my philanthropic efforts than my tennis career," he said. "My tennis career can only be for so long, but the foundation is something that can be forever." 
A view of the world from the top
As Federer's personal achievements accumulated, so did the number of awards on his trophy shelf. The records he has broken and set are evidence of his skillful control over his game. In 2018, Federer became the first player to claim 20 Grand Slam men's singles titles, a record he would hold until Nadal and Djokovic surpassed him. At the age of 36, he became the oldest tennis world No. 1 — holding the position for 237 consecutive weeks from February 2004 to August 2008, and 310 weeks altogether.
Aside from the 30 Guinness World Records Federer has, his quick footwork and sleight of hand, similar to that of a ballet dancer, set him apart from other outstanding tennis players. In fact, when asked about the gracefulness of his technique in an interview with Inside Tennis, he mentioned watching a movie about a Ukrainian ballet dancer and seeing the connection between ballet and his own skills.
"
Aside from the 30 Guinness World Records Federer has, his quick footwork and sleight of hand, similar to that of a ballet dancer, set him apart from other outstanding tennis players
"I watched it on the plane and it was just so interesting," he added. "I do appreciate great movement — that's how I move. That's how I learned tennis."
In addition to being influenced by the media he consumed, Federer often looked to other tennis players of his era for inspiration and motivation. Over the years, he has fostered close bonds with many of his opponents and rivals, from Nadal and Djokovic to Andy Murray and fellow Swiss tennis player Stanislas "Stan" Wawrinka. 
Federer's rivalry with Nadal has challenged both players to elevate their skills and reach new heights in the sport, as they both dueled each other in the 2008 Wimbledon final. Although the match, one of the longest tennis games ever played,  resulted in Federer narrowly losing against Nadal, the final is still an iconic and transformative experience for the Swiss player.
A culmination of experiences
As Federer retires after almost 25 years of dominating the tennis scene, he leaves behind a legacy that impacts both professionals and young talents. 
Rod Laver, one of the greatest tennis players of all time, and namesake of the Laver Cup and Australia's "Rod Laver Arena," described Federer's great skill and expertise with a sense of fondness.
"I let my racket do the talking… Roger is a little in the same vein. He plays the game because he loves it. You can tell, in how he'll try something quite particular until he perfects it," he told The Telegraph.
Laver and Federer have developed a close bond since they were first introduced by Tony Roche: Federer's coach and Laver's old rival. This influenced Federer's decision to pay homage to his friend and end his competitive career with one last match in the Laver Cup.
Speaking about Federer's retirement, Laver explained that Federer has "had such a long, successful career; he knew he wanted there to be something where he said clearly, 'Okay, that's enough.'"
Federer's selflessness and determination, on and off the court, have made him extremely likable over the years and have cemented his legacy as one of the most celebrated tennis players of all time. His official retirement announcement prompted an influx of heart-warming messages from his friends, family and rivals alike.
Nadal had nothing but well wishes to express in response to Federer's announcement. 
"I wish this day would have never come. It's a sad day for me personally and for sports around the world. It's been a pleasure but also an honor and privilege to share all these years with you, living so many amazing moments on and off the court," he wrote on Twitter.
As 41-year-old Federer enters a new chapter in his life, the bonds and emotional attachments he made, as well as memories of his triumphs, achievements and fight to stay on top, will remain his legacy.