Somya Rathee reflects on his journey as varsity Men's Tennis captain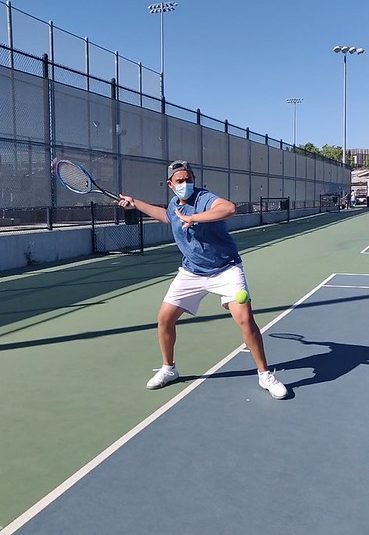 Somya Rathee, the Senior varsity Men's Tennis captain, contemplates his growth as a tennis player as his high school journey comes to an end. 
Rathee started playing tennis at age 6, following the footsteps of his cousin. "I went with them to play and it was very, very fun." Rathee said. He also explained that he "fell in love almost pretty much 10 minutes into [the] lesson." Ever since then, Rathee has been playing for the past 12 years. 
His first encounter with the Dougherty Valley Men's Tennis team was in freshman year, where he made it to varsity. 
"I had a very good tryout and decided to participate because it was something I could totally do," he added. 
Rathee further explained that varsity is something that every kid looks forward to in high school sports. After making it in his first year, his passion just "stemmed from it," he said. 
Rathee's sophomore year on the team, however, was cut short due to COVID. Despite it, Rathee made it clear that he learnt a lot from this experience. " What I did learn, from the seniors and the upperclassmen, was that we really just have to focus and put your best effort out there." Rathee said. And, he does just that; every game, he works to play his best and help his underclassmen and fellow teammates. 
In his Junior year, Rathee pointed out that he "stepped into a more of a leadership role on the team." By leading the team into a direction where they can continue to grow, Rathee also learned how to succeed and develop the team.
Leading the team proves to be a great responsibility for him, but he enjoys doing it. "There's a certain expectation that is set as captain." Rathee said. "You have to be able to perform not only that [high] level, but also be able to handle the logistics behind it." Some of his responsibilities in the team include game sign up, getting drivers to go to away games, and other stuff similar to it. 
Nevertheless, Rathee made it clear that he enjoyed doing it the most and learned a lot from the role. Being captain in particular taught him how to bring people together. "Because with such a unique group of people, you have to know how to get them to communicate and discuss not only strategies, but also team philosophy and team morale." Rathee said. 
Throughout his past four years in high school, Rathee has had to juggle many responsibilities, whether it be tennis-related activities or academics. Speaking about positive qualities he has gained from his varsity tennis experiences, he believes that the biggest one is discipline. 
"With coming [to the tennis court] after school, playing two and a half hours, and going home to do homework, there's a certain discipline you have to set to finish everything you need to do," he explained. 
Along with being captain of the varsity tennis team, he also hosts tennis lessons for young kids who are learning the sport for the first time. His motivation to teach children the sport is the lack of attention that tennis receives as a sport. 
"Tennis is a sport that has not been in the limelight for a very long time," he said. "So I wanted kids to know that this is a sport that they can try and have fun with. There's always basketball, football, and other sports, but tennis isn't as popular as those sports. I wanted to give them a chance to try it, and if they like it, they can continue on that path." 
Deepening his love for tennis, Rathee is also a part of a nonprofit organization that provides free tennis education to everyone. In the nonprofit, Rathee works to "provide free tennis education." 
Rathee's tennis journey has not yet halted as he plans to play club tennis and potentially assume a leadership position there, in whatever college he ends up at.
In the end, we come back around to Rathee's last year of tennis here at DV. Reflecting on the past season, Rathee said that he is "very proud of all of our players- and I'm just looking forward to seeing how they go next year." 
The team definitely put in their best effort, but they didn't end up doing as well as Rathee hoped. "But it's okay because everybody left everything out on the court this season." 
For both current and future players, Rathee says to "not be afraid to try out." This fear was one he had in the beginning too, but is glad that he took the chance because it definitely left a long-standing impact on his life. 
"So just go out there, have fun and do your best." Rathee said.