Kelly Liu: Memeing on the putting green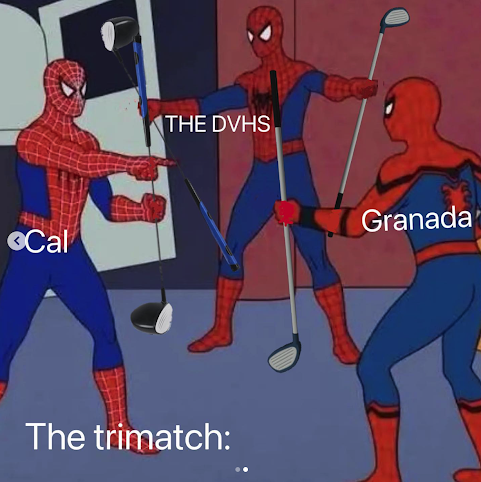 The caption game is strong for this one.
As captain of the Dougherty Valley High School women's golf team, senior Kelly Liu not only has to take charge of team spirit, run team building events and lay down the rules of the game, but also manage the DVHS women's golf Instagram account (@dvhswgolf). The posts are similar: smiling teammates posing in a line and a trophy emoji in the caption. But Liu still injects each post with a bit of zing.
For example, on Sept. 13, @dvhswgolf surprised audiences with their very own Spider-Man meme. Explaining her rationale, Liu points to a new phenomenon called tri-matches.
"We started this thing this year proposed by the California High coach, because he wanted to finish matches earlier," she said. "Usually how golf matches work is you have two teams competing against each other."
The day of the Spider-Man meme, however, Dougherty competed against both California High and Granada in their first tri-match. They won 217-271 against Cal and 217-251 against Granada.
"It's three teams," Liu remarked on her choice of meme. "Three mean teams."
Ever since she's taken over the team's captain duties, the Instagram has also been chock-full of her signature captions. "211 we stan Lenin" was thrown out; the ones that made it include "Bibbity bobbity boo, only 4 of us are looking at you." But aside from writing captions, Liu also plays golf, unironically.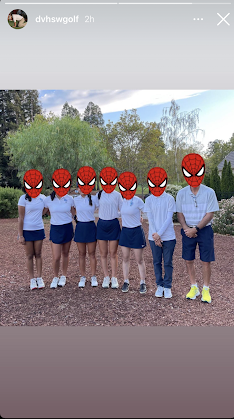 Recounting, in a voice that managed to sound equal parts serious and sarcastic, Liu traced her golfing journey back to when she was in seventh grade. She noted that 12 is a later age than most people start playing golf; however, up through freshman year, she still had sufficient time to put in intensive practice in the mornings and after school.
Although she wasn't initially drawn to sports, Liu has grown to enjoy the calm and focused mindset that golf requires.
"In soccer, or another more intensive sport, being fired up and being angry could help you play better," she stated. "But in golf, being angry and fired up is going to make you play worse."
She elaborated on aspects of golf that encapsulated this mindset.
 "With putting, it's all about the emphasis on the small movements, and so when your mind isn't completely focused on that one task, you could very easily mess up. It's a sport that measures your ability to not make mistakes," she explained.
That being said, Liu admits that mistakes are inevitable. But golf pushes her to process these mistakes in the moment and move on.
"How are you going to react to those mistakes constructively going forward so you don't tank the rest of your game? That's what makes golf different or special in my opinion," she explained.
This did not come easily to Liu. The challenge of golf, she pointed out, is caring enough about being on your game that you do well, but not caring so much that a single setback becomes insurmountable.
"You start distraught, having all these anxieties and things like that and it just gets counterintuitive," she said.
However, she's satisfied with the mental growth that golf has provided her.
"Obviously, you care about what you're going to shoot. Obviously, you want to do well, but you have to get to that in-between area where you're like, if I make this mistake, it doesn't matter," she said.
The team's current record is 12-2 — no longer undefeated, but with Liu at the helm, count on the captions to continue dominating.