DVHS Freshman Shaan Mehta stars in Disney's "The Quest"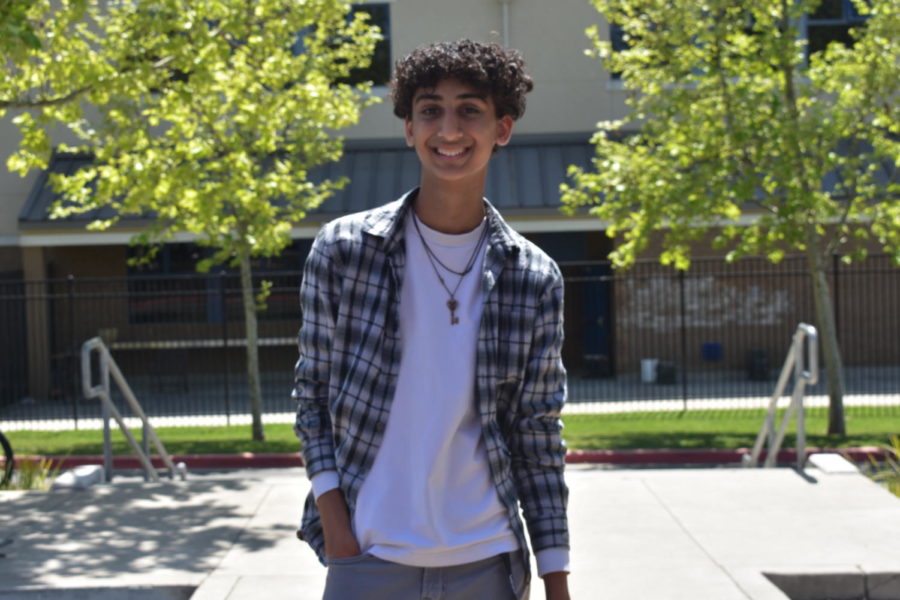 Freshman Shaan Mehta is one of the eight Paladins on Disney's "The Quest" (debuts May 11, 2022). The original season aired on ABC in 2014 and was a fantasy and reality television show that featured contestants as they compete to save Everealm, a magical land with castles, royals, ethereal fates, and mystical creatures. The series is being revived on Disney+ with new challenges, a younger cast, and producers who have previously worked on The Lord of the Rings trilogy, The Amazing Race and Queer Eye.
When did you decide that you wanted to become an actor?
I got into acting when I was really little, around five years old. But I didn't really start taking it seriously until I got an agent and that was when I was like seven or eight. And with an agent, it became a lot easier to get opportunities.
How did you get an agent?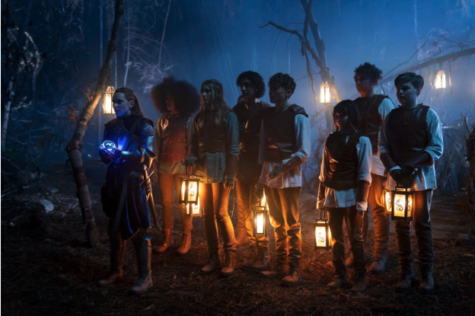 My parents started looking for agents when I was very little because I always had an outgoing personality. And I also liked doing theater and stuff when I was really little. We looked online in San Francisco specifically because San Francisco and Los Angeles have the best agencies for acting. Once we found one in San Francisco, it was just a process of sending information about yourself, and then they get back to you and they ask you to read something like a monologue or a scene and if they like you, you get to work with the agency.
In the future, as an adult, how do you plan to make a niche for yourself in the acting industry? What kind of characters do you want to play more?
The majority of the roles that I've been getting have been kind of comedic and light hearted characters. I think I kind of play that better because, if there's an emotional range or an emotional spectrum I fit in, I think I would fit into the more light hearted side of it. I hope as I grow up, I can kind of extend my range and be able to play whatever roles are thrown at me, but as for the time being and as I mature in acting, I think that for now I'm sticking to the more light hearted funny type of roles.
How does it feel to be one of the 8 Paladins on "The Quest"?
It's a crazy experience. And I'm really lucky because those eight teenagers have been like family to me, especially after we stopped filming. We've gotten extremely close and it feels more like a family than just a cast. This shows one of the first of its kind. It's a half-scripted, half-competition type of show, making it very unique. You don't get that all the time. It's an amazing experience and definitely a great project to start on because you get the best of both worlds.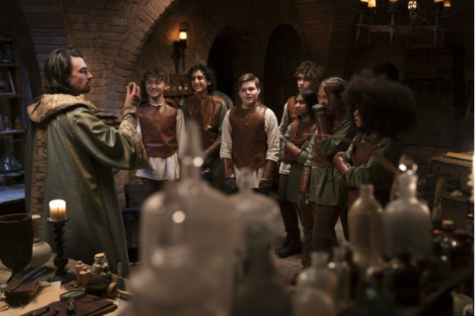 Are your reactions genuine if there isn't a defined script and how much of the show is scripted?
Yeah, that's a great question. So all of our reactions are genuine on the show. Whenever we're doing challenges or any surprises, all of our reactions are genuine. A lot of what is scripted is when we're with the other actors, like the main cast. Even when I say scripted, it's more like guided conversation.
Is it harder to act in the Quest when there's no set script?
It's definitely difficult. There are parts in the show where characters, specifically villain-type characters, come and ask us individual Paladins questions on the spot, like on the go, and you don't have any time to react or think about your answer. And they have to be TV-worthy reactions and answers. They don't air everything. We shot for 10 to 12 hours a day they're only one-hour episodes. So that really shows how much they edit it down. So I think it is definitely more difficult trying to get TV-worthy reactions and the statements, but as we kept going during the three-week filming process, we kind of just got used to it.
Does it feel real on set? Did they actually build Everealm from the ground up or do you still have to leave some of it to imagination?
No, it's crazy. It's Disney+ so the production value is crazy. But just stepping into that world that they put you in, there's no thought of the outside world. You're only in the present. You're there.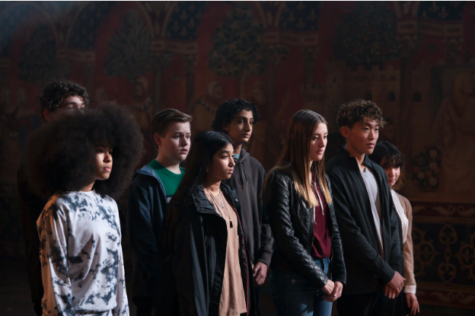 They did a great job of making set designs and characters and costumes that really immerse you in the world. And I think that viewers of the show will even experience that, but being a part of the show, it's crazy. It's like you're really there in that fantastical world.
Can you walk us through a typical day of acting?
Yeah! So wake-up times kind of differ every day, depending on what we're filming on that day. I'd say like on average, I wake up around seven or eight. And then I get ready and there are buses that come and pick us up from our hotel and take us to set. On set, once we got there, we had our individual trailers and we started school right away. And depending on how many hours of school we do every day, you have banked hours, which means over the maximum amount of hours that you need. If you have a lot of banked hours you don't need to do school for as long on that day. Usually, we have school for about two hours and then on days that we have a lot more filming, we would use our bank hours. In between filming we get little breaks and an hour-long lunch. But most of the days are spent filming and we get back at the hotel around 9, 10 or 11 depending on how the day went.
Who is your inspiration for acting?
For acting specifically, I look up to a lot of great actors. I watched a lot of fantasy when I was little so getting into the Quest was mind-blowing because that was the genre that I stuck to. Specifically, my favorite movie was Harry Potter. So I looked up to Daniel Radcliffe, Rupert Grint and Emma Watson a lot when I was younger. Their stories are really inspirational because they still continue pursuing acting today, even after a breakout movie role when they were really little. 
What would you suggest to the budding actors out there that are contemplating getting started with acting?
I'd say absolutely go for it. You never know where it will take you and, you know, acting is not something that if you start you can never stop. You can pull out of your agency any time and you can
ask to stop auditioning. I'd say just go for it because it's a great experience. It's a great lifestyle. I love it. And there's so many people that you can ask for help and so many resources that you can use. Getting started is pretty easy. You can just look for agencies that you like, and start applying. So I think anybody that is thinking about starting should get started.
Do you want to pursue something else in life other than acting?

My main dream has always been to be a surgeon. And that's because when I was nine my uncle passed away from cardiac arrest. After that, I really wanted to pursue a career in the medical field so I could stop other families from going through the same pain that my family went through. That's kind of always been my main dream. Acting really took off recently, so if acting works, that's great, but other than acting, I would want to be a surgeon.