"The Paramedic" throws critics off guard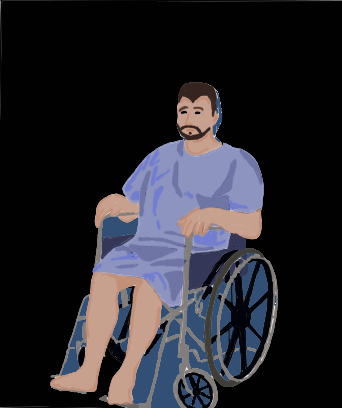 With Halloween here, and many of us missing being able to trick or treat and going to our friend's house, we are all scrambling to find COVID-friendly ways of celebrating during this time and are turning towards Halloween movies that have not been watched before.
A new addition, "The Paramedic" on Netflix, may constitute one of them. Although the film does not please all the critics (it has a 50% rating on Rotten Tomatoes and a 20% rating on Common Sense Media), it is a movie you can watch if you have absolutely nothing else to do. It is rated TV-MA so it is not a family movie. The film is in Spanish but dubbed into English.
The movie starts off with what seems to be a jovial couple. The man, Angel (Marios Casas) is a firefighter, and the woman, Vane (Déborah François) is studying to become a veterinarian. They seem to be living a good life until Angel gets into a car accident and is completely paralyzed from the waist down. This puts a strain on them as it becomes more of a caretaker, caregiver relationship with constant jealousy raging from Angel as he thinks that Vane may be cheating on him. He then installs a tracking device on her phone which she soon gets to know about and then leaves him. Angel is alone and starts getting physical therapy for his legs and Vane is pregnant with her current boyfriend. This makes Angel develop an evil plan.
The beginning of the movie seemed to be going well! We had the characters in place, the story had been building up nicely with us knowing that something bad was going to happen. But that is all the director had. The feeling of it going to build up, the suspense, was the only thing that had captivated the audience. After the director had built the suspense up, he had no story to engage the audience.
That's how it worked for me. I sat down intrigued for the first 15 minutes until the accident had occurred. After that, the story felt incredibly dragged out; it was like the story was reaching.
"
The feeling of it going to build up, the suspense, was the only thing that had captivated the audience. After the director had built the suspense up, he had no story to engage the audience."
 "the woman is in the room alone when she turns around she will see him" is such a cliché that we were expecting it the whole time. It would be astonishing, in fact, if she did not see someone behind her. The whole movie is based on that. Whenever a character was walking down a dark alley or when Angel had brought new people home, we knew what was going to happen to them.
There is one thing, however, that I found incredibly amazing — how lifeless his legs looked. It felt like they were really paralyzed, and Casas did a good job portraying the lead role. If the movie had a stronger foundation, his acting skills would have been better showcased. He did well with what he had and gave his role one hundred percent. François did a good job too; she portrayed her role as the "innocent woman being held captive" well. Her soft voice along with her caring appearance made her right for the role. 
If you do not like gore, this movie is not for you as many scenes do show blood and other graphic content that is not suitable for children. It is fake gore that does not look real; however, the thought of it can definitely make people sick and want to look away.
Overall, it was more of a hype to me than actually watching it. The movie poster along with the plot does seem pretty enticing, and so does the first 15 minutes. After that, it gets rocky and you will lose interest! That being said will I recommend this movie? No, with other good movies laying around, a classic like "The Addams Family" is more worth your while. If you want to watch this movie, you can, but only if you have a lot of extra time that you are willing to waste!
Remember to stay safe for Halloween this year by avoiding distributing candies and other materials, throwing parties, and trick or treating. Instead, try to find a good classic on Netflix! You can find a good list of movies here: