The Neighbourhood introduces a new era and album with EP "Pretty Boy"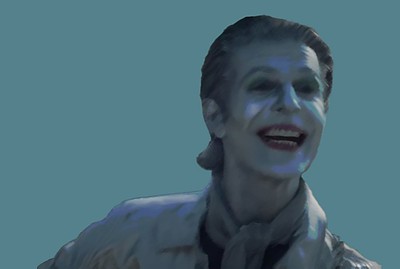 The Neighbourhood pre-releases four new songs from their much-anticipated album, "Chip Chrome & The Mono-Tones" that is set to release on Sept. 25, 2020 on their new EP "Pretty Boy," which released on Aug. 28, 2020. Best known for "Daddy Issues" and "Sweater Weather," the alternative rock band teases a new album two years after their last, "Hard To Imagine The Neighbourhood Ever Changing."
With the release of the four new songs, The Neighbourhood also unveiled four new music videos, one with each song. Despite most of the band's music videos being black and white, the music videos for "Pretty Boy" are vibrant, featuring editing reminiscent of 60s music videos — but colored — and Jesse Rutherford painted and dressed from head to toe in silver as Chip Chrome. Each music video offers a different aesthetic, and all four of them give the audience a truly transcendent experience.
Starting the EP off strong, the title track "Pretty Boy" begins with smooth vocals from Jesse Rutherford, the lead singer. The beat starts off with a tambourine and quiet guitar, and stays constant throughout the song, allowing Rutherford's gentle, crooning voice to shine through. With lyrics like "Even if the sky's on fire/ Got you here it's alright," the song has a passive, lighthearted tone to it, like something one would hear at the end of a coming-of-age movie. "Pretty Boy" leans more toward the indie sound of the band and less rock with a laid-back, soothing sound, reflecting the band's diversity in music styles.
In the music video for "Pretty Boy," Rutherford is depicted as a living statue , Chip Chrome, who performs with a silver guitar on the street, offering wide smiles at passersby, with his guitar case open and filled with coins and a sign that says "take one please" with a smiley face. However, he is faced with a competitor who people seem to like more, a man in a bright gold cowboy-esque costume who also plays guitar on the opposite side of the street. At the end of the video, the man in gold tosses Chip a coin and disappears into the darkness of the hills carrying a torch. In a way, the man in gold represents the "Sweater Weather" era and Chip represents the start of a new era, with a fresh sound and possibly even a change of name for the band.
"
Each music video offers a different aesthetic, and all four of them give the audience a truly transcendent experience"
Picking up the pace, "Devil's Advocate" is upbeat and catchy, with a prominent bassline amplifying the larkish feel of the song. If you listen closely, you can hear an array of different sound effects and synths through the sound of the guitar, making it a whimsical listen. However, despite the airiness of the song, the lyrics are about the fast-paced life the band has been living after their rise to fame. "Black tie for a white tee/ I've been moving lightspeed, lightspeed, lightspeed, lightspeed" references "West Coast," a song from their 2013 single "The Love Collection" wherein Rutherford sings "Plain white shirt and a skinny black tie," illustrating how after the release of "Sweater Weather," the band has been moving through life at 'lightspeed.'
Rutherford discusses how he wants to slow down and live life at his own pace, saying he finds enjoyment in simplicity. "I'm attracted to designer stuff, diamonds, and the good life, but there's nothing like finding greatness in the simple things." Fittingly, the phrase 'devil's advocate' references "a person who advocates an opposing or unpopular cause for the sake of argument or to expose it to a thorough examination." Often, people are expected to be ecstatic when they reach fame, but the band wants to slow down and take time to go through the process while having fun — the focus is not to create another hit, but to make music that they feel is right.
Dreamy and mellow, "Cherry Flavoured" is about Rutherford's problems with drug use. He discusses how getting high is no longer a social activity but a lonely addiction. "I've been getting high/ It's keeping me low now/ I'm doing it alone now," refers to how the feeling of being high no longer makes him happy, but makes him feel worse instead. The guitar and intoxicating synth vocals create an airy, effervescent resonance to the song, making it one of the best songs on the EP.
In an interview, Rutherford says that 'cherry flavoured conversations' is "something that seems really good and sweet when you're talking about it, but it may not be possible in reality. I ended up going to an internal place and got back to me. I realized, 'Maybe I'm the one who's putting the cherry flavoring in these conversations?' I needed to take a look at myself." He reflects on how he had to take a break from using the internet as inspiration, and re-learned how to create his own music in his own way. Slow-paced and quintessential, "Cherry Flavoured" sounds as if it's almost playing in slow motion, and combined with the animated music video's idiosyncratic visuals, the song truly creates an illusion of stopping time as it plays.
The final track, "Middle of Somewhere," concludes "Pretty Boy" perfectly, referring to finding peace of mind and living in the moment. More emotional than the other three tracks, "Middle of Somewhere" is a look into Rutherford's mind as he sings "I was on the outside looking in/ Now I'm on the inside/ Tryna stay out of my head/ I need peace of mind," similar to "Devil's Advocate" in that the theme is the need to enjoy the simplicities and moments in life. The music video presents Rutherford as Chip once again, featuring colorful glittery transitions and overlapping visuals, creating a psychedelic experience.
In the upcoming album, Rutherford is represented by the character "Chip Chrome", and the rest of the band is called The Mono-Tones. However, Chip Chrome is not just his moniker for the music videos and album — it is also a name for Rutherford when he is completely, one hundred percent, engulfed by his music. In an interview, he says he transitioned into becoming Chip at the beginning of 2020, when he "got off the internet, picked up a guitar, played it until [his] fingers bled, and learned how to write songs in a new way."
Scintillating and euphonic, "Pretty Boy" is a clear product of raw emotions and thoughts, preserving The Neighbourhood's signature alternative rock sound while introducing new topics and unique vocals by Rutherford, promising "Chip Chrome & The Mono-Tones" to be an extraordinary album. "Chip Chrome & The Mono-Tones" is truly the beginning of a new era for The Neighbourhood, and we can't wait to see what the band comes up with.
[1] Living statues are street performers who dress up as statues or mannequins with realistic statue-esque makeup
About the Contributors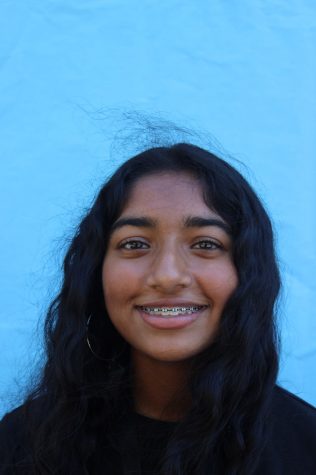 Amrita Himmatraopet, Arts and Entertainment Editor
Amrita joined the Tribune because she loves writing and she wanted to explore different types of news writing. She was a staff writer during her freshman year, and became a copy editor as a sophomore. Her goal...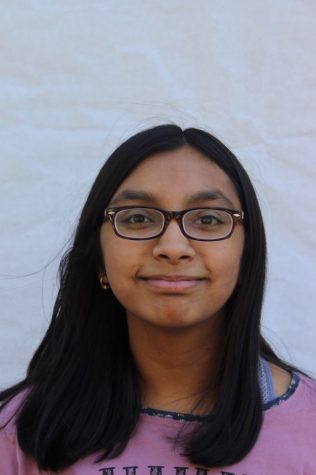 Drishti Upadhyaya, Features Editor
Drishti joined the tribune because of a schedule mixup in her freshman year, but decided to stick around after enjoying the first week. This is Drishti's third year in journalism. She has been a staff writer...