The fierce Netflix show "Pose" is as daring and boiling with drama as it is mindful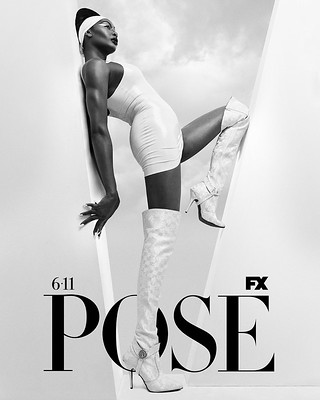 "The category is live, work, pose" is the iconic phrase that the main character, Pray Tell (Billy Porter) says in the exuberant and bold show Pose. The show Pose takes place in 1980s New York City where ballroom culture represents the Black, Hispanic, gay and transgender community. The pose director, producer and writer, Janet Mock, became the first transgender woman to call the creative shots at a major company when she signed an amazing deal at Netflix.
"
This show is booming with stunning designs, ferocious queens and a whole lot of drama, but it is also mindful and poignant."
"I never saw myself as an artist, and when I was given the power to direct, I showed myself what I could do. That's when everything changed," Mock told Variety. 
This show is booming with stunning designs, ferocious queens and a whole lot of drama, but it is also mindful and poignant. Because this show takes place in the 1980s, it is at the brink of the AIDS pandemic where at the time, many people thought of it as more of a blessing than a curse because of the hateful homophobia and transphobia.
 The main character Blanca (MJ Rodrigez) is an underdog at the start of the show, a young trans woman who has discovered she has been diagnosed with HIV. She has constantly been overshadowed by her mother, ballroom legend Elektra(Dominique Jackson), and the leader of the house of abundance.
 The growth of Blanca starts to show when she leaves the house of abundance to get away from Elektra's arrogance and ego to start her own house. MJ has always wanted to be an actress for as long as she can remember, and vividly remembers walking the red carpet at the first season premiere of Pose.
" I just reveled in that moment. I just lived in that moment. I felt every piece of it because my mindset always is that it could be gone in just a blink of an eye," Rodrigues told Variety. 
Leaving the house of abundance is when Blanca's family starts to grow. Disowned by his family in Pennsylvania and has the dream of being a dancer, gay Black teen Damon (Ryan Jamaal Swain) is found by Blanca while he is homeless and joins her. 
The house of Evangelista is born and Blanca's family starts to grow with Angel (Indya moore) also from the house of abundance and a trans sex worker, Lil Papi (Angel Bismark Cuirel) and Ricky (Dyllon Burnside). All of these characters are underdogs who have been rejected by society and their parents but find each other with the bond of Ballroom. 
Pose is as bold and furious as it is empathetic and nonjudgmental. Each of these iconic characters is faced with complicated decisions on how to define him or herself like Damon wanting to pursue his career as a dancer but has his family breathing down his neck, Angel wanting to be a model but worries about facing discrimination because she is trans and Blanca wanting to leave her mark before her time is up. Even the ballroom legend Elektra struggles too, with whether to get her sex change surgery or not. 
The burden of AIDS and time is breathing down these characters' backs, with friends and families dying or close to death, the drama and love of ballroom brings them together that is unbreakable. 
"As someone who grew up in front of the TV screen, whether that was watching TV or family sitcoms or VHS films, I never thought I would be embraced. And more than embraced. Given not just a seat at the table but a table of my own making," Mock told Variety.