88rising rises through Asian representation
88rising, a music collective and management company, is making waves in American pop culture by increasing immigrant representation, particularly that of Asian immigrants.
Formerly known as CXSHXNLY, 88rising was founded in 2015 by Sean Miyashiro and Jaeson Ma. They began uploading YouTube videos in 2016, which contributed to their meteoric rise in the hip-hop industry. Their first videos primarily featured well-known American artists like Desiigner and Goldlink in order to gain popularity as a channel, but slowly branched off into promoting their own artists. 
Over the next two years, their most prominent artists, such as Indonesian rapper Rich Brian, Japanese singer Joji, Indonesian singer NIKI and the Chinese rap group Higher Brothers, joined the label. As their popularity grew, the music collective announced a tour across Asia in November 2017 with nine dates in places like Seoul, Beijing and Shanghai. 
88rising released their first compilation album, "Head in the Clouds," in August 2018, featuring their core artists as well as guests such as Playboi Carti and Famous Dex. The album showcased songs such as "Midsummer Madness," which eventually peaked at No. 23 on the Billboard Hot 100. After "Head in the Clouds," 88rising hosted their first U.S. tour, "88 Degrees and Rising," spanning 18 dates in cities like New York, Boston and San Francisco.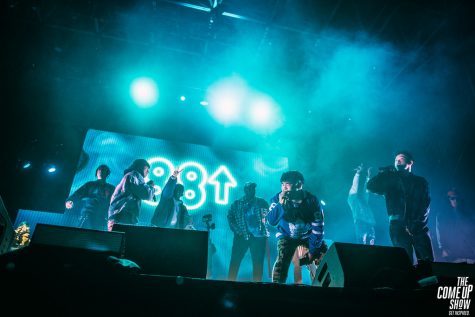 88rising members have also released individual music, such as Joji's "BALLADS 1" (2018), NIKI's EP "wanna take this downtown?" (2019) and Higher Brothers' "Five Stars." Most recently, Rich Brian released his second album, "The Sailor," in July to favorable reviews.
The label's second collaborative album, "Head in the Clouds II," is set to be released on Oct. 11. The first single in the upcoming album is NIKI's "Indigo," which already has 5 million streams on Spotify (at the time of publication). "Indigo" debuted live in August at 88rising's second annual "Head in the Clouds" music festival in Los Angeles State Historic Park, with 25,000 fans in attendance. The second and third singles from the album, "Just Used Music Again" by RHYME SO and "Breathe" by Joji and Don Krez, released on Sept. 4 and Sept. 12, respectively.
Extending beyond music, 88rising is building a brand for themselves and has been for some time. "We're trying to become the definitive media brand," Miyasharo said in an interview with Forbes in 2016. "There is no definitive media brand that represents and celebrates Asian culture, especially for millennials and young people."
Most recently and notably, 88rising has partnered up with popular boba chain Boba Guys on a limited edition drink appropriately titled "Head in the Clouds." Purchase of the drink came with a Nalgene water bottle and 88rising themed stickers, which sold out nationwide within a few days.
88rising has also collaborated with Guess to create a GUE88 RISING clothing collection and has partnered with 626 Night Market, an Asian night market in the Los Angeles area, to provide exclusive deals on "Head in the Clouds" products and feature performers like NIKI and Rich Brian. In return, 626 Night Market catered 88rising's "Head in the Clouds" music festival.
Given the current rise in popularity of Asian culture, 88rising has picked up a large following and supportive fan base, especially through social media. However, 88rising is still unknown to many. The best example of this is the absence of any songs from "The Sailor" on the Billboard Hot 100 chart; the album itself didn't crack the Top 200. It's a good album that simply isn't getting the recognition it deserves. 
But beyond the quality of their music, 88rising is advancing Asian presence in industries dominated by Western culture. Their music and branding takes pride in Asian culture, from NIKI singing the Indonesian national anthem at the "Head in the Clouds" music festival to Rich Brian's "The Sailor" describing his journey from Indonesia to America to further his music career.
"I just want Asians to be proud that they're Asian because Asians have just been so underrepresented and it's been a very unspoken, untouched territory," NIKI said in a 2019 interview with Refinery29. "I just want kids to be proud."
NIKI's wish has come true: high schoolers from SRVUSD missed class during the weekend of the "Head in the Clouds" music festival in order to attend. The kids are proud, especially a few Dougherty students. 
"It's cool to see that Asians are in the music industry now and how times have changed because before, you would've never imagined that this small guy from Indonesia [Rich Brian] would become a rapper," senior Elizabeth Lee said. 
The growing popularity of 88rising is a crucial step toward Asian representation in mainstream American pop culture. As some of the first Asian artists to gain traction internationally, they pave the way for others to follow.
As Rich Brian raps in his song "Kids," "Tell these Asian kids they could do what they want / Might steal the mic at the Grammy's just to say we won / That everyone can make it, don't matter where you from."