Spilling ink: Teachers reveal the tales behind their tattoos (alternate)
Tattoos are deeply personal, yet publicly displayed. They are works of art that take on different meanings and styles from person to person. For some, they are reminders of aspirations. For others, they are tributes to loved ones. We asked teachers at Dougherty Valley to share the significance and motivations behind their ink. Here's what they had to say.
---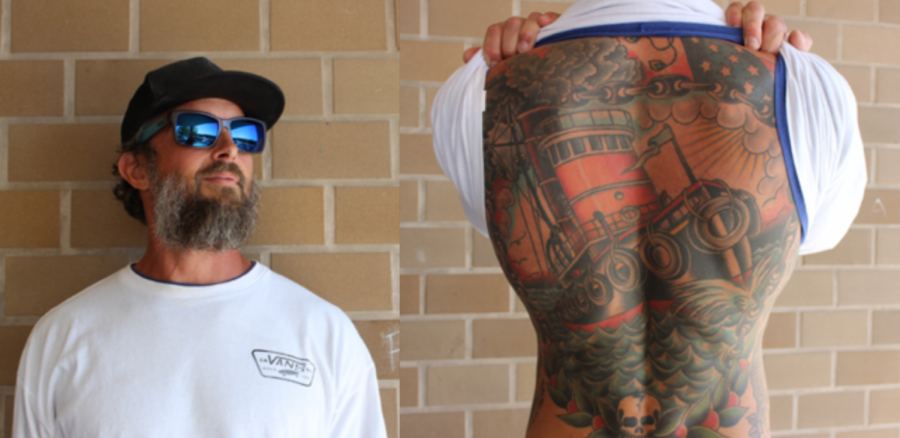 Megan Tsang
Mr. Jack Sorenson
"When I was a kid, I was always drawing on myself," Mr. Sorensen said.
As a P.E. teacher and coach of many school sports, Sorensen is a familiar face on campus. As we interviewed him under the shade of some fall foliage behind the main gym, Sorensen waved and chatted with every student who passed by.
"When are you going to gain some muscle?" he said jokingly to a football player.
The student and his friends all laughed.
Almost every inch of his body is tattooed or waiting to be tattooed — save for some important exceptions: his arms, hands and neck. All of his tattoos can be hidden away under clothes.
He said, "Some people look at me like I'm a criminal. Some people are scared of them. Some people don't understand them. And some people think they're awesome."
He's always been aware of this social stigma; his first tattoo was met with strong disapproval from his parents.
"My dad wanted to cut my tattoo off with a chainsaw," Sorensen said with a laugh.
Now that he has so many tattoos, his parents have softened their opinion.
"They don't care … In fact, my mom thinks they're beautiful."
His body is a tapestry, connecting many years of his life — from his first tattoo at the tender age of 14 (now hidden and faded under fresher arm sleeves) to his most recent and favorite, a scrawled "Chubbs" written across the top of his wrist in memory of a lost friend.
It also resembles a tapestry in that it's a work of art — expansive, and labor-intensive.
"Just on my back, for instance, I probably have 40 to 50 hours [of tattoo work]."
Across his entire back is a sprawling seascape; stark green and black waves crash into the centerpiece, a red tugboat that seems to sail off his skin.
His most important piece of advice about tattoos was this: "Make sure that it flows with your body on where you're putting it and the design of it. Mine all flow … It's art and it's going to be there forever."
---
Walking into Mr. Morelli's class, we were welcomed with an easy smile and a Rod Serling impression. A's and Raiders memorabilia line his walls. He's chatting with a fellow English teacher when we arrive for the interview, and eating lunch with a student when we come in the next day to take pictures.
While it's hard to tell now, Morelli was a rebel in his youth.
"I had a mohawk at one time. I shaved my head bald — I'm that child," he said. "[My parents] kind of just reacted like, 'Oh, well, if it was any of our children, it would have been you.'"
Against his religious family's wishes, he got his first tattoo in the summer of 2017. He and his fianceé decided to put each others' initials on their ring fingers.
We said, 'Oh it'd be really cool if we had each other's handwriting.' So we actually sat in the tattoo parlor and the guy gave us some paper."
He rolls up his pants to show us his most recent tattoo — a black and white Raiders logo on his calf that's only two months old.
"I was out buying books because I'm an English nerd and a teacher, and thought, 'You know what? I wanna do that,'" he shared.
The decision may have been spontaneous, but the meaning behind his tattoo is deliberate. To him, the Raiders are not just a team, but also a generational family connection.
"My grandma grew up in Oakland … My dad grew up in Oakland … He has fond memories growing up watching them, and then he watched them with me and my brother," he said.
While his family was originally opposed to the idea of tattoos, by getting two of his own, he helped change their conceptions about them.
When I told [my grandmother that] it's for family reasons, she … had an epiphany. She's said 'Oh, that—that makes sense, like, it's a permanent piece of art in your skin. I kind of get it a little bit more now.' So that was very surprising, because she's usually not that accepting," he said.
Even outside of his family, he's helping other people overcome some stereotypes around tattoos.
"I think since I'm a teacher, people are a little bit shocked. And I also think that I'm a very outgoing, kind, friendly, warm person. And people don't expect people with tattoos to be that warm and friendly and outgoing."
Morelli plans to get more tattoos in the future; in fact, he wants an entire arm sleeve. His favorite part about the process has been watching the tattoos gradually become a part of him.
"Before … it's healing, it's peeling, it's not part of your body yet … Now, it'll change as my body changes," he said.
---
Ms. DeGrano's classroom is an extension of her personality — mellow, warm and easygoing. Music played in the background as students quietly chatted in the corner; the room was softly illuminated by the natural light that streamed through the open door and by the accent of fairy lights running across the edge of the whiteboard.
Her sleeves were rolled up, proudly displaying the two tattoos she has on each forearm. Her easy confidence makes it hard to believe that it took her years before she felt comfortable enough to show them off.
"I was like, so nervous to get one in such a visible spot," she shared. "And then when I started to get to know people that had them … I thought, 'What a cool way to express kind of the art that you want to and the energy that you want to give out to the universe.'"
To DeGrano, the tattoos that paint her forearms and ankles are more than just pretty pictures; they each tell the story of a significant person in her life.
"I like to use them to kind of represent people more than anything, like as a remembrance and also like stages in my life … when I think about moments that stick out to me, they're always through people's stories."
Her first tattoo is dedicated to a former student that DeGrano taught in eighth grade, and who committed suicide as a senior three years ago. It's a one-eyed, green monster that takes up a fist-sized area of Degrano's right forearm.
"She drew it for me, actually: there's the drawing up there."
DeGrano gestured to a piece of paper stapled to her wall. It's covered with colorful designs and characters; top and center is the same whimsical monster, identical from paper to skin.
Her newest ink, "Hello Darlin," runs across her ankles with one word on each side — it's the phrase her late grandfather never failed to greet her with each and every time he saw her.
"My grandpa passed away last year, and he helped raise me," she said. "I think [the remembrance tattoos] were definitely impulse, because it was my way of grieving. And I think everybody has a different way of grieving."
Her final piece is fitting for her role as an English teacher — a green glowing lantern on her left forearm, an homage to her favorite book, "The Great Gatsby."
"I love the green light, just because of what it represents. And the idea that you can never go back to the past. You always have to keep moving forward."
---
Mr. Keith leans back in his chair, resting his arms on the desk next to a mug that reads "Student's Tears" in bold, red letters. Though his dishware may be intimidating, the English teacher is anything but.
"I had this fear that I was just going to have this line on my body 'cause I was going to wuss out," he said laughing. "And we started and it didn't hurt."
He lifted up his sleeve to reveal a detailed, monochrome shadow of an oak tree on his forearm.
"I've always really loved trees, and oak trees in literature represent wisdom and strength," he said, calling on his literary roots.
The tree represents Plato's Allegory of the Cave, which uses the analogy of a sun and a cave to argue that education can carry humanity out of the shadow of a false reality.
"It is supposed to symbolize that idea that my perspective is just my perspective, it's very singular," he explained. "And I need to remember that in the rest of the world, there are tons of other perspectives."
Unlike the other teachers interviewed, Keith has received more compliments than judgment for his tattoo; only his grandmother was critical of the decision.
"We were sitting at dinner one time, [my grandmother] said, 'I just, I can't believe that you got this tattoo.' And I said, 'Says the woman who tattooed her eyebrows on 'cause she's lazy.' And then she laughed at that. And then, like, fully let it go."