Agust D frees himself in "D-Day"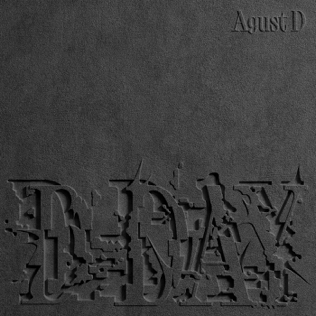 Emily Wong, Arts and Entertainment Editor
May 24, 2023
On April 21,  Agust D marked an end to his album trilogy with the release of his ten-track album, "D-Day." Also known as Min Yoongi, or Suga of BTS, his alter ego "Agust D" serves as an outlet for his darker and more intense music. Continuing his hip-hop and R&B music style in "D-Day," Agust D once again proves his phenomenal skills as a lyricist and music producer while reflecting on the lessons he's learned in his twenties. As the worlds of Suga, Min Yoongi and Agust D collide, he strategically weaves together new ideas and pieces of his past into one single album. He lets go of his past versions and expectations of himself and takes the first step towards the future as a liberated individual. 
The album starts off with the angsty, rap-heavy titular song, "D-Day." Through powerful electronic beats, Agust D delivers his message about embracing the past and moving towards the future. "D-Day's coming from forbidden things / As soon as you're released, open your new chapter," he raps in Korean. Having both a song and an album called "D-Day," Agust D dedicates today as his first step towards his future, freeing himself from what's "forbidden" to him, which can be inferred as breaking free from his public persona. Instead, he is marking today as the day, the D-Day, to start a fresh chapter as just himself, Min Yoongi. "Starting today, we'll pass the maze and start a new beginning," he raps.
Following "D-Day" is the catchy title track "해금 (Haegeum)." The changes in articulation and tempo of his rap portray his incredible breath control and aptitude for rhythm. Agust D cleverly uses the haegeum, a traditional Korean musical string instrument that symbolizes the lifting of a ban, to further emphasize his message of "liberation from all that's forbidden." He repeats in the chorus, "This song's a haegeum / get on board now," explicitly encouraging listeners to use this song to break free from what's holding them back. 
"
Though love is often associated with joyful and lighthearted times, Agust D points out how most memories, especially ones relating to love, often become distorted to something pleasurable to look back on.
In verse two, Agust D furiously raps, "Endless influx of information prohibits freedom of imagination, and seeks conformity of thought / triggers confusion in judgment / What is it exactly that's been restricting us? / Maybe we do it to ourselves." With these lyrics, he points out how sometimes we are the ones that take away our own freedom: our freedom of thought is prohibited when we seek acceptance from others' judgment, limiting ourselves to live up to others' expectations.
In the next track, "HUH?!" Agust D and fellow BTS member J-Hope speak directly to their haters. The compelling instrumentals in the background create a rippling instrumental with a series of "huh" sounds echoing after each other, emphasizing their questioning of why haters who don't know them would care to make false claims about their lives. Agust D says, "Live your life / if reality is a gutter, get out of it." Echoing the theme of "D-Day," he tells his haters to stop living with this destructive mindset and move towards a brighter future. 
Moving away from his haters and onto his personal life, Agust D takes a trip down memory lane to revisit the moments he wants to erase in "AMYGDALA." Not only are his lyrics deeply powerful, but the nostalgic guitar sounds wash over you, setting you adrift into your memories. Agust D repeatedly sings, "I don't know your name" in the beginning of the song, which references the different versions of himself: Agust D, Suga and Min Yoongi. Though he embodies three separate identities, his painful memories never leave him. He bitterly raps through Min Yoongi's perspective, alluding to traumatic moments he wants to forget: "My mother's heart surgery / my accident that I couldn't even mention / the call I got during my work about father's liver cancer." While he buried these scarring memories away in his mind, he never fully healed from them. Agust D recalls them in his lyrics as an attempt to face his trauma and finally move on from it. In the chorus, he sings, "My amygdala / save me from here, hurry and get me out of here." By pleading directly to his amygdala, the part of the brain that processes fear and regulates memories, to save him from the emotional pain his memories hold, Agust D strives to live free of his past sufferings and move foward.
From his painful memories, Agust D visits somewhat happier memories of love in "SDL." He defines love as something that's "easily forgotten and lived," yet is also a "glorified memory." "Memories are bound to be glorified / as if it's already faded," he raps. Though love is often associated with joyful and lighthearted times, Agust D points out how most memories, especially ones relating to love, often become distorted to something pleasurable to look back on.
"
Though love is often associated with joyful and lighthearted times, Agust D points out how most memories, especially ones relating to love, often become distorted to something pleasurable to look back on.
Continuing on with the theme of love from "SDL," in "사람 (People) Pt. 2 (feat. IU)," Agust D describes its complexity and relation to the term "forever." Through a slower, more refreshing beat, Agust D showcases his singing skills and IU's sweet voice. Though Agust D values truthful love, he is still afraid to make this commitment with another individual due to the lack of trust that love often holds for him, resulting in a relationship that won't last. He sings, "Forever's something like a sand castle, you know / it comes crumbling down at the calmest of waves." 
This draws a parallel to his previous collaboration with IU, "Eight," where he says, "The word forever is a sandcastle." He repeatedly uses the image of the sandcastle and waves as a reminder that the promise of eternity in a relationship can inevitably crumble.
 Despite this, Agust D also points out that individuals are still drawn towards an ideal concept of love because of their internal loneliness. In the bridge of "People," he sings, "They say life's a struggle between resistance and submission / I say it's a struggle against loneliness." He includes loneliness in a song about love to remind listeners that though you might feel lonely, you aren't alone. Everyone's bound to loneliness, so it's okay to feel that void.
The next track, "극야 (Polar Night)," features a calm vibe with a tinge of melancholy, as he rhythmically raps about the true honesty in society through all the manipulation and lies we use to reach our goals. Agust D argues, "What's the point of us fighting and hitting each other? / Look at the end of the spear." Between each electronic beat he reflects on how oftentimes, individuals are so caught up in societal expectations that they lose sight of what exactly they're fighting for. 
Following the polar night is a dark night. The eighth track, "Interlude : Dawn," paints a night sky through an orchestra of slower, sorrowful tunes. The addition of other string instruments in the background with the leading melody played by an electric guitar emerge into a louder cry, almost sounding like a call for help. Then it all calms down into silence, like what is often heard at the peak of midnight. The inclusion of this fully-instrumental track in his rap heavy album serves as a mental break from all his hectic thoughts, which displays Agust D's versatility as an artist and musician.  
The next track, "Snooze (feat. Ryuichi Sakamoto, WOOSUNG of The Rose)," responds to the cry for help in "Interlude : Dawn," comforting listeners after a rough, long night. Agust D softly sings, "It's okay if it's too much for you, you can take a little rest / Cry out loud / When the world gets ugly / When the hand that greeted you turned into a pointing finger." Just as he expresses his honest feelings through his presence as Agust D, he advises the listeners to do the same: let it all out. Woosung's vocals in the chorus, Agust D's rap, and Sakamoto's instrumentation fuse together a heartfelt message to persist through the adversity, because everything will turn out alright.
The last track on the album, "Life goes on," is as straightforward as the title: no matter what happens, life will continue. Like the BTS song of the same name from their album "BE," Agust D incorporates the same sing-song rap into the intro of this song with a simple electronic beat for the perfect closure to the wide range of emotions he communicates throughout this album. Through all his past experiences and memories and future obstacles, Agust D will continue to overcome them and accept them as part of himself. After all, as he sings, "life [must] go on."
While there are a variety of ideas and concepts within each song, "D-Day" has an overarching theme of liberation: whether it be about relationships, mental health or dreams and goals in life, this album's release marks the day Agust D closes this chapter of his life and welcomes the journey ahead, wherever it will take him.