BTS sends messages of strength and hope during the pandemic through their new album "BE"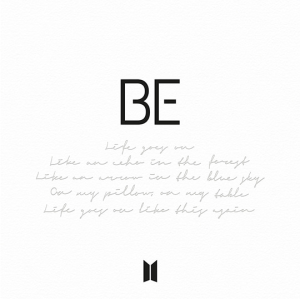 On Nov. 20, South Korean boy-band BTS released their 9th studio album "BE," a timely work that empathizes with the loneliness and sadness of quarantine life but also delivers a message of strength and hope for their fans. 
Just as the coronavirus put everything on hold, so were BTS' usual activities, especially their worldwide "Map of the Soul" concert tour. As vocalist Jimin describes in their speech at the 75th UN General Assembly, "I felt hopeless. Everything fell apart. Yesterday, I was singing and dancing with fans around the world, and now my world has shrunk to a room." Rapper J-Hope followed up with, "We embraced all these emotions and the seven of us began to make music together." Not only did they dedicate their time to new music, but the band also dedicated themselves to every aspect of the album's production, which is the most creative freedom their label has given them for an album. Leader RM was appointed the music director, eldest Jin, and Suga in charge of the album jacket, Lead Dancer J-Hope led choreography, Vocalist Jimin the project manager, Vocalist V the visual director, and youngest Jungkook directed the music video for the album's lead single, "Life Goes On." 
The album opens with the soothing ballad "Life Goes On," which contrasts the frustration of the COVID-19 pandemic with hope. Vocalist Jungkook opens with, "One day, the world stopped / Without any warning" but by the chorus, he sings that, "The day will come around / As if nothing happened / Yeah, life goes on." Through the development of the song, BTS recognizes that there will be days where "there's no end in sight" or when your "feet refuse to move," but time will pass to better times only if we are strong now. The soothing synths and catchy lyrics are nothing but comforting, and a good listen to power through any time in quarantine when time just seems to be achingly slow.
"
Especially since the band spent their time in quarantine to create this album to comfort their fans, the songs become all the more valuable for listeners.
BTS continues their pandemic story with "Fly to My Room," performed by V, Suga, J-hope, and Jimin. The minimalist beat of "Fly to My Room" revels in the comfort of simplicity. During quarantine, our rooms have become both a prison and a source of solace. V sings, "I want to leave any way / There's no way / This room is all I have." Instead of being able to fly all around the world, the members are trapped in their rooms, so they choose to change their mindset and imagine that they "fly to [their] room." Their rooms are no longer a source of negativity, but rather, as Jimin sings, "Get me outta my blues / And now I'm feelin' brand new."
Produced by V and originally supposed to be part of his solo mixtape, "Blue & Grey" opens with soft guitar strums and the vocalist's deep voice that just seems to sound exactly like the color blue and grey. "I wrote "Blue & Grey" when I was at my lowest point when I was asking whether I could keep going with my work or not. Even the fun parts of work became a chore, and my whole life felt aimless," V told Weverse Magazine. With breathy, pleading vocals and mellow rap bars, the group sings of their burnout and depression through vivid imagery. "I'm all by myself / That gray shadow that swallows me up / Is it anxiety or depression?" 
The album quickly takes a more upbeat turn with the introduction of an audio sketch, "Skit," something that hasn't been done since their 2017 album "Love Yourself: Her." Full of banter and excitement, the spoken-word track features a conversation about the members' reactions toward hitting No. 1 on the Billboard Hot 100 list with the song "Dynamite." The members ruminate about their thoughts, and RM ends the sketch by asking, "don't you think this is what happiness is like?"
BTS then continues their momentum with a retro-pop disco theme, "Telepathy." The song's joyful and funky beat diverges from the mellow tone of the first few songs in the album. Originally produced by Suga, the song had been shelved until it was rediscovered by the members while preparing for the album. The track is similar in sound to their hit song "Dynamite," but "Telepathy" takes a more personal approach to the disco style. While thinking about the connection they feel with fans, V sings that "Although we're far apart now / Our hearts are still the same." After all, they acknowledge, "You're the most special person to me." Although it can be polarizing, the song's clever use of autotune creates a metallic sound that lends to its playful vibe.
Following the funky vibes of "Telepathy," the album takes BTS back to its roots with an old-school hip-hop beat in "Dis-ease." The track examines the group's love-hate relationship with their work, calling it a sickness. RM raps that "A friend named 'rest' oh, I never liked him." The group confesses that they feel "Sick and tired" but they "don't wanna mess up." No matter how much they want to give up, they always find themselves working instead. This revelation of their inner darkness is masked by the uplifting instrumentation in the song. "[W]hile the theme of 'Dis-ease' itself isn't very light when it fuses with the beat, it feels as if the song is trying to get over itself and stay positive,"  J-Hope explains in an interview with Weverse Magazine.
Taking a rest from hip-hop, RM, Jin, and Jungkook find a haven in "Stay." Written by Jungkook, the song is soulfully dedicated to their fans, ARMY. They know that "Wherever you are / … you always stay." No matter how far apart they are, BTS promises that they will always be together with fans. The EDM beat slowly layers throughout the song, starting with a minimal sound and building up to multiple drops in the song. 
The album concludes with a bang in "Dynamite." Released on Aug. 21, 2020, the disco-pop anthem is BTS' first full English-language song. The track is an explosion of energy that instantly stole peoples' hearts, hitting first place on the iTunes Singles Chart in 111 countries. The song represents the power that BTS shows when performing. Jungkook opens, "So watch me bring the fire and set the night alight." When singing, the members bring out all their energy in order to "light it up like dynamite." Although Dynamite isn't as personal as other songs in the album, its catchy tune and lyrics make it an instant earworm. The uplifting sound successfully conveys the album's message of living in the present — simply being.
From the soothing ballads of "Blue & Grey" to the upbeat rhythms of "Dynamite", "BE" is nothing but relevant by relating to the loneliness of quarantine but also sending encouragement to fans during these hard times. Especially since the band spent their time in quarantine to create this album to comfort their fans, the songs become all the more valuable for listeners.