The City of Stars prom vision becomes a reality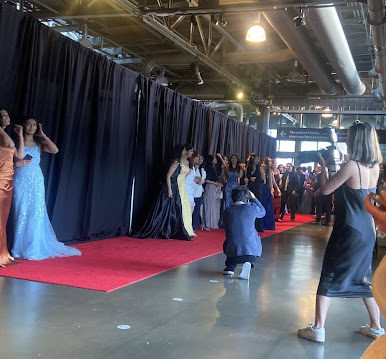 After the COVID-19 pandemic prevented DVHS from hosting a large-scale prom event for more than four years, the combined junior and senior prom returned on April 15 at the Exploratorium in San Francisco.  
This year, the Exploratorium, a science, technology and art museum located along San Francisco's iconic piers,  was the setting for this memorable night. The building contains over 600 interactive exhibits, ranging from unique art exhibitions to physics simulations.
Prom at the Exploratorium has been in the works since 2019. DVHS Leadership paid the deposit for the prom during that year in hopes that the Exploratorium would be booked as the venue for the 2020 prom. Unfortunately, prom was postponed to 2023 due to the COVID-19 pandemic, with prom being completely cancelled in 2020. 
"They kept on pushing our contract and giving us a new date," DVHS leadership advisor Mr. Daniel Bowen explained. "We've had the Exporatorium booked for four years, so it's been a cool full-circle experience." 
Last year, prom was divided by grade into separate junior and senior events. The junior prom was held in Lake Chalet, Oakland while the senior prom was held in the California Academy of Sciences. While both proms were ultimately brought to life, leadership grappled with capacity limits due to the pandemic. 
"The problem is, we were working with what we had months in advance when we signed these contracts, and that was during the Omicron situation," Mr. Bowen said. "As things were changing so rapidly, we couldn't do a combo event."
Returning to the old trend of a combined prom, leadership decided on planning a prom that includes both junior and senior grades due to logistical challenges with separate proms. 
"There's more people, so it allows us to give more bang for the buck," Bowen said. "It's more cost effective to do it together, and it allows us to be in bigger venues to do larger events."
With all of these changes, the question arises: was prom worth it? 
Many students think it was. The Exploratorium was filled with numerous attractions, including popular backdrops for taking pictures and fun science simulations. Some students also spent time with friends on the dance floor, taking breaks to enjoy food and drinks. 
"I thought it was really fun," senior Shikha Kathrani said. "I'm glad I went, and I regret not going junior year too." 
While there were various attractions, such as the silent disco, karaoke and caricature artist, attendees gravitated towards a classic: the mosh pit. Crowding around each other, students danced to blasting rap music and throwback 2010s pop songs, as they often pushed each other in the midst of the hype.
Despite a subpar DJ, junior Shriya Bhamidipati still enjoyed the prom mosh pit and even preferred it to the one at Homecoming. 
"The mosh pit was very fun, and everyone was very energetic," Bhamidipati said. "I thought it was better than in Homecoming because it felt less congested and sweaty." 
When attendees weren't dancing, they were often munching on the different savory foods and desserts offered. Some of the most popular food venders were a custom bar for mac & cheese, a poke bar, sweet and savory crepes and Dippin Dots. Kathrani found that the lines were short, allowing her to try a variety of dishes. 
However, while the lines for food were short, this could not be said about the lines for other activities, such as for the caricature artists. 
"Some of the lines didn't move quickly at all. We were standing in lines for five minutes not moving," Bhamidipati said.
Many attendees took pictures in Pier 15, where the balcony overlooks the San Francisco Bay Bridge in a beautiful skyline. The Bechtel Gallery's Colorful Shadows exhibit was also a popular backdrop for aesthetic photographs with its vibrant hues. 
The evening ended with a grand finale: fireworks. Almost everyone, even including many leadership students, was unaware that there would be fireworks at the event, allowing for an unforgettable surprise in the latter half of the dance.  
Despite the initial difficulties with holding prom in the Exploratorium, the event was a memorable experience for many students, as they enjoyed spending time with friends in a formal environment. 
"Overall, just the experience of going to prom with my friends made it all just come together into a fun-filled evening," senior Niya Suravarapu said.