The Grub Guide: Sajj Mediterranean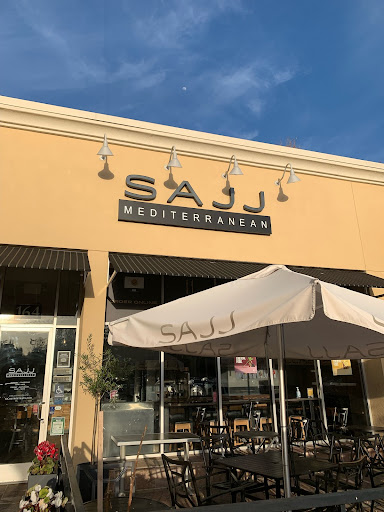 Upon first glance at Sajj Mediterranean, a calm ambience engulfs the place, giving it high expectations at the start. Giving a similar vibe to the well known location, Chipotle, Sajj Mediterranean offers numerous entrée choices where you can build your meal. Brought from their nine local farms found all over California, they truly raise the bar for their bold mediterranean flavors. Many find their weekend enjoying themselves at the city center and fortunately, Sajj Mediterranean is at Bishop Ranch, making it a convenient location for those who come there often. 
A clear and concise menu helps understand what you want, and Sajj Mediterranean does not fail to do so. Starting with the foundation you have the options of a Sajj wrap, pita bread, rice bowl, and salad bowl. Personally, I appreciate the rice bowl as it provides an authentic taste with their turmeric rice. There were various options for the filling as there were falafels for those who do not eat meat and for the rest, chicken shawarma, steak shawarma, pomegranate chicken, and shawafel which is a combination of both the shawarma and falafel. I admired their chicken shawarma as it is by far their best item there. 
Countless toppings are provided, tieing in all the flavors to present a fresh bowl of Mediterranean goodness. I enjoyed adding the garbanzo beans as it provides both protein 
and flavor. I also love the sumac onions and sumac cauliflower as it brightens up the bowl with appetizing spices. The tomato cucumber salad and wild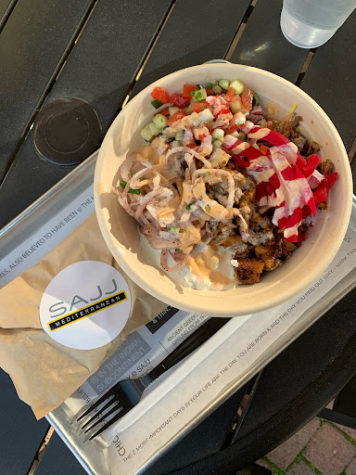 arugula are also one of my favorites to add to the dish. The sauces I would most definitely recommend are the tahini and spicy tahini as they boost the flavor of the whole meal. Different spreads are presented as you can get hummus, garlic spread, and tzatziki, all which are delectable spreads.
Furthermore, what made me love this place was the addition of the student discount. It not only reduces the amount of money you need to pay, but it also offers a free drink and pita chips. As some may find this place expensive for their portions, this deal is great for all the students at Dougherty Valley as it saves money and provides extra sides. Adding on, the customer service was exceptional as it was fast-paced and the workers treated all their customers nicely. 
Overall, I would recommend Sajj Mediterranean to anyone who is open to expanding their food taste with authentic Mediterranean flavors. This is one of my go-to places when I find myself wanting a filling meal. I rate Sajj Mediterranean a solid 9.5 out of 10.