The Grub Guide: New Eritrea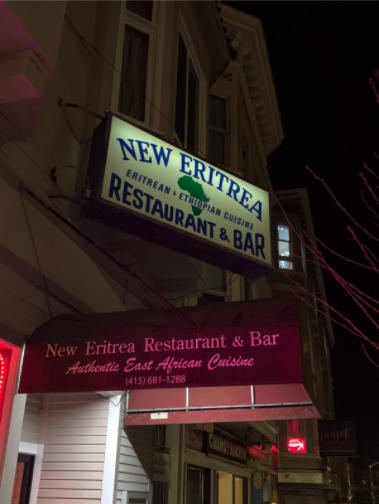 I always seem to find myself at the front steps of this restaurant on cold and cloudy days in San Francisco when my family's day plans just don't work out. With their warm lit ambiance, and waiters who will talk with you as if you are family, New Eritrea is the perfect sanctuary. Located right by the San Francisco Botanical Gardens, it stands on a small corner right on 907 Irving Street. 
The last time we went, my family and I were way too hungry to look through the entire menu and asked our kind waiter what she had recommended. We ended up getting a platter with a mix of both vegetarian and non-veg dishes and sat upon injera, a traditional, spongy bread made out of teff flour. Coming from someone who is Indian, I have to say the food amazingly resembled homemade Indian food. My family and I could not get enough of the food, as it had us content all through our meal.
We started off by ordering an appetizer, the meat Sambusa. It was a freshly baked pastry filled with a ground beef mixture with the perfect mix of spices. I would recommend eating this with their spicy sauce that pairs perfectly. If you do not eat meat or beef, they have the exact same dish made with a lentil filling or a mixed vegetable filling, so plenty of choices are available for everyone.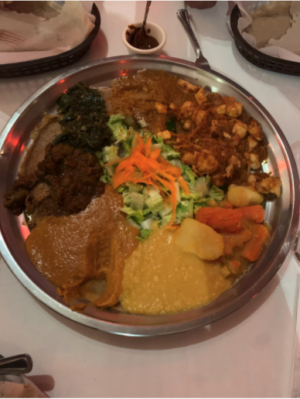 For our main dish, the platter, it had a mix of flavors incorporated in all the dishes. Some of my favorite dishes on the platter included kilwa dorho, alicha, and their okra. The kilwa dorho is a mouth-watering chicken dish, sauteed with tomatoes and spices, and has a zesty taste to it. The alicha is a very simple, yet very well done vegetarian dish that includes potatoes, cabbage, carrots and some more added vegetables which had a very soothing flavor that was not too spicy or overpowering. For me, the okra resembled closely the okra that my family makes at home. So to me, the dish tasted like home with its light flavor cooked along with tomatoes and mild spices. All the dishes were cooked so well, to where they felt as if they were melting in my mouth as I ate. I was extremely pleased with the heavenly flavors I was able to try. 
If you choose to go, I would highly recommend getting a platter to share with family or friends as it makes the experience of dining there much more joyous and enjoyable like when me and my mom accidentally went for the same dish at the same time. They also offer plenty of tasty vegetarian Eritrean food. So, if you are wanting to try a new variety of food, but are limited by certain food restrictions, you will not have to worry about that in New Eritrea. 
Overall, I would rate New Eritrea a 10/10. The combination of their amazing food which makes you feel at home, their friendly and quick service, and their warm and joyful atmosphere all make the experience of going there to be heart-warming and blissful.