5 Seconds of Summer redefine themselves on fifth record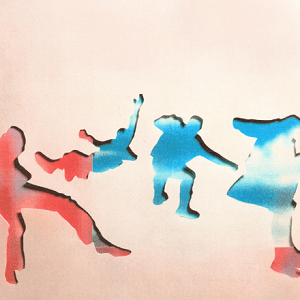 For years, 5 Seconds of Summer's career has been defined by others. But on "5SOS5," their first independently released LP, the band takes full control in their most ambitious project to date. With its deeply personal lyrics and creative process, the Australian pop-rock band shines brighter than ever.
"5SOS5," which released on Sept. 23, is preceded by four studio-length albums (hence this record's palindromic title) and a peppering of chart-topping songs, including their largest hit to date, 2018's "Youngblood" from the album of the same name that dominated the airwaves.
The band celebrated the album's release by performing both new and old songs at the Royal Albert Hall in London, a subtle nod to when they busked on UK street corners as teenagers. Accompanied by the House Gospel Choir and a full orchestra, the concert was a beautifully moving tribute to the band's decade-long career as of yet, and the fans who've stayed along for the ride.
For a band thrust into the limelight ten years ago, being able to create independently is a novelty. In 2014, the four members of 5SOS were still under 21 when they toured with One Direction and allegedly signed a contract giving the British vocal group partial ownership of 5SOS LLP. According to UK government data, the LLP was not dissolved until Jan. 2022, six years after One Direction disbanded, during which time its former members were still being awarded 50% of the 5SOS' total profits despite having no further professional relations with the band.
Regardless of the specifics of that contract, 5SOS is thriving today on their own terms. More than in any of their past works, "5SOS5" shows off the talents of each of the band's individual members (lead vocalist Luke Hemmings and drummer Ashton Irwin released solo albums in 2020) beyond their primary roles. This versatility is one of the best aspects of the record, showing 5SOS' maturation from industry newbies to holistic musicians.
For example, lead guitarist Michael Clifford found his niche in the control room, either producing or co-producing two-thirds of the album's tracks. Featuring unorthodox instrumental fade-outs and glowy synths, the album's sound departs from the heavier industrial rock of their fourth album "CALM" (2020) and toward a refreshing, yet less cohesive alternative pop sound perfected by bands like COIN and Tame Impala.
"We wanted it to sound raw and organic, but also vast and spacy. It felt like the perfect representation of the band's identity," Clifford stated for Variety magazine. "We feel a real sense of ownership of this record."
The band also wrote the album themselves, and the songs often feature lead vocals from their respective writers. Even drummer Ashton Irwin, who has historically limited his singing in the band, takes the lead on "Caramel" and "TEARS!" His deeper and more soulful vocals neatly complement Hemmings's crisp falsetto. Furthermore, the carefully placed additions of Clifford's pop punk-inspired vocal techniques and bassist Calum Hood's softer vocals combine to form a rich sonic experience.
The lyrics of "5SOS5" similarly reflect the album's intimate feel, featuring honest remarks on self-sabotage ("Me Myself and I"), true love…and death ("Older"), and the "trauma bond" ("Take My Hand") shared by the four musicians as they navigated fame and adversity as teenagers.
The sharp attention to detail on "5SOS5" appears to be a trend. However, the band didn't realize they were creating their fifth album until they had already recorded its lead single. Soon after "CALM" was released in March 2020, quarantine boredom and a writing session in Joshua Tree National Park led to a creative flow of music that eventually became the opening track, "COMPLETE MESS." Ironically, with "CALM" tour dates canceled, 5SOS was able to usher in a new era of freedom by creating music without the pressure of deadlines.
By now, it would be ridiculous for anyone to attribute 5SOS' success to anyone but themselves. Though slightly less polished than their preceding two records, this brings a unique beauty to an album full of heart—with the four members taking the reins for the first time, their journey was one of self-discovery in a musical sense as well. However, "5SOS5" doesn't conclude 5 Seconds of Summer's journey. Instead, it marks the rebirth of a band that can do it all.