Coldplay's new album "Music Of The Spheres" is out of this world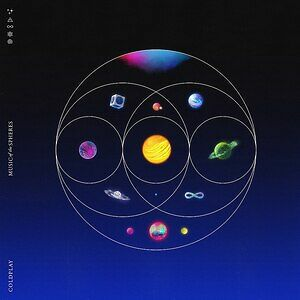 They're back. One of the bands that revolutionized the world back in the early 2000's and 2010's, Coldplay, is back to make their name in the 2020's. "Music of The Spheres," their 9th album, was released Oct. 15.
I have grown up with Coldplay, and they turned out to be my favorite band of all time. It was exciting news to see Coldplay back in the media with their last album, "Everyday Life;" it was their most unique album but it wasn't the authentic Coldplay. Right when they released their first single and teaser for "Higher Power," it was the return to the Coldplay I know. 
"Music of the Spheres" displays 12 songs, each representing their own specific planet (including some titles listed as space-themed emojis, as shown below), and the album displays ideals about bringing the world back together during the long and still continuous pandemic. 
This album has really shocked me by how well-known it is around the world. Coldplay is a very well-known band, but their last album really made me feel like people have left Coldplay in the dust. However, that's not the case anymore. 
To keep it simple, let's take a look at the overall album, along with some of my favorite parts of the whole album. 
"You've got a Higher Power"
Released back in May, "Higher Power" is a very pleasing way to open the album and transition well into "🪐." It brings a nice sense of positivity and happiness right as the song opens up, which isn't anything surprising, considering Coldplay has always given off a positive vibe. 
I won't lie, it did take a bit of time for the song to grow on me, as in the beginning, I felt like it was a little too "poppy," but it grew on me. I realized how much I needed this song, and it eventually turned into one of my favorite songs to listen to during the summer break. 
Just hearing the lyrics, "I'm so happy I'm alive, happy I'm alive at the same time as you," feels cringy, but they really do give you a form of positivity. Heck, by waking and hearing one of my favorite musical artists singing that to my ears, there couldn't be an any better way to start off my day. Overall, "Higher Power" has turned out to be one of my favorite songs in the album, and is set to become a Coldplay classic. 
"Still they call us a Humankind"
When I heard "Humankind" for the first time, I instantly fell in love with it, and my first reaction was, "I better see them play this song when they're on tour." "Humankind" really showcases the exact idea of what Coldplay always tries to do: connect with humanity. Coming right after the upbeat song "Higher Power," it's a great transition.
One of my main reasons for instantly falling in love with this song was its similarities, it felt like a song that would've either been on their 2011 album, "Mylo Xyloto," or "A Head Full of Dreams" (2015). The song is the perfect combination of their older songs, "Charlie Brown" and "A Head Full of Dreams."
It's really a song the world needs to hear. With so much adversity and tension, it represents how at the end of the day, we are all human. If I couldn't sum it up well enough, Chris Martin sings it perfectly: "We're capable of kindness, so they call us a Humankind." The song brings the strongest message out of any song in the album, and it truly is a big reason why this album gives off a great vibe. 
I also want to give some credit to how well the transitioning Humankind had with ✨, which is a minute-long track that sucks you into the album, and really gives you that there's no surrounding, in my opinion, the most peaceful song in the album. 
Two massive songs with two massive collaborations
Coldplay actually has three collaborations in the entire album, with R&B duo We Are KING and British artist Jacob Collier in "❤️." But there are two really large collaborations, including one shaking up the entire world. "Let Somebody Go" is the one "heartbreak" song of the album, and Selena Gomez adds a nice component to the song. It wasn't my personal favorite song, but it was the right collaboration. 
"Let Somebody Go" really feels like a relationship, mentioning everything a couple went through together, and the complications and pain when you "let somebody go." It honestly is a great song, yet with such brutal lyrics. If you want a song that puts you in your feels, I highly recommend it. 
Now, when I first heard the announcement that Coldplay was producing a song with a certain other worldwide-known band, I knew this was a recipe of success for listeners around the world. Now, how big of a fan was I of this collaboration? Not super big, but it wasn't for a fact that I wished that it would've never happened. 
Korean group BTS mentioned in the past that they would love to work with Coldplay, and have covered their songs live. It was brought to Coldplay's attention that a collaboration needed to happen, and "My Universe" was created. 
The song really has taken over the world, with over 180 million streams on Spotify in under two months. The song gives you a little spin from a different side of the planet, hence why I thought it was smart that Coldplay incorporated BTS into this song. The different sounds make it really unique and nothing compared to any Coldplay song I've heard. Overall, "My Universe" gave the album a little bit of life. I won't be shocked if this song will eventually be streamed more than "Something Just Like This," which was a song Coldplay did in the hit collaboration with the Chainsmokers back in 2017. 
"People Of The Pride"
The first thing I got listening to this song was an absurd amount of goosebumps. Although I still adore Coldplay's more pop sound from their last couple of albums, I still do miss their older albums that were just pure rock, which is exactly what I got out of this song. It didn't shock me when Coldplay actually announced that People Of The Pride was previously recorded during the time of "Viva La Vida" (2008) was being recorded, but words cannot describe how glad I am that Coldplay made the decision to take this song out of the trash, and refurbish it into the album. 
The song gives off the biggest change of pace. I will say it wasn't exactly the best transition after "❤️," but at least it surprised me when it made a heck of an entrance. 
The song gives off a more angry feel with a level of energy Coldplay hasn't had in ages. It's a completely different song compared to the others in the album, but the amount of nostalgia the song brought to the table was the reason why this song is my favorite track on the album.
Overall Thoughts
I was genuinely surprised when I heard the announcement of Music Of The Spheres, as Coldplay tends to take at least 3-5 years per album (previous album "Everyday Life" was only released two years ago). But the album didn't feel rushed and I don't think there was something missing in it—it gives off that space kind of vibe (obviously).
With "Everyday Life" in 2019, Coldplay was very quiet about it, so it was really odd how they didn't want to share the album with the whole world. That's why I'm so happy with the hype around "Music Of The Spheres." It didn't disappoint. It brings back the old Coldplay I remember and was a resurrection. It wasn't my top Coldplay album, but it definitely goes on the list of favorites. I'm really looking forward to hearing these songs live on Coldplay's tour from now on and into the future.
Overall rating: 8.9/10