Friday Night Lights: Wildcats beat Trojans 22-10
Dougherty Valley High School's varsity football team won the first game of their season, defeating the Milpitas High School Trojans 22-10 on Aug. 26.
It's the second year of history teacher Roberto Clemente coaching Wildcat football, and this win mirrors the Wildcat's strong start to their last season, which featured a 5-0 stretch but ended with four losses against their East Bay Valley league opponents: Foothill, Granada, Livermore and Dublin, respectively.
In the Wildcat's first drive, junior running back Devin Garcia (7) scores the first touchdown of the game. Fast forward to the fourth quarter. Following a safety by the Wildcat's defense and field goal by the Trojans, the score sits at 9-3. 
Trojan quarterback Zae Mims (3) huddles with his players, stepping forward to the 29 yard line. Hiking the ball, Mims throws the ball deep, landing out of reach for WR Malachi Jackson (5). But the Wildcats are called for pass interference, and the Trojans gain 15 yards.
It's first down. Mims passes deep right into the endzone for another incompletion. For second down, Mims passes over the head of his receivers. For third down, the same thing.
The Trojans call a timeout. It's now fourth down and their last chance to score. The crowd is silent in anticipation. Mims passes deep right one last time to Jackson, but the ball is broken up by Wildcat defenders. But look again! Before the ball can fall to the ground, Jackson swipes the ball into his arms, scoring a touchdown. After a successful extra point try, the Wildcats are down 9-10.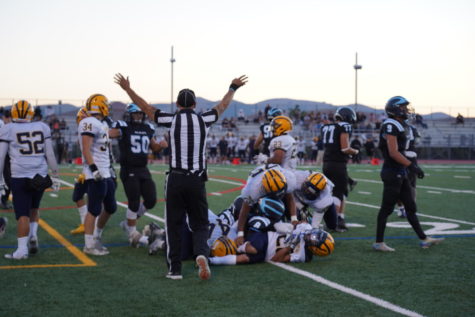 The Wildcats need an answer after losing their 9-0 lead. To meet the challenge, senior running back Alain Gachara (8) returns the kickoff for 24 yards, setting up the Wildcats in their own territory. Gachara fantastically pushes forward another 29 yards on a jet sweep, putting the Wildcats in the red zone. Capping off their perfect drive, Garcia scores a rushing touchdown, bringing the Wildcats back up 15-10.
"It's Friday Night Lights. Anything could happen. But today we bested them," Garcia said after his touchdown.
The Wildcats defense sacked Mims six times, dominating the Trojans on defense. Senior defensive end Theodore Leong (90) had three sacks and senior defensive tackle Arsh Gill (52), junior DE Erimi Oshewa (75) and Garcia all had one sack each.
"I'm proud of all my DBs today. We stayed disciplined, got the ball, and we were able to get it done," Garcia said.
The Trojan offense was held to 10 points, and an overwhelming majority of Mims's pass attempts were incompletions. Additionally, junior strong safety Gavin Bergstedt (18) of the Wildcats intercepted Mims late in the fourth quarter.
"They had some really good receivers, but we were able to defend them," Garcia added. 
However, while defending and while on offense, the Wildcats racked up a total of 10 penalties. In fact, they were flagged more times than they had been in any home game last season. This may be due to a new snap count that created confusion among the Wildcats's starting offense.
"We made a lot of mistakes, like false starts, minor stuff, but you can work that out in practice," Leong said.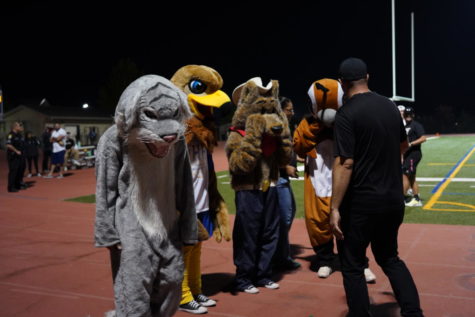 But the Wildcats were also flagged for illegal contact, specifically holding, roughing the passer and pass interference.
"There's a lot of things to fix. During practice, we just have to rep it out and make sure we're not doing anything dirty," Garcia explained.
It's worth noting the Trojans also accumulated nine penalties, most of them in the first half. Throughout the evening, the penalties on both teams created frustrations for both sides.
The Wildcats have historically had a run-first offense; passing is a rarity and often results in incompletions or interceptions. During home games last season, the Wildcats saw more interceptions than complete passes of more than 10 yards through the air.
Against the Trojans, senior QB Aditya Ved (1) had two pass attempts for an incompletion and an interception. When asked about interceptions last season, Ved explained that he needs to trust reads, make sure he sticks to progressions and trust himself.
Although there's room for improvement, the season is still anew. The Wildcats won their first game and their hard work on and off the field has paid off. That seems to be the message, as students at Dougherty Valley take to celebrating Milpitas's defeat.
View this post on Instagram
"The Trojans were a good opponent. They were hard working. They hit hard especially in the first quarter because it was their first game too. But we were able to hit harder," Garcia said.
After winning their first game, the Wildcats will travel to Newark Memorial High School on Sept. 2 to face the Cougars, who they destroyed last season 42-16.
"Our goal is to get the community back to watch football games and cheer on our guys. Even in the hallways, that's our goal. And praise the cheerleaders, the parents, and the teachers. It's also big when the band comes out," Coach Clemente said.
Dougherty Valley High School is currently ranked #48 in CA North Coast Section Football Rankings.