Lana Del Rey's "Blue Banisters" is a complex revelation of herself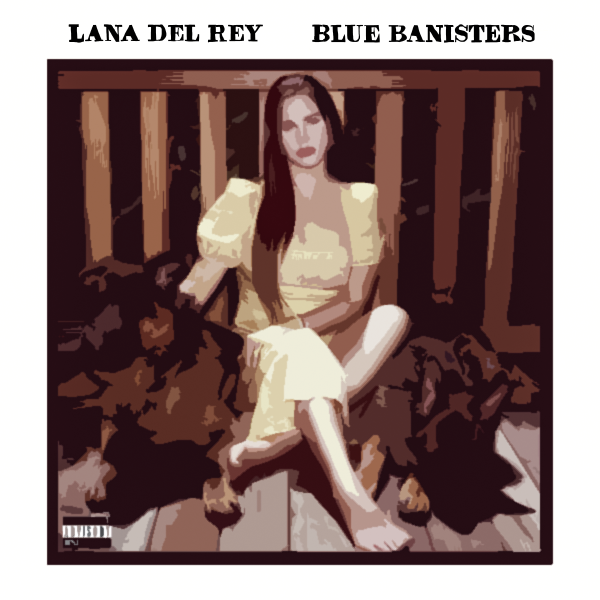 Tanvi Rao, Arts and Entertainment Editor
May 10, 2022
Just seven months after releasing "Chemtrails Over The Country Club," Lana Del Rey returns with her eighth full-length album "Blue Banisters." In the album, released Oct. 22, 2021, she swaps out some of her usual dark, bold Americana for introspection and themes that are anchored in the present-day. The album "[tells her story] and does pretty much nothing more," she explained in an Instagram post. The intensely personal nature of the album makes it more mystifying and true to her style, which only makes it more worth listening to.
The title track "Blue Banisters" catches the 36-year-old singer lamenting the loss of a man who once promised to "take away [her] pain / And paint [her] banisters blue" — a man that was strong and reliable, who she shared an easy domesticity with. The way the track is structured adds to its overwhelming wistfulness: the piano in the background feels almost nonexistent as it loses out to her distinct voice, which comes through with piercing clarity and emotion. ​​As gloomy as the song sounds, she makes it clear from the beginning that "Blue Banisters" is not a breakup album. This is her moving on.
Del Rey is evidently living her most self-aware life in "Arcadia," a majestic, sweeping ballad that draws a parallel between herself and her adopted home of California. Her clever metaphors are what elevate this track ("All roads that lead to you as integral to me as arteries / That get the blood flowing straight to the heart of me"), packing maximum meaning into each line. It feels more personal and more intimate than most of her work thus far in her career, and it's here that the album seems to peak.
The first track, "Text Book," doesn't disappoint either. It employs crooning verses and a chorus that, despite being mellow, is still catchy and satisfying. The song is an effective introduction into the way she's able to combine her classic sound with modern references that make this album her most honest one yet. "You've got a Thunderbird, my daddy had one, too," she remembers, referencing an old car. Just three lines later, she talks about "screamin" at the Black Lives Matter protests, providing a contrast between old and new.
"
The simple piano is similar to much of the rest of the album, but paired with her voice, she's able to build this song up to an enticing crescendo that makes it feel as rich and warm as the wildfires she sings about.
The same theme appears again a few tracks later, in "Violets for Roses." The song is about her opening her eyes to a burdensome, toxic romance ("You made me tradе my violets for roses / You tried to trade in my new truck for Rollses"), and her newfound freedom is described at the beginning of the track with a clever nod at the COVID-19 pandemic ("The girls are runnin' 'round in summer dresses / With their masks off, and it makes me so happy"). The track itself is delicate and cathartic, and romantic in the sense of falling in love with oneself.
In "Black Bathing Suit," Del Rey seems to fall back into her signature drama, recognizing herself as a "bad girl" once again. Her words fall against a backdrop of echoey vocals and minimal piano, making the melancholy just that much more potent. But rather than these emotions feeling far-off and inconceivable, they are set in a modern context right from the start, with another pandemic mention: "Grenadine quarantine, I like you a lot / It's LA, 'Hey' on Zoom, Target parking lot / And if this is the end, I want a boyfriend." Unlike much of her work, this song doesn't take a magnifying glass to decipher. Though the song itself isn't exceptional, at the very least it's relatable — which makes all the difference.
The modern references prove that Del Rey has her feet firmly planted in the present, but in between are some tracks that she's had tucked away for years. As outtakes from her 2014 album "Ultraviolence", songs like "Nectar of the Gods," "Living Legend" and "Cherry Blossom" have finally been released. The latter is a particular standout, a beautiful, love-filled ode to her future child that slots perfectly into place among the other songs on the album.
Though most of "Blue Banisters" is characterized by gentle acoustics and instruments that fade into the background, her versatility manifests in the tracks that have a rougher, harsher edge to them. "Interlude – The Trio" is another example, a purely instrumental interlude that sounds like something out of an old Western. And in fact it does build upon "Il Triello" by Ennio Morricone for the 1966 film "The Good, the Bad, and the Ugly" by layering modern trap beats over the unique melody. The track is ultimately one of the best moments on the entire list, placed far too early in the album for how good it is.
Del Rey's lilting melodies and masterful lyricism fuse together to produce "Wildflower Wildfire," a piece that catches and holds the attention of her audience. She repeatedly uses nature as a way to describe herself ("Baby, I'll be like a wildflower / I live on sheer willpower"), creating a sense of self-awareness and completeness in the song. The simple piano is similar to much of the rest of the album, but paired with her voice, she's able to build this song up to an enticing crescendo that makes it feel as rich and warm as the wildfires she sings about.
As a closer, "Sweet Carolina" wraps everything up perfectly. Through the album, Del Rey's loved ones are a consistent feature with friends or family mentioned in nearly every track. This song especially leans into that aspect, a dedication to her sister who was pregnant while the album was being written. It sounds like a poem or a lullaby, through which she showcases her impressive vocal range. Then, in the midst of her touching words, comes this: "You name your babe Lilac Heaven / After your iPhone 11." It's so jarring, so unexpected and yet so characteristic of her music, only made better by the way she finishes: "'Crypto forever,' screams your stupid boyfriend / Fuck you, Kevin." And just as suddenly as those lines appeared, they are forgotten about when she snaps back to comforting her sister. 
It's moments like these — snapshots of both the past and present — that bring the album to life, and the newfound candid, mature layer to her signature style cements "Blue Banisters" as one of Lana Del Rey's most memorable works yet.