Halsey unveils her inner mind in album "Manic"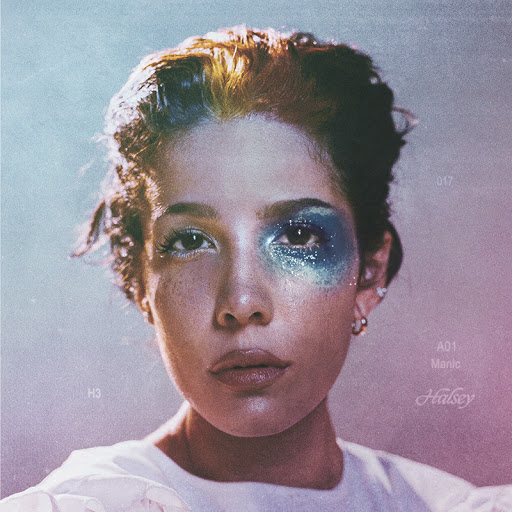 Releasing her third studio album "Manic" on Jan. 17, Halsey reverts to her hollowed vocals and rebellious lyrics, finding creative solace within her own life and focusing on the person behind her persona: 25-year-old New Jersey native Ashley Frangipane.
Incorporating concepts from her imagination, Halsey's first two releases were both concept albums about fictional worlds and people. However, "Manic" completely reinvents her style, turning fully to her own story and dropping the stage persona she's built up over the years. The songs are disjointed, but this sheds light on the album's theme and title, as Halsey has openly talked about living with bipolar disorder and wrote parts of the album while "experiencing an extended manic period," according to an interview with CNN.
Fans got their first glimpse of "Manic" back in Oct. 2018 from chart-topper "Without Me." Halsey revealed in an interview with Zane Lowe last year that this was the first song she'd ever written as Ashley, not Halsey.
"No wig, no colorful hair, no character … ['Without Me'] is about my life and about my relationship [with G-Eazy] that the world has watched so closely." With snappy background vocals and biting lyrics, Halsey cycled her way through various radio stations and set the stage for the rest of her album.
"Ashley," Halsey's first name, opens the 16-track album and serves as an introduction into the artist's mind. The self-focused nature of this album appears immediately, aided by a sample from Kate Winslet's character, Clementine from the movie "Eternal Sunshine of the Spotless Mind." This transitions into the second track of the album, "clementine," also inspired by "Eternal Sunshine."
Sonically, this album is chaotic, tentative of a cohesive sound. Taking a more patchwork-quilty sound, Halsey explores multiple genres spanning from country to singer-songwriter. In "You should be sad," Halsey blends country and pop in a post-breakup song while channeling various musical idols including Christina Aguilera and Shania Twain in the music video. Though the song is catchy, the artist's overall attempt at genre-blending is ineffectual. Halsey even steps into a new light as a romantic lyricist, painting a picture of the shy and daring first few moments of a relationship in "Finally // beautiful stranger." She writes unapologetically, and this song without self-deprecation or a punchline is definitely a standout.
Other highlights of the album include "More," an emotional song rumored to be about the singer's past miscarriages, and "929," the closing track of the album. "929" takes its name from Halsey's birthday, and the stream-of-consciousness lyricism works surprisingly well over simple instrumentals. Contrastingly, "forever … (is a long time)" and "I HATE EVERYBODY" are mostly forgettable.
The album is also interspersed with interludes from featured artists. Dominic Fike, a singer, and rapper from Florida sings about "brotherly love," as described by Halsey. Alanis Morisette, one of Halsey's musical idols, joins her on a track about empowerment in a bisexual anthem. (Halsey has frequently mentioned her bisexuality, as in past songs "Bad at Love" and "Strangers.") Finally, Suga from BTS (Halsey collaborated with the Korean boy band on "Boy with Luv," not featured on "Manic") raps about the costs of fame in "Suga's Interlude."
"Manic"'s tracklist is quite jarring, jumping from softer songs such as "clementine" to the roaring "3am" and radio-friendly "Graveyard." It's a drastic change from her previous works, which followed mostly linear storylines and cohesive sounds. The constant jumping between sounds is harsh and often pulls the listener away from the experience. However, the overall album is a very entertaining listen, with enough variety and appeal for both devoted fans and casual listeners.