The Grub Guide: Bober Tea
Bober Tea is the pinkest place I've ever been to. Pink walls, chairs, roses. There's even a telephone booth in the corner of the room, a glowing Bober Tea sign, and two boards with pink alphabet magnets. Somehow, it's not too overwhelming, because the walls are painted in softer shades, but it's definitely an impactful first impression. Unfortunately, despite the Instagram-worthy interior and various add-ons, Bober Tea falls short in terms of flavor and pricing.
Located in downtown Walnut Creek, Bober Tea is a boba shop that specializes in drinks with stir-fried boba, chizu (cheese) cream, and the color pink. Prices range from $4.10-$6.60 per drink, depending on what additional items (stir-fried boba for 80 cents, or cheese cream, konjac jelly, passion fruit popping boba, crystal jelly boba, and crushed oreo cookies for 60 cents each) you choose. I ordered the Pink Haze ($6.90), a Vietnamese iced coffee with stir-fried boba and pink salted cream, and the Brown Sugar Roasted Oolong Milk Tea ($5.90) with stir-fried boba.
Bober Tea doesn't take cash, so you can order online or at one of the two digital menu stations in store. As promised, my order was ready ten minutes after I paid through the website. Other customers lingered, even after their drinks were finished, to take photos by the pink telephone booth and lit-up signs. And once I finished the obligatory photos, I could finally take the first sip of the Brown Sugar Roasted Oolong Milk Tea. 
Brown Sugar Oolong Milk Tea with stir-fried boba
The boba was chewier than I expected, without much flavor, especially for a store that advertised stir-fried boba, which seems special. The tea wasn't very sweet, which disappointed my sweet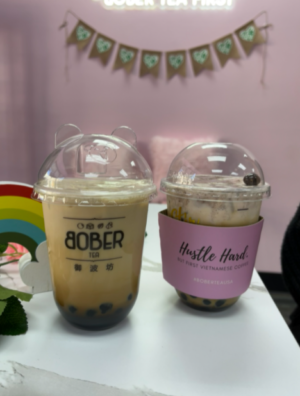 tooth. However, since you can adjust the sweetness of most drinks, that drawback isn't insurmountable. The taste of oolong came through more than the brown sugar, making me doubt that I ordered the right drink. Usually, when there's a brown sugar drink, the sweetness is all I can taste. But there was the opposite problem with this drink — it was all oolong, and no brown sugar.
But Bober Tea's oolong isn't the worst I've tasted; it also isn't the best. The tea almost tasted earthy, bordering on flavorless. Combined with the price, which was about a dollar more than most of the boba places I usually go to, the drink was just okay. If you're looking for a sweeter brown sugar milk tea, try Bober Tea's Brown Sugar Milk Tea. But if oolong is your favorite, then stick to your order at your usual local boba shop.
The Pink Haze with stir-fried boba
On Bober Tea's online menu, Pink Haze looks fascinating. The salted cheese cream on top is visibly pink, directly contrasting with the creamy brown Vietnamese iced coffee. In person, Pink Haze is less interesting. The cheese cream wasn't pink at all, speckled with dark grains that might've been coffee, chocolate, or hazelnut, and there's a single dark bean on top of the plastic seal. Maybe a hazelnut, as promised on the online menu, but certainly a strange place to put it.
The cheese cream was a deliciously salty contrast to the iced coffee, but I couldn't taste any cream, just salt. The iced coffee, on the other hand, was my type of coffee. Not strong and bitter, but not drowned out by the salted cream. It might not live up to a coffee critic's standards, but it's from a boba shop.
Final Verdict
I give Bober Tea a 7/10. It's worth a try, if you're willing to pay a little more to experience the all-pink, Instagram-worthy set up, but the drinks may not be good enough to have you coming back.