Dougherty Valley students enterprise their creative skill by opening small businesses
Creative and talented students are easy to find at Dougherty Valley High School (DVHS), and among those students are those who created small businesses to sell handmade products. Some sell handmade jewelry, plushies, accessories, cards, and more. Oftentimes, they donate a percentage of their profits to organizations to help those in need of funds or resources.
Love Plus Feelings
DVHS junior Anahita Vaidhya brings back the simple things in life through her small business, Love Plus Feelings, in which she sells handcrafted works of art including handmade greeting cards, jewelry, and paintings. 
Vaidhya had been making cards since the third grade, evolving from a simple stick figure and a "Happy Birthday" to more intricate, thought-out designs. "I realized I wanted to make a business out of this when the cards I made lit up faces and made others feel special," Vaidhya said. 
She initially started Love Plus Feelings in the seventh grade by selling handmade greeting cards, but her business has since evolved to sell personalized jewelry and paintings as well. In addition, she sells seasonal items available for a limited time, such as custom posters and magnetic heart bracelets during homecoming and prom season. 
While some of Vaidhya's bestsellers have been other jewelry items, her favorite product is the magnetic heart bracelet. 
"The main purpose of Love Plus Feelings  is to bring people together, and the heart bracelets are a beautiful way to spread love and create a bond, quite literally, between two people," Vaidhya said.
 Her passion for design drove her to create not only her business but her platform as well. Vaidhya currently sells through her website, luvplusfeelings.com, and promotes through Instagram. She runs both of these platforms and uses them to give fellow fine arts creators a digital presence, such as her art teacher, Jacky Huang.
Love Plus Feelings is also significant for its donations to struggling amputees. Vaidhya donates 5% of her profits to Mukesh Sharma, an amputee who lost his arm in a tragic accident.  Despite his struggle to support his family and himself, Sharma donated to fellow amputees and ran food camps throughout the COVID-19 pandemic. His resilience and compassion changed Vaidhya's perspective on giving completely, moving her to donate to Sharma and other amputees, where she continues to see the impacts of her donations first-hand.
Impact By Design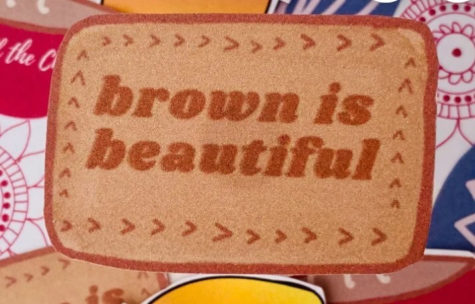 DVHS sophomores Roshni Chitturi and Lahari Anantha started their non-profit business Impact by Design during late 2020. 
"My friend and I were thinking, 'How cool would it be if we started this business and sell stickers, and what's even better is if we go non-profit and donate the profits,'" Chitturi said. "We had a good artist, so we branched out from there."
They sell stickers through their Etsy shop, ImpactByDesign, including their "Keeping Up With the Desis" and equality collections, and donates all its profits to organizations such as Doctors Without Borders and the Black Lives Matter movement. In addition to selling the stickers and their special collections, Impact by Design also plans to release T-shirts, notebooks, and more soon.
BeePlusBelle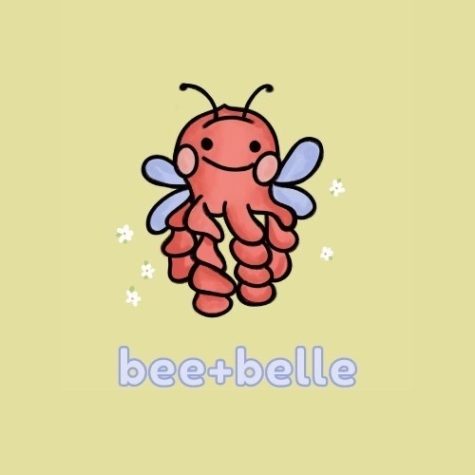 DVHS senior Bea Elisa Roxas has been selling handmade crochet plushies in different animal shapes through her Etsy shop, BeeplusBelle. When starting an Etsy shop for the plushies, Roxas decided to name it BeePlusBelle because many mispronounce her name as "Bee-ya," rather than "Bay-ya," and because her family nickname was "Belle". Before making a crocheted plushie, she first designs it on paper after gaining inspiration from other designs with animals that she liked, and then compiles it all together. 
However, Roxas explained how her sophomore year was mentally tiring and difficult for her, helping her realize that she wanted to help others prioritize their mental health after she wanted to focus on the topic of mental health. 
"My mental health was bad, but then after quarantine, it started to get better because I wasn't at Dougherty, which can be a toxic environment," Roxas said. "And it gave me the idea to make plushies to help people cope with anxiety and stress, because I know it would've helped me."
Despite the mental struggles, Roxas says that her business encourages her when people leave reviews on her Etsy shop saying how her plushies helped them, and how their anxiety wasn't as bad as before. Similarly, she feels the same when she hears back from customers about how much they appreciate the plushies and enjoys having a big impact on people by helping them through selling her plushies.
"I think that now, mental health is becoming a bigger thing, especially at Dougherty, and it's kind of an issue," Roxas said. "It's okay not to be okay, and if you ever need anything I'll make you a free one!"
Shop Auralite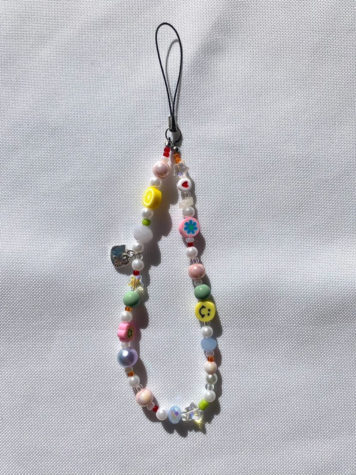 DVHS junior Fiona Peng and sophomore Elaine Peng sell handmade crystal jewelry through their business Shop Auralite on Instagram and Etsy. The sisters started making their own necklaces, rings and phone charms two years ago, and they started selling their products in July 2021. Before selling it, their friends often told them that they wanted to buy their jewelry. 
"During quarantine, my sister and I both really got into crystals and spirituality, and we had a lot of free time," Fiona Peng said. "We wanted to use that extra free time to make something that we're proud of."
When Fiona Peng first wanted to sell the jewelry, Elaine Peng helped her decide what to sell and where to donate the profits to.
"There are many reasons why we wanted to start this business," Fiona Peng said. "I feel like the main reason was because we actually wanted to donate a majority of our profits towards mental health research like the National Alliance on Mental Illness (NAMI). During quarantine, my sister and I both struggled with mental health, and we wanted to do what we could do to help."
Fiona Peng says that both of them are very passionate about mental health, which made them want to start their business to help fund the research for it during the summer. She says that she loves making necklaces and rings because it is relaxing for her.
The name Shop Auralite came from the crystal Auralite, which is a crystal composed of multiple crystals, mainly amethyst. Both sisters like the color purple, so they decided to use it as their name because they also thought it wouldn't go out of style.
"We're very passionate about mental health in general," Fiona Peng said. "We want to bring awareness to the importance of mental health by selling our jewelry and donating the majority of our profits."