"Ted Lasso" balances its unwavering optimism with tackling real-life issues in its second season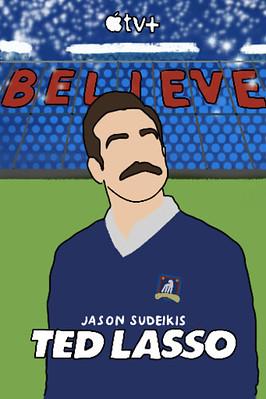 Ted Lasso, an Apple TV+ comedy-drama series, balances its unwavering optimism in the show's second season by showing the refreshing perspectives of the various characters of the series. Despite being a heartwarming sitcom, the show does not compromise on portraying realistic relationships, character flaws, and even mental health issues.  
The show stars Jason Sudeikis as Ted Lasso, an American college football coach who is tasked with managing AFC Richmond, an English soccer team. The show explores how he navigates the difficulties with his job, initially having a few rough patches with the new owner of the club, Rebecca Welton (Hannah Waddington). The show also features Roy Kent (Brett Goldstein), one of the league's top players who is approaching the end of his soccer career, and Jamie Tartt (Phil Dunster), an AFC Richmond striker who is a top scorer for the club and Kent's rival. Keeley Jones (Juno Temple), is a social media savvy model who is dating Jamie at the beginning of the show, but slowly falls in love with Roy. Nate Shelley (Nick Mohammed) is an equipment manager with a keen eye for good plays and positions in soccer. 
At first glance, one may think that all of the characters are stereotypes and aren't developed: Ted is a ray of sunshine, Rebecca is diabolical and cunning, Roy is extremely cynical, Keeley is famous for being famous and Jamie is an asshole. But upon deeper inspection, we realize that no one can ever be limited to a few adjectives. Each character has their own good qualities and flaws. For example, Rebecca realizes that she deeply cares for AFC Richmond, and Jamie's initial arrogant behavior is the result of a bitter backstory
"Ted Lasso" takes common tropes found in sitcoms and flips them by showing realistic character growth and interactions instead. For example, Keeley's romance with another character in the second season is a realistic portrayal of the love, support, and compromise needed to sustain a relationship. Keeley is also, as proclaimed by the show, "an independent woman" who transforms her model career to become a head of marketing for AFC Richmond. Her strong go-getter attitude doesn't make her rude but instead cares very deeply for her friends and family. This is just one instance where "Ted Lasso" goes above and beyond to show the importance of "being curious and not judgmental." 
Contrary to what one may assume, Ted isn't always happy. In fact, we see that he's prone to panic attacks due to multiple stressors in his life. For example, later on in season two, the pressure of a winning season and his rocky relationship with his son in America become too much for him during an important soccer game. His hands begin to tremble as he hurries out of the arena, feigning a stomach ache from food poisoning. The entire day following that incident, he isolates himself from the world in fear of vulnerability as his anxiety is a sharp contrast from his usual cheery exterior. 
This is where "Ted Lasso" differentiates itself from other wholesome sitcoms such as "Parks and Recreation". While the drama in "Parks and Recreation" is relatively superficial and takes any emotional problems faced by the characters at face value, "Ted Lasso" understands that even the most positive people struggle with negative emotions sometimes. It's in the moments that we see Ted withering in a small corner of a room alone when we're reminded that he is very human and is not just an embodiment of sunshine. 
"
It's in the moments that we see Ted withering in a small corner of a room alone when we're reminded that he is very human and is not just an embodiment of sunshine.
"Ted Lasso" not only breaks the mold of how comedies deal with negativity but also fights the stigma of mental health. In season two, Ted avoids his mental health issues, even with the addition of sports psychologist Dr. Sharon Fieldstone (Sarah Niles) to the AFC Richmond staff. His reluctance to accept his vulnerabilities and to go to therapy is a recurring theme throughout the second season, as he slowly confronts past traumas and becomes more comfortable with talking about his feelings. Watching Dr. Fieldstone slowly uncover Ted's loneliness and fears is one of the most gripping moments of the series as it empowers viewers to build up the confidence to acknowledge their mental health and take steps to make it better. 
However, that is not to say that Ted's positivity and kindness are ineffective as his charm still rubs off on almost everyone that he meets. Optimism is still a catalyst for allowing others to become better versions of themselves. 
One of the biggest examples of this is seen with Roy. Roy is known for being outspoken and dropping F-bombs to the point that his young niece, Phoebe (Elodie Blomfield), picks up his bad habit and curses as well. Yet, Roy also has a soft, tender side to him: the part of him that enjoys coaching Phoebe's all-girls soccer team, and he even knocks on every door in his neighborhood to look for a dentist for Phoebe's smelly breath during Christmas. Ted, Phoebe, and other characters unravel this soft side in him by manifesting kindness and positivity. In return, he breaks his cold, "macho" exterior and reveals a heart of gold. 
While still allowing the viewer to learn more about the main cast, "Ted Lasso", especially in its second season, also lets the audience learn more about supporting cast members who were previously left out of storylines. For example, Sam Obinasaya (Toheeb Jimoh), a Nigerian soccer player, is seen navigating different moral conflicts and real-life issues, such as sponsoring Dubai Air, a company that is involved in corruption and pollution in his home country. Even Dani Rojas (Cristo Fernández), the joyful Mexican footballer that often chants with enthusiasm, "Futbol is life!" makes mistakes and struggles with accepting them.
More than anything, "Ted Lasso" brings joy and comfort to its audience. For a post-COVID-19 world, sometimes just a little warmth and encouragement is helpful to counter such a depressing setting. And while being aware of the issues that people are facing, "Ted Lasso" delivers on its contagious joy and optimism.