Redefining her finish line: how a biology teacher grappled with her past as an injured track star
Eva Shen, Editor in Chief
October 24, 2021
The girl in the photo has a quiet smile, her head turned to the camera as if caught in a spontaneous moment. In another photo, she is bent slightly forward, mid-laugh, sporting the bright red and gold jersey of the University of Southern California's track and field team.
Ms. Pam Sheppel (then Curran) was a 19-year-old track star. Recruited to USC, whose team was renowned for sending scores of sprinters to the Olympics, her career was blooming. 
She had just qualified for NCAA's in her first collegiate meet with tangible dreams of going to the Olympics. As the 7th best long jumper in the nation, Sheppel was only three spots away from qualification.
The girl in the photo didn't know that in less than a month, she would face a career-ending injury that would completely dismantle her identity. She would be forced to give up that barely used jersey and everything it embodied: her achievements, her passions, her friendships, her studies, and the structure of her life.
A CAREER CUT SHORT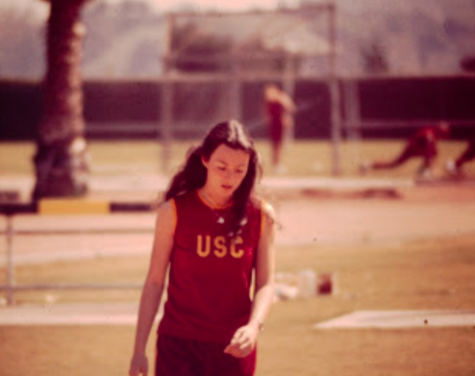 As a junior at La Reina High, Sheppel, who was coached by her dad, made history books by winning the Southern Section team title — despite being the sole member of her school's one-woman track team. 
At the CIF-Southern Section meet, she won the 220-yard dash (26.2 seconds), long jump (17 feet, 53/4 inches), and just missed first place in the 100-yard (11.5 seconds). (The winner of the 100 was Evelyn Ashford, who would later win the 100 meter dash at the 1984 Olympics.)
Stacked against 200 teams, Sheppel's combined individual performances garnered La Reina the team title. Nothing like it had ever happened before.
"That was enough points to win the section," said Sheppel, now an AP Biology teacher at DV. "It was wild. It was really crazy."
The excitement continued: she was scouted by college coaches at prestigious meets like Arcadia Invitational and Mt. Sac. She was one of the first women to receive a sports scholarship — a pioneering achievement enabled by the recent passing of Title IX, a federal law that guaranteed equal educational opportunities.
"I was a freshman and my roommate was a sophomore, and we had the two track scholarships," said Sheppel. "All the women athletes were on that floor. We felt really proud; we were the trailblazers."
It seemed that everything was falling into place. She would study her favorite subject (biology) as a pre-med student and compete in her favorite sport. Her teammates were also her roommates and her closest friends. 
At her very first invitational of the season, Sheppel qualified for nationals in the 200 and the long jump. But as she was racing her final event of the day, the anchor leg in the 4x100m relay, she felt a sudden, explosive pain in her back. 
"All of sudden— I couldn't even walk," she said. 
"I had to figure out what was going on, I went to all these doctors, [but] this was decades ago and they couldn't figure out what was wrong. Back then they were just like: we have no idea. Basically, you can't run track again." 
As an athlete whose entire life revolved around her sport, the news was devastating. She was unable to walk without pain, let alone train. After a month passed, the Athletic Director notified her that her scholarship would be removed and given to someone else. Worse, Sheppel felt as though she was losing her friends.
"That was just one more blow," she said. "Sometimes in some athletic circles, people shy away from someone who's injured. It's almost like this mentality that it's contagious… It was as if I was kicked out of that group. 
"Everything that I had identified as who I was was suddenly under question, and I didn't have any answers. All of a sudden I was like, I'm no longer an athlete. So now what?"
As a pre-med student who aspired to be a physician, Sheppel turned to scores of doctors, none of whom understood her injury or could alleviate her pain. She was informed that she would never be able to run again, nor have children. One doctor told her it was "all in [her] head."
"[That] was devastating because I was like, there is nothing I want more than to be able to get back to my running. And you're telling me it's in my head?" she said.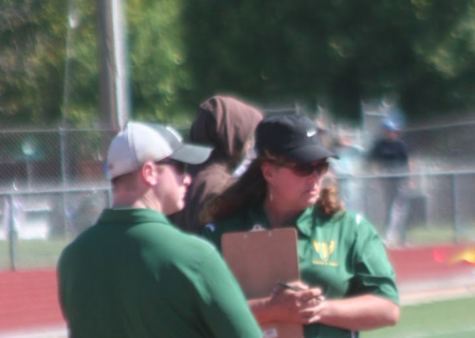 "I'm being super honest. I have a faith background, and I have to say even that was not doing it for me. My family— they were supportive but they were confused about what was going on as well, and they didn't know how to help me."
Even as she struggled to grasp the limitations of medicine, the values that she had ingrained as an athlete were painfully challenged. 
"You have this idea that if I work hard enough, I can overcome a challenge. I'm going to push myself to that next level. That's kind of the mentality that as an athlete, you have to have," said Sheppel. "To hit a wall that I couldn't get over was… a new concept for me. I wasn't ready for that at all."
COMING FULL CIRCLE
Sheppel was relentless in searching for a treatment, and eventually sought a chiropractor who had worked with the Olympic team. After six months, he was able to relieve her back pain, which she now knows is a result of a congenital deformity.
Against all odds, she was able to walk without pain again. Recovering physically could almost be considered the easy part— now Sheppel struggled to rebuild her entire identity. 
"It was really just my own inner [dialogue]: I need to problem-solve here. Things have to change. I've got to make a decision. What's it going to be? How is it going to work with this new direction in my life?" she said. 
"And really, it was just time that got me through it. I had to have time."
Sheppel refocused her efforts on her academics, which had "suffered while [she] was running." She applied and was accepted into an interdisciplinary program for six people, where she worked with a team of professors on a research project and designed her own major concentrated on preventive health care.
"I would rather help people prevent getting injured than have to deal with the [aftermath]. That was my thinking at that point," she said. "It was an incredible experience."
Sheppel graduated from USC with a degree in biology and social sciences. After receiving her master's in public health at UCLA, she became a health education specialist, running the preventive health care program at Cal Poly SLO.
In 1986, Sheppel proved her physicians wrong once again: she gave birth to her first child, Briana. She then became a full-time mom to five children — until her 9-year-old daughter asked to run track. 
Briana wanted to race in her school's track meet, but the team had no coach. Sheppel was initially reluctant to step in; she knew that practices and track meets would force old memories back to the surface. 
"I still kind of held a grudge. I didn't really want to get involved with track, because I thought it would hurt too much," she said. But she agreed to coach the 9 and 10 year olds, thinking it was "no big deal."
Her daughter soon joined CYO track, and Sheppel helped out through her middle school years, though still "keeping a little bit of distance" from the sport. When she was in 8th grade, Sheppel considered sending her to Carondelet High School, which happened to have a job opening for a sprints coach. Accepting the position was a "good way to check out Carondelet as a school," she reasoned.
At Carondelet, she helped develop the girls' team, which hadn't been given as much attention as the all-boys team at De La Salle (Carondelet's sister school). In a way, she once again became a trailblazer for women's sports.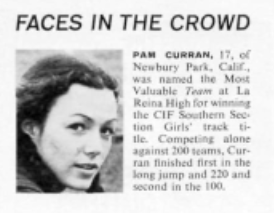 After one year of coaching, she was so enamored that she took courses and got certified. When her daughter ended up going to San Ramon Valley High School, Sheppel became the track and field coach there. 
"I never told anybody, but it was kind of my personal goal: I wanted to coach somebody to break my times," she said.
She found her protégé in Kelly Fogarty, a cheerleader-turned-sprinter with no previous track experience. Sheppel coached the "obviously incredibly talented" athlete for years, quietly pursuing a goal, just as she always had— though this time, through someone else. 
"I was able to watch her develop and… get to that point at the [Dan Gabor] race — I'll never forget it — where she ran sub 12," she said. "She was jumping up and down, she was so excited… I can still see her running and looking at that time and going 'yes!' Breaking 12 as a sprinter [in the 100m] is a huge thing."
Fogarty would later run at the Olympic Trials, but she wasn't the only standout athlete that Sheppel coached. 
"The philosophy at SRV was very much developmental, so I had really elite sprinters — all of the [sprint] records in EBAL were my athletes. Our goal was to beat all the Berkeley sprint records in the record book, and we did," she said. 
"It was a no-cut sport, so I also had students who had never run before. The focus was: you're starting here, and you move over here. It's all about personal goals. That's what's so nice about a sport like track— it's numerical. It's like, here's my PR, and let's see if I can beat it. It's a direct if I work hard, I get a reward."
Sheppel still cites the day Fogarty broke 12 as one of the best days of her life, as it was also a culmination of her own dreams and efforts.
  "It was really such a privilege. That's probably been my favorite thing. I love teaching, I really do, but coaching was by far the most fun I've ever had," she said. 
In a way, coaching became a unification of her passions, as "having a science background helps you be a good coach." Sheppel would have her athletes take their heart rates to determine the rest periods between workout intervals.
"It was super fun for me from that perspective. Because I was like, oh, a science experiment!"
It wasn't until 15 years ago that Sheppel discovered the cause for her permanent injury: an MRI scan revealed a congenital deformity, in which one of her vertebrae is fused with her hip joint. 
Now, as she recalls her early physicians and their lack of knowledge, she admits that it taught her a brutal, but "good lesson." 
"You've got to be proactive as a consumer of medicine… because medicine is a limited field, and they keep learning new things all the time. They don't know everything," she said. She teaches her biology students to approach science with the same mindset.
Becoming a teacher felt natural after her years of coaching high school students. "My athletes would always [ask], 'why aren't you a teacher?' Because most coaches are teachers… In the back of my mind, I was hearing, 'why don't you be a teacher?'"
Sheppel is at peace with her identity and her past now. Whereas she once shied away from all mentions of the track, she now says that "it was meant to be. I wouldn't trade it for anything." 
She views her past achievements with a sort of nostalgia, and empathizes with athletes — or anyone — facing an injury or challenge: "First of all, don't let whatever you are doing be how you define who you are. Look at yourself as more than just a sum of what you do. That goes for anybody. You're more than just a student. You're more than just an athlete. You're more than just whatever your job is. Look at yourself and really give yourself grace for being a lot more than that."