Men's Track and Field team speeds right past the competition, nearly shattering the school record at the Arcadia Invitational Meet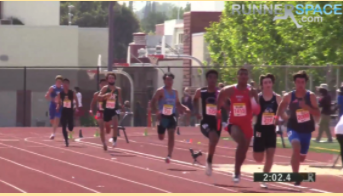 On May 8, members of the Dougherty Valley track and field team, Sanyu Kumaran, Philip Mathews, Leslie Williams Jones, and Aryan Srivastava, competed at the Arcadia Invitational Men's 4×400 meter relay and finished in 4th place in the first heat. They placed 5th out of all teams that competed in this event. 
With a time of 3:28.77, they were a mere 0.06 seconds away from beating Dougherty Valley's 9-year standing record.
"We were really close to the school record. It was like a little bittersweet," said senior Philip Mathews. 
The qualifying time for the 4 by 400 meter men's relay this year was 3:32.00, which the team managed to break to allow them to race at Arcadia for the first time. 
"Arcadia was definitely a once-in-a-lifetime experience because everything was so professional. It was [with some] of the fastest people in the state," said senior Sanyu Kumaran, the lead leg of the race.
"
"Arcadia was definitely a once in a lifetime experience because everything was so professional. It was [with some] of the fastest people in the state,""
— Sanyu Kumaran
Kumaran started off the race strongly for Dougherty, finishing with around a 52.4 split, a pace just skimming over DV's record.
"I was a little bit nervous because everyone's watching on the livestream, and I couldn't let [my team] down. I knew there was a possibility we might come in last if we didn't perform the best we possibly could," said Kumaran. 
With such a big spotlight set on the meet, nerves were high, but the DV boys did not let feelings take control because they knew there was too much on the line. 
Sophomore Aryan Srivastava explained, "Right before I race I take like 5 deep breaths, and usually pray to God a little bit before." 
The beginning of the second lap started in 8th place, with Mathews bringing their lead up to 6th place at about a 52 split. Srivastava secured the 5th place stand keeping the pace steady and Jones held the 5th place title with an astonishing time of 49 seconds in his split of the race. 
Junior Leslie Williams Jones talked about what was driving his speed, saying, "My dad's my biggest inspiration and motivation, even though he's not here anymore. It's just wanting to make him proud."
Jones also plays basketball and football, but says he likes sportsmanship and how supportive everyone is in track and field, especially at Arcadia.
"Everyone there was just really nice, they know you're fast because you made Arcadia," Jones stated.
Other teammates agree with Jones, saying they loved the atmosphere at Arcadia and how excited all the runners were to be there.  
"The overall environment was…very motivating," said Srivastava. Everyone there was "super kind" and Arcadia was a "super healthy environment" to be in, despite it being known as the most competitive high school meet in the nation.
Meanwhile, Jones took the daunting title given to the meet as an opportunity to break the school record which he said "definitely made us better racers." 
In the future, Kumaran has hopes to lower his time in the few remaining races of this short season, to be able to walk onto his college track team. 
His teammate Mathews has similar plans, saying, "I [want to] run a few unattached races [this summer] and [hopefully] I can run at Arcadia again next year."
On May 22, Dougherty is hosting its first home invitational this season. Although there is less competition, there is a greater determination to break the school record.