Houston Texans veterans depart as new executive takes over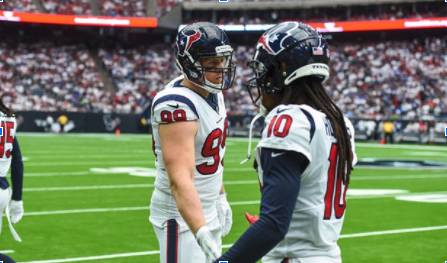 TW: This story contains mentions of sexual assault and rape. 
Up 24-0 in the second quarter in the Divisional round against the Kansas City Chiefs, the Houston Texans looked nigh unstoppable. However, their lead and any hope of a Lombardi soon evaporated. The team soon gave up 41 unanswered points scoring one more touchdown before eventually losing 51-31. The Kansas City Chiefs would go on to the Super Bowl, meanwhile, the Texans began to fall apart. The Texans had spent years building up their roster with all pros and veterans wide receiver Deandre Hopkins as well as JJ Watt complemented by two time Heisman Winner and three-time pro bowler Deshaun Watson, former Browns running back Duke Johnson who ran and received for over a thousand yards combined the season prior, two-time pro bowler Laremy Tunsil, and the Miami Dolphins top receiver Kenny Stills. However, these players all came at a price with the Texans forced to pay $181 million on two Watt and Hopkins over six years and their new additions costing a fourth, a third, a second, and two first round picks between the 2020 and 2021 drafts. But with star quarterback Deshaun Watson on his rookie deal, the franchise felt that it was the time to go all in. 
The organization would soon go under a turbulent free agency. Between the 2019-2020 season the general manager (GM) position remained vacant after Senior vice president of football administration Chris Olson serving as interim GM only to then be replaced by head coach Bill O'Brien. O'Brien worked alongside Jack Easterby, a former team chaplain and character coach who would become Executive vice president of team development in 2019 and alongside O'Brien received a promotion to Executive vice president of football operations. Despite its title the vice president had the most say with the roster and staff as is the case in the rest of the NFL. The 2020 offseason was controversial for the organization. Prior to his Deshaun Watson signed a four year $156 million extension while also giving him another receiving option in the form of a three year $27 million deal with wide receiver Randall Cobb. They also looked to improve their secondary negotiating with cornerback Vernon Hargreaves in order to pay a cheaper deal for a fifth year option as well as spending $20.5 million on safety Eric Murray. However, their biggest move was trading all pro and franchise staple wide receiver Deandre Hopkins to the Arizona Cardinals for a second round pick, swapping 4th round picks, and running back David Johnson. Not only did trading a star player cause fan backlash but the fact that the organization failed to receive a first round pick and instead got a running back who's faced injury concerns and declining stats since 2016. Between the Hopkins trade, draft picks traded away, and the impending salary cap issues that would leave the team with little space in the 2022 and 2023 season there was immense pressure to win big in the upcoming season.
Both within the organization and outside it the Houston Texans season was a disaster. The teams started 0-4 with the defense struggling in every game giving up at least four touchdowns in each of them. After their loss to the Minnesota Vikings Head Coach and General Manager Bill O'Brien being fired. Defensive coordinator Romeo Crennel became interim head coach while Easterby served as interim general manager. The team seemed to improve somewhat going 4-3 in their next seven games but ultimately ending their season 4-12 off of a five game losing streak. Prior to his career with the Texans Easterby had primarily served as a chaplain and a character coach for the Kansas City Chiefs and New England Patriots respectively. Throughout his tenure with the team he also developed a religious connection to CEO Cal McNair and became more involved with the team as a whole. McNair's trust in Easterby seemed to start tearing a rift in the organization. 
"
Prior to his career with the Texans Easterby had primarily served as a chaplain and a character coach for the Kansas City Chiefs and New England Patriots respectively. Throughout his tenure with the team he also developed a religious connection to CEO Cal McNair and became more involved with the team as a whole. McNair's trust in Easterby seemed to start tearing a rift in the organization. 
On Nov. 11 2020 Vice President of Communications Amy Palcic was fired. Palcic was the winner of the Rozelle Award for best Public Relations Staff in the NFL and was instrumental in helping organize relief alongside Watt in the wake of Hurricane Harvey. The Texans believed that she wasn't a culture fit. The 2021 offseason failed to make the situation any better. McNair was looking to replace O'Brien as GM not only hiring a search firm but also promising Watson that he would have a say in who O'Brien's replacement would be. However, he decided to ignore both hiring former colleague Nick Caserio who had worked alongside Easterby for the New England Patriots. Watson, who had also shared his frustrations with the Hopkins trade was even more outraged. On Jan. 28 2021, the former first round draft pick and seeming future of the franchise requested to be traded, though so far the team plans on holding onto Watson for the upcoming season. At the same time, a massive overhaul of its staff began with the director of football administration Kevin Krajcovic, equipment manager Mike Parson and vice president of football operations Doug West all being fired within the first week of January. Seemingly the most significant departure came when team president Jamey Rootes left on Feb. 10. Rootes had been a part of the franchise since the creation of the team in 2002 and was responsible for business operations within the team. But for fans, the biggest loss came two days later when the former face of the franchise, three-time defensive player of the year, and Walter Payton Man of the Year award for his work following Hurricane Harvey JJ Watt left the team. Watt seemed to leave on relatively good terms thanking the McNair family for drafting him, he would go on to sign a two year $31 million deal with the Arizona Cardinals on March 1st. 
"First & only woman to be head of PR for an NFL team and winner of the Rozelle Award for best PR Staff in the NFL. Massive help in my hurricane relief efforts, community events and much more. Whoever picks up @amypalcic will be getting one of the absolute best in the business." Watt said in a tweet on Nov. 11, 2020, following Palcic's firing. 
Watson however, is now facing several sexual harassment and assault alligations. So far the lawyer organizing these cases, Tony Buzbee, has revealed that he has 24 cases so far with 16 of them having been released to the public. These stories span from late March 2020 to late March 2021 and follow a similar pattern of behaviour by Watson. Generally, Watson would hire women that typically work in some form of physical therapy or would massage. He would then repeatedly harass and assault them in a variety of ways usually by refusing to wear a towel or finding an excuse to take off his towel, asking them to physically hold as well as touch or put their hands through inappropriate body parts, and in one allegation he forced a woman to do an explicit sexual act. When these women refused to cooperate he would frequently start grabbing them and depending on the case try to kiss them as they fled for their own safety. It is important to note that so far all of the cases are just allegations, Buzbee is McNair's neighbor however, there is nothing to suggest that the two have communicated in a manner that could be considered a conflict of interest, and Buzbee has several texts that show Watson apologizing for his behavior. 
"It takes a lot of courage to come forward when you're dealing with someone powerful. Women who are watching this now, know that you can remain anonymous, know that you have a support system, know that we want to hear your story." Buzbee stated in a press conference on Mar. 19.
Ignoring Watson and his behaviour, at this point in time the Texans have hemorrhaged much of their roster and staff. Both the organization's past and promised future seems to fade away as Easterby and Caserio remould the team in their image. Combined with the previously mentioned salary cap issues and their lack of draft capital it seems like the team will struggle in years to come.
"I appreciate what you're doing. You're the leader of this team, but I'm sorry. I'm over it. He has to go." Twelve-year season ticket holder Ronnie Baker replied to Watson who asked Baker to put down a banner he had during the Week 15 matchup against divisional rival Indianapolis Colts calling Easterby a charlatan and a snake.