Remote learning highlights need for transparency from SRVUSD
The current state of public education-during a pandemic:
In March, students went home from school confused as to what will happen next, because of the COVID-19 pandemic. Many assumed they would return back to campus after 3 weeks of the school closure. However that was not the case, as numbers in California continued to increase, so did the delay of returning back to campus — causing school to be closed for the remainder of the year, and for the school year of 20-21 starting online. What students thought would be a four-week vacation turned into an over six-month quarantine, with students slated to not return to school until 2021. Confusion over what schooling would look like ensued all across the US, and most schools opted for remote learning. 
However, since some school districts believed that that was not an ideal situation for them, they opted to consider hybrid or in-person schooling. SRVUSD was the same. A microcosm of the confusion occurring all across the US, SRVUSD also faced a lot of confusion over ways to adapt to schooling in a COVID-19 world, ranging from whether to be hybrid or fully online to what learning management system to use. 
School districts often face a lot of tough decisions to make, but during crises or unusual circumstances like a pandemic, their actions and decisions are often amplified. For example, people wouldn't have tuned into the March 13 and July 14 SRVUSD Board Meetings in record numbers if they weren't curious about what school would look like in the middle of a pandemic. They would have dismissed the board meetings as boring, but during a pandemic, it is one of their only sources of information. Therefore, especially in times like these, it is imperative that communication is clear and effective for people who don't have the time to go to two-hour board meetings with only ten minutes of important information. 
In tough times, we look to our leaders for advice and guidance on what we should do next. Clarity and effective communication is needed so that people aren't worried and confused about things out of their control. The COVID-19 pandemic definitely fits the definition of an "unusual circumstance" and something that school districts definitely wouldn't have dealt with before.
However, while this is a new situation for school districts, it's also a new situation for teachers, parents, and students, and confusion over what schooling entails and looks like is detrimental for all parties. To prevent this, it is imperative that school districts make effective decisions that benefit their entire communities, and communicate these decisions in a clear manner so that nobody is confused.
The hybrid vs. online learning debacle
"School's close when there are 300 cases but open when there are 400,000." As COVID-19 cases fluctuated throughout the 2019-20 school year and the consecutive summer, conflicts arose over whether or not to open schools for hybrid learning. After the San Ramon Valley Unified District (SRVUSD) July 14 YouTube livestream on this topic, the community was given an unclear answer, but many assumed the district was leaning towards hybrid learning. Students began taking to social media to veto this decision, and the debate sparked when Sameeha Ahmed, a current sophomore at DVHS, decided to make a petition indicating the reasons as to why school should remain fully remote.
"I was watching the live [board meeting on July 14], with my friends virtually when we decided we needed to do something about this. So we had all crafted together a draft on important points as to why we should not reopen" Ahmed said.
"
School districts often face a lot of tough decisions to make, but during crises or unusual circumstances like a pandemic, their actions and decisions are often amplified"
Originally, elementary schools were not on the petition, but a Coyote Creek elementary teacher had reached out to Ahmed and asked for them to be included as well.
"The teacher was telling me how she did a summer school all online, and it had worked out really well. I don't want the jeopardy of the elementary schoolers life on line," Ahmed said. 
A major reason stated in the petition was the surge of cases in June that has yet to die down; over 68% of the students stated they would feel uneasy and unsafe if school reopens. 
Over 3,111 people had signed this petition, causing the SRVUSD Board of Education (BOE) to rethink their plans of reopening and to instead consider using a fully online model, which they had disclosed at the July 14 meeting.
SRVUSD Equity Coordinator Ashlee Gutierrez stated that the district had been waiting till the last possible minute to declare plans of reopening, so they can have the most up-to-date information with the Country Costa Health Department. Additionally, she mentioned that there were many external factors that prevented the district from making quick and effective decisions during the summer, such as trying to maintain stakeholder engagement in addition to the arrival of a new superintendent in August. 
While many schools are switching to a hybrid model after finding that virtual learning wasn't working well enough for them or cases in their state have dropped, Gov. Gavin Newsom ordered that 90% of California students would have a completely virtual education. 
Although this decision was made after SRVUSD's livestream, the reason why the district initially pushed for hybrid before receiving mountains of feedback from students, parents, and teachers is unclear. What is known, however, is the confusion that resulted and ensued from the uncertainty over what the 2020 school year would look like. 
APUSH, RUSH, and Academic Enrichment teacher Jeff Vangene believes that the district's lack of executive leadership caused the delay in kickstarting one specific schedule, causing confusion for the entire community, especially for teachers. 
"It feels like we're flying the plane while we're trying to build it at the same time," Vangene commented. 
One challenge that teachers struggled with in particular was not having enough time over the summer to prepare a shift in lessons from in-person to online instruction. Understandably, it takes a generous amount of time to adjust and modify the variety of lectures and assignments that would be otherwise given as per usual during periods of in-person teaching.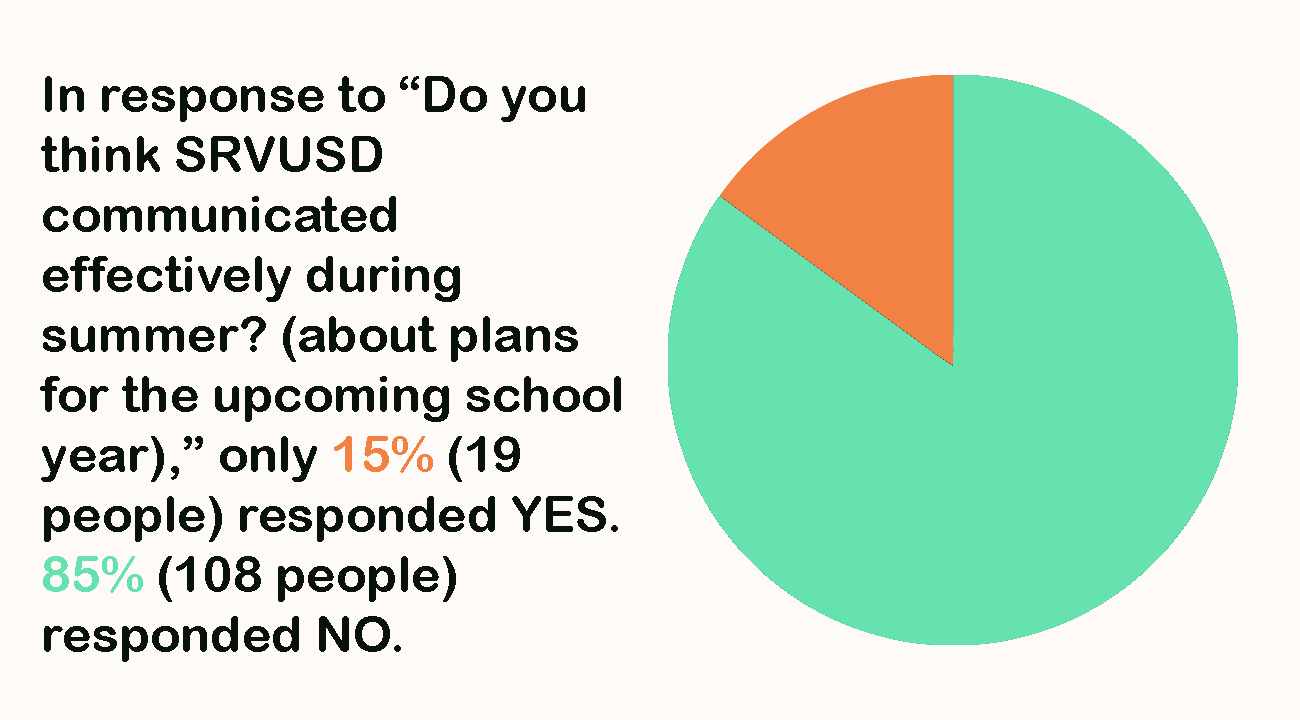 DVHS Principal Evan Powell, however, said that although the final decision came from the state, the teacher's union was involved every step of the way in the decision-making process. 
SRVUSD has also established communication through the Thought Exchange, a platform where both parents and students were able to express their opinions and give direction to the district. Furthermore, the district is planning to work with Associated Student Body (ASB) officers to set up an area where specifically students will be able to voice their feedback and in turn, receive responses directly from SRVUSD admin. 
"We're all waiting on the county or the state to say what we're going to do. It makes [implementing changes] really challenging," Powell expressed. 
Nevertheless, there is still a significant decision for families to make: If the county clears SRVUSD students to go back on campus, would families be sending their children back to school? 
The need for a solid learning management system
Among all other factors, the confusion over which learning management system to use for this school year created immense confusion and uncertainty for teachers and students alike, further complicated by unclear guidance from SRVUSD. The Board of Education announced at their July 16 meeting that Google Classroom will be the primary learning platform, synced and used in conjunction with Infinite Campus, eliminating School Loop as the primary learning management system for teachers and students. Although such doesn't seem like too dramatic a shift, changing the primary learning management system created much anxiety for students and teachers, given that the shift to remote learning is hard enough.
A learning management system, also known as an LMS, is "a software that enables companies and educational institutions to create and manage lessons, courses, quizzes and other training materials. A learning management system also aids the organization to deliver training materials and lessons to employees, students or partners," per technology website CMS Wire. Learning management systems are the core of how many schools operate, even more so in a virtual setting. Some examples include, but are not limited to, School Loop, Google Classroom, Infinite Campus, Canvas, Powerschool and Illuminate. 
To put it in briefer terms, learning management systems have massive impacts on how a school operates. It impacts how students see and turn in their assignments, how students see their grades, if teachers use standards-based grading, how teachers post grades and how teachers and students interact with one another. 
Dougherty Valley Principal Evan Powell spoke to the Tribune on the subject, agreeing with the need for a solid LMS. We "should get to one system for students to get access to grades, assignments, etc." However, he also notes that choosing a new LMS over summer was poor timing, given the apparent switch to remote learning. 
He is "glad that a decision was [recently] made" to bring Schoolloop back for grading, emphasizing how there were other people such as SRVEA involved in making that decision, not the district alone. "Ultimately, I just need a system that everyone will be happy with."
However, the impact of an abrupt switch should not be ignored. Powell further elaborated, explaining that teachers told him they needed a single LMS, due to the amount of confusion caused for students to go to so many places for various needs. 
As a matter of fact, SRVUSD equity director Ashlee Gutierrez emphasized that one of the main pieces of feedback from students was the need to keep schoolloop.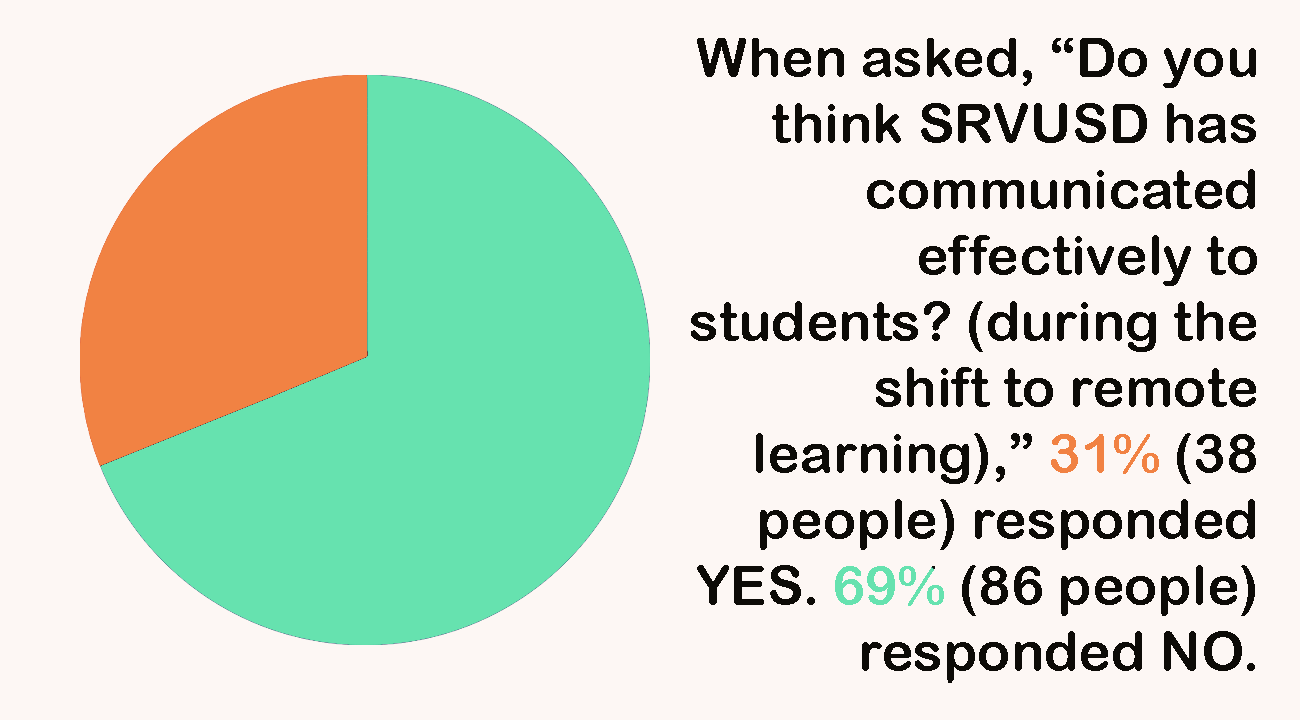 "This was one of an example of something where maybe the decision was just a little bit rushed and then they [the district] didn't quite realize what a big impact it would have, and then it was like, Oh shoot, this has a massive impact on a lot of people more than we even realize," Gutierrez said.
APUSH, RUSH, and Academic Enrichment teacher Mr. Jeffery Vangene provided insight as to why the switch impacted students and teachers more than the district likely predicted. Not only are there concerns about academic dishonesty, having to play "catch-up" with a gradebook platform, and the inability to monitor students who need support. 
"I would spend lunch looking at grades and assignments and telling them what and where they need to work with," Vangene exclaimed. Schoolloop had a lot of tools, and "I used to be able to pull up any student to see their grades and their assignments" when they needed support. Google Classroom does not provide the same tools, elaborating that he has to look at Google Classrooms over Zoom, unable to independently "monitor their grades and see their coursework." 
Students who need additional support have to jump through technology-related loopholes just to get support. Dougherty Valley junior Vaishnavi Venuturimilli explained that along with the inability to communicate with her peers, asking for help in class is a challenge, since "teachers are not connecting with the students, no one-on-one relationships." Engagement is a whole challenge within itself. "All kids on zoom calls are afraid to talk, it is just passive engagement," hindering a students ability to learn. 
While Schoolloop has many benefits and appears to be the most cohesive learning management system used by the district, both teachers and district officials believe that the chance of returning back to Schoolloop full time is slim. 
"From everything that I've heard, it seems like they're exploring every other option [besides Schoolloop], and they were real reluctant to bring this [Schoolloop] back until there was a lot of upheaval from the parent and teacher community about bringing it back," Vangene said. 
What students are looking for in a new LMS system is one consolidated space to check their assignments and grades, post news,  and message others.
 "[Schoolloop] was a place where a lot of people saw club news. And so it [the removal of Schoolloop] eliminates that form of communication for clubs," Dougherty Valley senior Anika Tindall stated.
Student input shows an increased need for transparency from SRVUSD
In effort to gather collective information, the Tribune released several polls and a survey on our Instagram story, asking current and former SRVUSD students and teachers for feedback. The results show an alarming need for more transparency, a need to put students and staff first. 
When asked, "Do you think SRVUSD has communicated effectively to students? (during the shift to remote learning)," 31% (38 people) responded YES. 69% (86 people) responded NO. In response to "Do you think SRVUSD communicated effectively during summer? (about plans for the upcoming school year)," only 15% (19 people) responded YES. 85% (108 people) responded NO. 
The survey question asked students and staff  "What can the district do to communicate effectively with students?" presenting with a wide range of answers, all pointing to a need for more clarity. Instagram user and DV student @ritzcrackerz emphasized a need to "send weekly updates to students as well," echoing @anusha.pie, stating "send us emails as well as our parents so we all know what is going on." DV student @magicalmaya13 emphasized the same point: "actually email us. Like the only way we can access news is through our parent's emails…"
Tindall, who also responded to the survey, explained how SRVUSD should tell students the plans as early as possible. As a student who works part time at Chick-fil-a, not knowing if school was going to be remote or hybrid ahead of time "caused a huge inconvenience not only for me but for my workplace because i wasn't able to submit my schedule change request until LITERALLY LESS THAN A WEEK BEFORE SCHOOL STARTED when I was supposed to submit it 3 weeks in advance."