Special appearances add flavor to Skate Park anniversary
On Nov. 2, the San Ramon Valley Fire Department and US Olympics skateboarding coach enlightened San Ramon Skate Park's 20th Anniversary festival with their special appearances.
Skateboarders of all ages and levels were casually practicing their hobby at the celebrations. However, majority of the skateboarders were young children who were apprentices to US Olympics Skateboarding Coach Rob Skate, who also founded Rob Skate Academy, his own coaching club.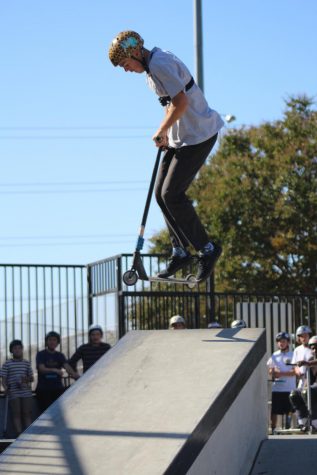 Skateboarding may seem to be a highly physical and outdoor activity in which the rider uses advanced footwork to work the skateboard according to his or her wish; however, Coach Skate believes that the mental aspect of the art is equally significant to properly conduct the activity.
"We [Rob Skate Academy] are all about teaching mindfulness through skateboarding. So, we just try to change the whole social narrative of 'just be a skater' or 'be an extreme sport' and how we have to be methodical about not just on the [scoreboard] but in everyday life as well," Coach Skate said.
Coach Skate presents a unique perspective to skateboarding as a hobby and not just to perform at the competitive level. This philosophy not only applies to skateboarding but to the whole world of sports.
"Why do people come out skating? Some of us use it as some type of therapy and to relieve some type of mechanism, and so [I would like to] start opening those discussions around," Coach Skate said in regard to his opinion about the motives of skating.
San Ramon Skate Park has served as a practice center for Rob Skate Academy and for other passionate skateboarders. According to Coach Skate, during a renovation of the skate park, the park was smoothened and the major cracks were removed. Eventually, Skate wishes to train the Olympians of his academy in the San Ramon Skate Park once the park becomes an Olympic-style park. 
"In the US Olympics, it feels like any other day of coaching. We've been training for well over ten years, so it's nothing new. But it's a new platform, and there's more things to look forward to than the feel of it at the moment," Coach Skate said regarding Olympic coaching.
The skate park enhancements are managed by the San Ramon Parks and Services Department, particularly Recreation Coordinator Andrew Menes. He sat with a city volunteer at the front counter to heartily welcome skaters and residents to the 20 year anniversary celebration. Overall, Menes is content with the contributions of the skate park to the San Ramon community.
"I think what's really great is we are partnered with Rob Skate Academy, and they do a lot of our summer camp programs. A lot of kids that sign up for the summer are here enjoying this free event. It's great to see everyone who has a similar passion in the community to come out and enjoy the same thing together," Menes mentioned.
The San Ramon Valley Fire District accepted an invitation for a special appearance at the event. While District Firefighter Chris Cunningham has never personally skated or even been to San Ramon Skate Park, the park area falls under his jurisdiction. 
"I've never been to the skate park. But I know it's 20 years old and it's one of the first in the area. I don't skate but as far as I think, the kids who do use [the skate park] want the city to take into consideration what the other skaters want," said Cunningham, in respect to his knowledge about the park.
The San Ramon Skate Park clarifies against the common misconception that "everything in San Ramon is new" as this park just celebrated its 20th anniversary. As the city of San Ramon continues to renovate its parks and services, the chances of the skate park being enhanced and possibly becoming an Olympic park someday remains likely.