From player to coach: Nelson and Nakaso share experiences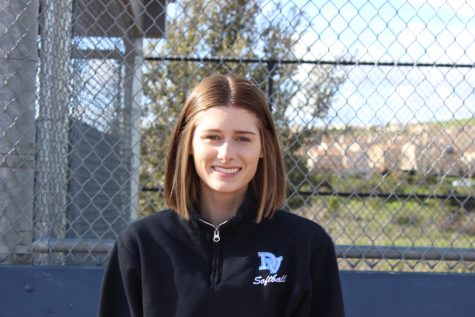 Kelsey Nelson
Kelsey Nelson, DVHS alumna and former varsity softball player, returned to the softball team as a coach, continuing to manifest her joy for the game.
Nelson began her high school sports career in 2013, her freshman year, on the junior varsity softball team. She then played on the varsity team until she graduated in 2016. Now, she attends West Valley College, a community college in Saratoga, California, pursuing a career in court reporting.
Based on her time in high school, Nelson said that she values her teammates and the memories she formed with them, and that they were her favorite aspect of the sport.
Since graduation, Nelson's role on the team has drastically changed from a player to an assistant coach for the varsity team. Her contributions at practices and games have changed from learning to mentoring.
Nelson believes that a coach's in-game role is more limited than that of the players because the latter group adapts to on-field coaches by making decisions according to the situation. According to her, a coach's role is primarily active during practices, when the team reviews game plans for upcoming matches.
Rich Nelson, Kelsey's father and DV assistant softball coach, related that  Kelsey's energy is her strongest attribute. He noted that she takes time out of her busy college schedule to coach the team.
DV Softball head coach Vince Felix added, "She is firm and she knows the game, and she knows how to communicate it. She's got a great understanding for the game … She had leadership qualities, and that's why she was a leader on the team. That's why she's a coach."
Overall, Nelson showcases her true passion for softball through her soaring commitment to the game. Amidst her busy college life, Nelson continues to mentor future softball players at DV.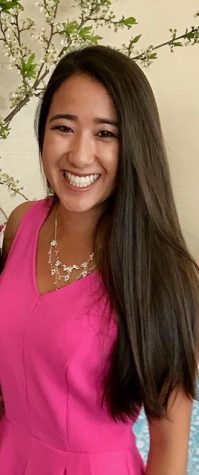 Lauren Nakaso
As the bell rings, signaling the end of sixth period, students pour out of their classrooms and start making their way home or to an extracurricular commitment. Others that play on sports teams migrate toward the fields to get ready for practice.
Typically, cross-country and track and field coach Lauren Nakaso is seen waiting near the track. Before she was a coach for both teams, Nakaso was once also a member of the DVHS team.
Every year between 2008 and her graduation in 2012, Nakaso ran the 400-meter, 800, and 4×400 relay for the track team. After her freshman year on the team, Nakaso was recruited by coach Stephanice Bambury to join cross-country in the fall. Aside from running, Nakaso also played for the women's soccer team.
Reminiscing on her history with the two teams, Nakaso said, "We were the first team in Dougherty Valley history to win an NCS title … [States] was a big memory for me; not only to win an NCS title — the first ever in Dougherty Valley history — but also getting to go compete at States. That really encouraged me and made me pursue running in the long run."
After graduating from high school, Nakaso attended the University of the Pacific, running cross-country and track while studying health, excercise, and sports sciences. She eventually received her teaching credential in physical education and Master's of Arts in Education. Currently, Nakaso teaches at Windermere Ranch Middle School and is a coach for Orangetheory Fitness.
As to why Nakaso returned as a coach, she says that it was both for the employment opportunity and because of the proximity to DVHS. "I loved the school district — they really focus on the school, on the students. They're big on academics and how important it is to balance academics and athletics and to see it all together," said Nakaso.
As an alumna, Nakaso notes how different the team is now and how much it has changed, particularly in that it is "very competitive now and a lot bigger."  
In her time back, Nakaso says that her favorite thing about being a coach is "being with all the students. It brings back a ton of memories, and just watching them improve … I think that's the best part of being a coach."
Being a coach and a student-athlete has provided her with a multitude of different experiences.
"I think the difference, being a student-athlete on the team, is that you have so much going on. You have your friends to motivate you, to encourage you. You have your running groups; you have people to improve with. You improve personally; you have your own goals. As a coach, we're just giving you the tools to make those adjustments and how to improve your times and how to become a better runner," Nakaso said.
This year, Nakaso also hopes to demonstrate the importance of teamwork and emphasize that running is not only an individual sport.
"You rely on your teammates to hold each other accountable — and not even just [as] teammates; they become your family," Nakaso said. "You go through ups and downs and all the challenges, but the reward at the end is amazing."
Whether as a coach or a student athlete, Nakaso's favorite aspect of running is how it serves as "time to myself" and as a way to destress.