Women's Soccer falls just short of first season victory on Senior Night
Ending a winless but not goalless January campaign with its senior night, the Dougherty Valley women's soccer team lost on Jan. 31 to visitor Cal High, 3-2, despite goals from sophomore forward Chloe Richard and junior defender Alyssa O'Brien.
Entering the match, the Wildcats hoped to continue their scoring streak, having bagged their first two goals of the waning season in their previous two games against San Ramon Valley and Carondelet. But in the seventh minute, Cal drew first blood with a grounded strike past DV goalkeeper Abby Bradford.
Following their conciliation, the Wildcats retaliated with two blocked attempts on goal. Then, in the 23rd minute, Richard found herself alone with the ball against two white Cal jerseys on the left wing. After dribbling in and around them for 20 meters, she cut away at the outside edge of the penalty area, created two feet of space between her and her defenders, and fired. Her curling strike found the bottom right corner of the net, equalizing the score at 1-1.
The tied score was short-lived as Cal scored twice from a deflected free kick and an own goal in the 27th and 36th minutes, respectively. Freshman forward Morgan Pearson almost immediately earned back the latter goal from just outside the right edge of the goalie area, but her blazing strike just missed the upper left corner of the net.
After halftime, the Wildcats and Grizzlies' back-and-forth continued, the home side led by its three seniors (defender Brooke Boheneck, midfielder Rachel Liu and forward Emily Reimer). A 65th minute foul draw and penalty kick by O'Brien allowed the Wildcats to prevail in the second half 1-0, but Dougherty ultimately lost to Cal, 3-2.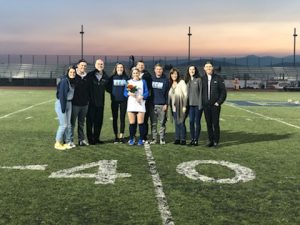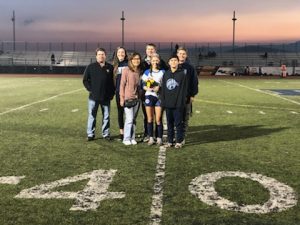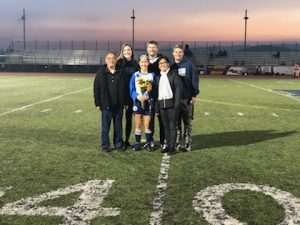 Although they failed to complete the comeback, the Wildcats remained positive about the one goal-difference result.
"The results have gone from 7-0, 8-0, 9-0 and now, we've scored in our last three games … We're not going to get pushed around, no matter what team you are. I think we kind of proved that against Cal High when we, I would say, we shocked them," Coach Kasey Addiego said.
In reflection, both Coach Addiego and the players said that the result embodied the team's core mindset throughout the season: to stay positive, to never give up and to keep improving.
Boheneck agreed, saying, "While it's been a very tough season and we go up against some like pretty tough competition, I think we come out of it really strong … We've gotten better at looking at our competition as a positive thing. In the past, we looked at it as a negative thing. We were playing really good teams. And we were losing a lot, which was difficult. But I think now we're looking at it as a way to improve, a way to come closer."
With away losses 10-1 at Monte Vista and 1-0 at Dublin, the Wildcats ended their season with 0-14 record. Nevertheless, Addiego remained positive, stating that this was a "building" season and that they've "gotten better" despite poor results.