Teachers bond over a history of playful pranks
With flipped-over tables, post-it-covered cars and jello-immersed staplers, DV's history teachers have found a way to have fun and grow closer by pranking each other throughout the school year.
In regard to the first prank that started it all eight years ago, Mrs. Karie Chamberlain shares that "it definitely started with Clemente," but that the details have been forgotten over time. Similarly, Mr. Jeff Vangene reinforces the belief that Mr. Roberto Clemente "fired the first shot."
However, Clemente asserts that "it began with Mr. Nick Tisa" when Clemente first began teaching at Dougherty Valley.
The prank war started out with small and simple pranks, such as putting pictures of themselves in each other's rooms. However, the pranks soon became more calculated and elaborate.
"The first pretty big prank was when Clemente got Mr. Adam Bellows. Right before Halloween time, we took all these creepy dolls and put them in the desks and faced all the desks toward the door. He also had a scream mask hanging from the ceiling," Mrs. Jaime Seipel explained. "Bellows walked in that morning, opened his door and the scream mask is hanging there and all the dolls are staring at him. He flips out and coffee goes everywhere. It took him a long time to figure out it was Clemente."
Just another one of the many pranks was when "Clemente put little Dixie cups full of about one inch of water all over [Chamberlain's] desk, over every inch of it. So to get them all off, you had to dump all the water or grab all the cups and get them off," Vangene recalled.
Some of the pranks over the last few years have also been inspired by the popular TV show "The Office."
"In 'The Office,' Dwight was getting faxes from Dwight in the future, so we got [Clemente's] Wi-Fi address to his printer and we sent him emails from the future," Chamberlain shared.
For Seipel, one of her most memorable pranks when she and Chamberlain covered Clemente's car with sticky notes.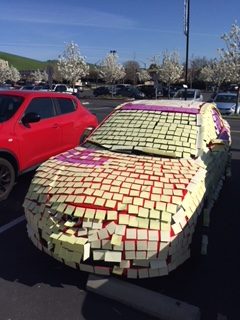 "You couldn't see the car," Seipel said. "lt was totally covered with sticky notes."
These pranks do not happen often, perhaps once every other month. But "when they do kind of kick off, often times there's a backlash. Clemente wrapping up my car in saran wrap was because me and Mrs. Seipel flipped over all the desks in his room previously," Vangene explained. "So usually if someone fires a shot, there's usually an answer back as a part of it."
Clemente got his revenge against Seipel as well the next day.
"He took all of my desks out of my room, lined them up in the hallway and taped them together, and then duck taped my [door] handle shut," Seipel shared.
Clemente added that the pranks "just cascaded into other people getting involved." He himself has been pranking since his school days. His friends would pull pranks on each other, locking their backpacks to chairs and moving each other's cars.
These pranks had died down a bit over the past two years, but the prank involving the flipped-over tables started the war back up again this year. While it involves mainly teachers in the history department, teachers from other departments and even students have been involved.
"I love that [the prank war] creates a community in our department and sometimes we try to pull people from other departments. For Clemente's birthday last year, Mrs. Teri Musiel brought the entire band to play 'Happy Birthday' to him and we fit the whole band class — there were like 80 kids — in that room," Seipel said. "They were standing on everything. Playing 'Happy Birthday' to Mr. Clemente."
Similarly, students have been involved in these pranks in other instances as well.
"We wanted to go flip over all the desks in Clemente's room. I very much did not want to do that all on my own; that's a lot of work," Vangene said. "So I borrowed Mrs. Seipel's class and we all went and did it together."
Through these playful pranks, Dougherty Valley's teachers have grown closer together and found a way to bond during stressful times.
"I think it does give us a little bit of camaraderie together and something to laugh about at the end of the day," Vangene said.