Men's Water Polo celebrates senior night after victory against St. Patrick-St. Vincent
After winning the home non-conference game against St. Patrick-St. Vincent High School 19-14, Dougherty Valley Varsity Men's Water Polo ended the Oct. 8 senior night with festivities.
To celebrate their dedication over the past few years, the team's four seniors, Cory Ng, Sharwin Patil, David Wong and Derek Zhang, comprised the majority of the starting line-up. Throughout the first quarter, the Wildcats and Bruins constantly traded points, keeping the score even. However, in the last minute of the quarter, senior Cory Ng scored a fourth point, putting the Wildcats at a slight advantage going into the second quarter.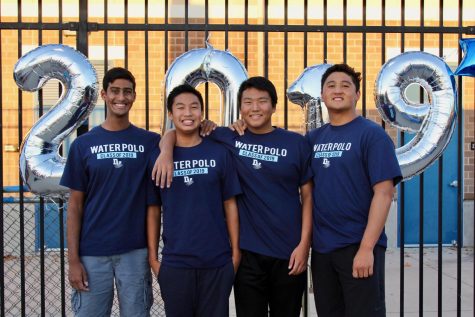 The score in the second half remained just as close, but the Wildcats managed to outscore the Bruins by one point, putting the overall score at 7-5.
However, in the third quarter, a concerted effort by Dougherty put them firmly in the lead. Led by junior Noah Richard, who scored three points in the quarter, the Wildcats pulled ahead, leading 13-8 by the fourth quarter.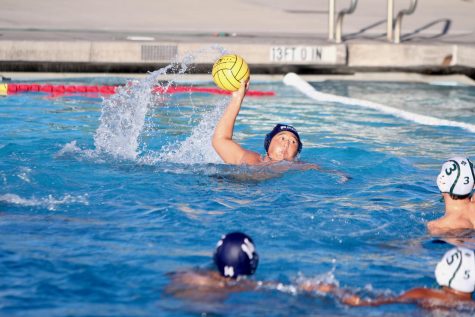 Although the Bruins came back, scoring six points, the Wildcats matched them point for point, ending the game 19-14.
As if the victory were not enough, the game was immediately followed by senior night. Coach Matt Denham spoke about each of the graduating seniors.
"[Over the course of the season], I've developed a better understanding of the seniors: what they can bring to a match, their strengths and weaknesses and who they are individually," Denham said. "I'm just incredibly proud of all them."
After the festivities, the seniors described their favorite memories and aspects of the team and the sport as a whole.
"I enjoyed goofing off and playing around during practice with the team," Zhang said. "It has a team struggle, which swim, another sport that I do, relatively lacks."
Others reinforced this sentiment, emphasizing the team aspect of the sport and the players they had built bonds with.
"The camaraderie and friendship I built with my teammates; I've learned a lot from it and I'm happy that it's been a part of my life," Patil said.
The team will have its last games away on Oct. 18 and Oct. 24 against California High School and Freedom High School respectively.