Assistant Principal Charlie Litten leaps into Dougherty with a plan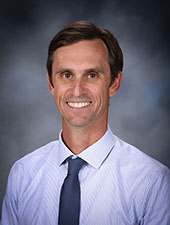 Assistant Principal Charlie Litten welcomes the challenge of his new job and looks for unique ways to nurture the success of Dougherty students with his extensive experience teaching mindfulness.
Prior to arriving at Dougherty, Litten worked as a resource specialist for 17 years at Foothill Middle School, where he learned about the value of mindfulness, a practice that would come to define his teaching career. Mindfulness, a technique students can use to manage their emotions and collect their thoughts, is shown to reduce stress and improve the mental health of students.
"I became interested in [mindfulness] and made it just kind of my own passion, something I wanted to learn more about," Litten muses.
While it is a coincidence that Litten's experience with mindfulness fits perfectly into Dougherty's high stress environment, Litten is excited to apply his knowledge on campus. By helping implement mindfulness strategies at Dougherty, Litten hopes to offer students the means to cope with their tensions and be more aware of the present moment. Additionally, he looks forward to the increased student interaction from the implementation.
"My biggest fear of becoming an administrator was that I was afraid of losing connection with the students, but [through mindfulness classes], I feel like I can still be a teacher in a sense."
Litten has already begun teaching mindfulness classes in various classrooms across Dougherty. By doing so, he has gained a feel for the teaching style and atmosphere of the school.
"The cleanliness of the school, everyone here seems to be kind and respectful. And those are my first impressions. I've only been here for weeks … I'm impressed with the the teaching and student responsibility," Litten says.