Officer Katie Williams puts police stereotypes to a(r)rest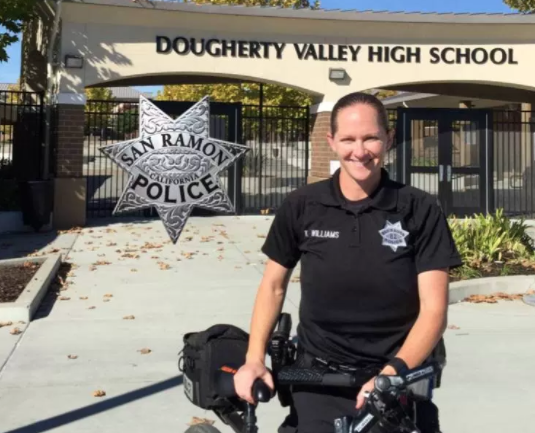 "I don't want students look at me and think 'oh no! there's the po-po' but instead 'hey! Officer Williams is here to help'."
Officer Katie Williams joined the DVHS staff as the School Resource Officer [school police officer] at the beginning of the 2016-2017 school year and joined the San Ramon Police Department in 2015.
"I've actually always had a desire to work with teenagers. That's always been my goal since I became a police officer. To get involved with youth. Whether it's with juvenile detectives, high school level students or middle school level students. So as soon as this job opened, I jumped on it," she says.
Williams typically gets to school at around 7:30 a.m. after coming from the police station and leaves at around 3:45 p.m. During the day, she is usually seen walking around and talking to classes and students.
"If I'm out walking around, it's because I'm pretty much a freshman on campus. I'm trying to learn everything about Dougherty and also get my steps in," she laughed as she tapped on her Fitbit. "I can't stay in this desk all day so my main thing is just to get out, be visible and have that positive interaction with the kids as opposed to you know, being a 'cop' and just arresting people."
In her free time, Williams enjoys working out, lifting weights, running, spending time with her four children, golfing and playing sports. Starting this spring sports season, she will also be coaching Dougherty's softball team.
Williams had worked with a larger agency in Los Angeles for six years and later in San Mateo. During her past 10 years in law enforcement, which includes time as a patrol officer and training officer, she has had numerous memorable experiences.
"The most exciting [experience] was my first pursuit. When someone becomes a police officer, they always think 'Oh! A high-speed chase!' That's the dream. I had my first one with an old motor home [recreational vehicle (RV)] that was exiting the freeway. I saw [the driver] entering a neighborhood and the vehicle was swerving, so I thought [the driver] might have been under the influence," she recounts.
"I went to pull him over and he didn't pull over. I thought maybe he couldn't see me so I flipped the lights on and pressed the little horn. But he still didn't pull over! And then I'm thinking 'Oh my god. My first pursuit is going to be with a 1980s motor home' So we get on the freeway and I think 'Okay, I'm in pursuit. It's 2 a.m. I'm going to be chasing at 100 miles per hour.' But then my pursuit's top speed was… 20 miles per hour! That went on for about three miles and then the California Highway Patrol took over. In the end, they ended up crashing and my sergeant sent me a picture of the beat-up motor home. So I had it as my screensaver to remember my first chase."
As for the driver's offense, "he was high on cocaine," Williams casually says with a smile.
She still remembers another impactful experience in her life during which she also got to impact several young students. When she was in Los Angeles, there was an incident where a couple teenagers had been stealing Christmas decorations from people's homes and front yards. While driving around the neighborhood, she found the three girls with a car full of the decorations.
"I was at the point then where I could either arrest them for theft or realize that they're teenagers and maybe they made a bad choice. And then I thought, what if I was at that age and did something like that [and got penalized for it]? Then maybe I wouldn't be wearing this uniform today. So I decided to call all their parents and I made them go door-to-door to return the property and apologize. Now I often like to put myself in a high school kid's circumstances."
The motive for this bizarre crime, however, is still a mystery.
Although Williams enjoys her job as a police officer right now and hopes to positively influence teenagers, when she was a teenager herself, that wasn't always the case. Ironically, she exclaims that she "hated cops in high school" and "was a little punk teenager."
In junior college, she decided to take a couple criminal justice classes and realized that the subject sparked her interest. She then ended up getting her bachelor's in that field, but later thought it was possible she wanted to be a Physical Education teacher instead since she loved sports. Eventually, she realized that her passion was still to be a police officer. But regardless, she also got a degree in Physical Education so she "has something to fall back on."
Now that she is an officer, Williams noted that although it can be an exciting and rewarding career, there are palpable challenges that come with it. Especially because of how the police are commonly viewed today.
"The most challenging thing [about being a police officer] is that I can't openly be proud of what I do. My kids know 'Mommy's a cop.' But then when we get on Bart and my daughter says 'there's a policeman like you,' I have to say 'shhhhh.' I think the hardest thing for me is that when people ask me what I do for a profession, I hesitate and want to say something else. Nobody likes cops. If you're a firefighter, you can tell the world. Everyone loves firefighters. So it's difficult because I can't easily just say I'm a police officer and show people how proud I am of that."
While getting to know Dougherty's campus, the most surprising thing Williams has experienced in the school is the high amount of students who smoke marijuana, an issue she hopes to tackle.
"Everyone knows Dougherty is a stressful place, with high academic pressure from parents and peers. But it's crazy how much weed is going around the school."
She vehemently asserts that drug education starting at a young age is something that is absolutely essential for combating this issue.
"Nowadays kids think smoking weed is just like drinking a coke. They think there's no harm or shame behind it. I actually just gave a presentation to the staff and said 'if there's any students that all of a sudden start to decline [in academic performance], that's usually a sign of something going on at home: abuse, stress, drugs. I don't know what can actually help [students] other than helping adults be aware of things to look for and helping students find peer groups to talk with. I mean, nobody's going to come to me and say 'Hey Officer Williams! I'm smoking weed'."
She admits that the thought of campus "drug-buster" Officer Williams most likely won't put police officers in the best light among high school students, especially because people already have negative perceptions of police officers as people who are just "out to arrest."
But in spite of this, Williams hopes to be able to mend the divide between the police and students by visiting classes and introducing herself to the student body as a friendly figure who just wants to keep the community safe.
"Unfortunately there are some cops that just want to 'hook and book,' arrest people and take people to jail. But when I pull someone over to give a speeding ticket, I look at a speeding ticket as 'what if I just prevented that person from killing someone or getting into an accident?' What I really want to do is strengthen the bond between cops and kids. Unfortunately it's been torn apart to the point where a lot of people don't like us. But I'm trying to show people that we're not all bad and we're pretty cool, too."