By crossing a border, we built a home and bridged a divide
In a first-person narrative style features article, Amanda Su recounts and reflects on her experience building a home in Tijuana 
As I walked through the aisles of my local Home Depot, I gazed upon shelves and walls full of massive hammers, saws and wrenches. While nervously setting sharp tools back to their places and sneaking away from a tape measure I may have accidentally broken in half, I attempted to put on a tool belt that even when tightened all the way still fell down my waist, tried on gloves that were several sizes too large and swung a 20 ounce hammer around a few times, almost dropping it on my foot. Then finally, a quizzical employee came to my rescue.
"Hi! How can I help you today? Can I ask what you'll be using that 20 ounce hammer for?"
"I'm going to Mexico to build a house."
The Volunteers and the Preparation
During Winter Break, I, along with a group of 12 other students from various parts of the San Francisco Bay Area, made our way to Tijuana as volunteers to build a home for a family in need through the non-profit organization DOXA.
Although many of the volunteers were in the same grade, most of us were virtually strangers. There were students from Dougherty Valley High School in San Ramon, like myself, Monta Vista High School in Cupertino, Aragon High School in San Mateo, Dorris Eaton School in San Ramon and Union College in New York. The ages ranged from 8 to 18-years-old. But that hadn't stopped us from staying up late playing cards and yelling loud enough that adults had to come downstairs and tell us to "be quiet."
Typically, these volunteer trips occur during Thanksgiving, Winter and Spring breaks, and in June. To participate, volunteers sign up through a DOXA representative; this trip was heavily organized by Prasanthi and Sreedhar Tallapaneni, mother and father of Pooja, a Dougherty sophomore, and Jetha, a Union College freshman. 
Volunteers paid for all trip expenses themselves, and in addition their families donated $1,000 each toward building materials. The number of houses built per trip depends on the group size; 25 people, or eight families, will usually build one home.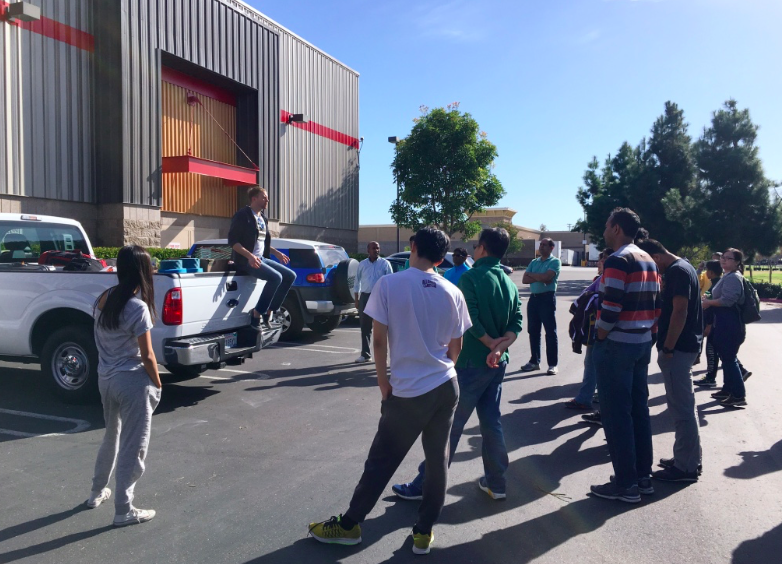 On the first day of the 2016 Winter trip, my mother and I, along with another mother-daughter pair, made our way to San Diego to meet up with the entire group. Despite several near-death experiences resulting from our rental car taking on a mind of its own and cutting through the lanes of Tijuana's uneven, rocky highways, everyone successfully united with no limbs lost and everyone's sanity kept — mostly. This had only been the first day.
But after stuffing cartloads of food everyone bought at a San Diego Costco into the vehicles, all of which were to be made into meals for the week, we crossed the border with our packed cars and crossed our fingers, hoping that border security would not question the fifty packs of torta bread hiding in our trunks. Throughout the week, we were led by Andrew Schein, DOXA board chair, a Seattle real estate agent, our trip leader and someone we all casually called "Andrew."
The Orphanage: Casa Hogar los Niños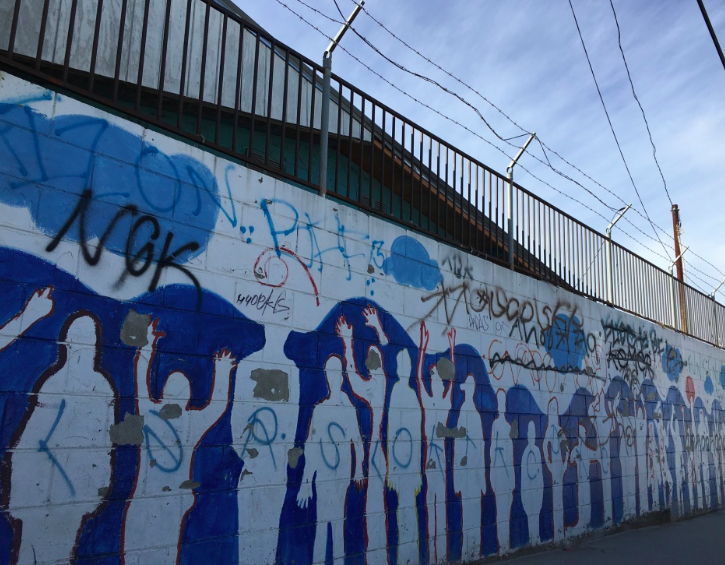 During the trip, we stayed in the orphanage Casa Hogar de los Niños, which currently houses 40 children. Throughout the week, porta potties replaced toilets, hand sanitizer replaced sinks and soap and sleeping bags replaced beds. During the entire week, most only showered once and to shower at all, I and others had to walk next door to use the bathroom in a kind stranger's home.
Using a flashlight to find a porta pottie during the night, sleeping on an air mattress that deflated with every little body movement and brushing my teeth in the early morning in front of everyone over a pile of dead plants outside the orphanage with my disheveled clothing and unkempt hair— while I attempted to avoid eye contact — were not experiences I particularly enjoyed. But they effectively gave us a glimpse into the living situations of Tijuana's residents
The Building Site and the City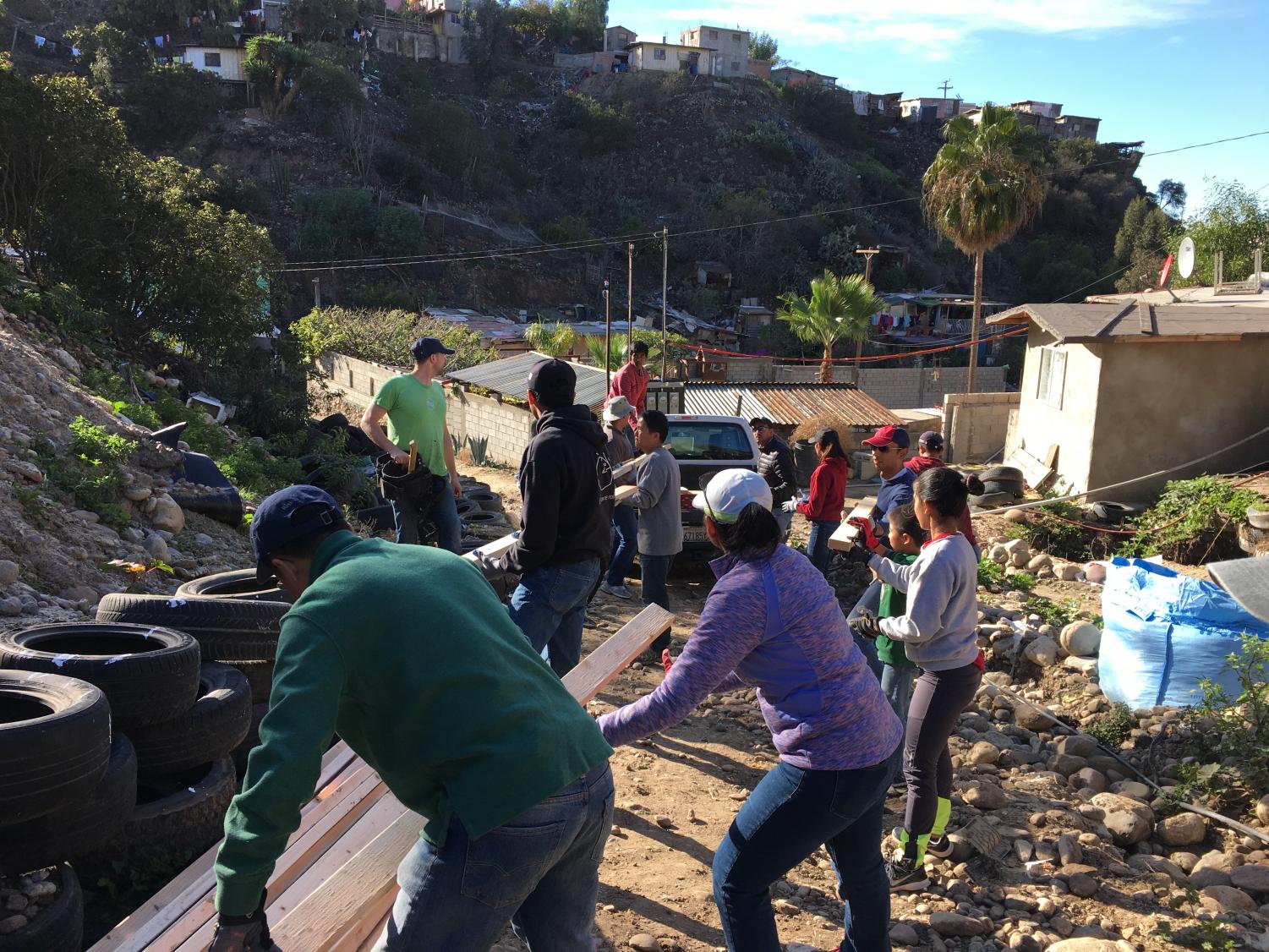 On the second day, we all woke up at around 7 a.m. and groggily lugged ourselves and all the equipment and materials to the building site. The equipment included the hammers, saws, paint buckets, paint brushes, every single piece of wood we were going to use, including enormous pieces of heavy plywood, buckets of nails, levels, tar and more that I can't even remember. The entire process to unload and load each took around half an hour if done efficiently. But to do so, it required the collective teamwork of lifters, carriers, loaders, and counters — people who counted how much wood was on the truck and kept track how many more needed to be loaded.
When we finally reached the building site, the concrete foundation had already been laid by DOXA, but it was our job to build the house itself.
As I looked at the flat concrete slab, I laughed to myself as I thought about how I, a tiny 16-year-old girl who practically lives at a desk, could possibly use a hammer and saw, let alone build a house. I remembered my grandmother's reaction to when she found out about my mother and I building a house and her disbelief: "Are you sure you're building a REAL house?"
Thoughts raced through my head as I heard my mother whisper "Hurry up! Take some photos! Never mind, I'll just take them" and struggled my way up onto the raised building site using loose rocks as leverage. I didn't have much time to pull myself together because Andrew had already started talking about the game plan.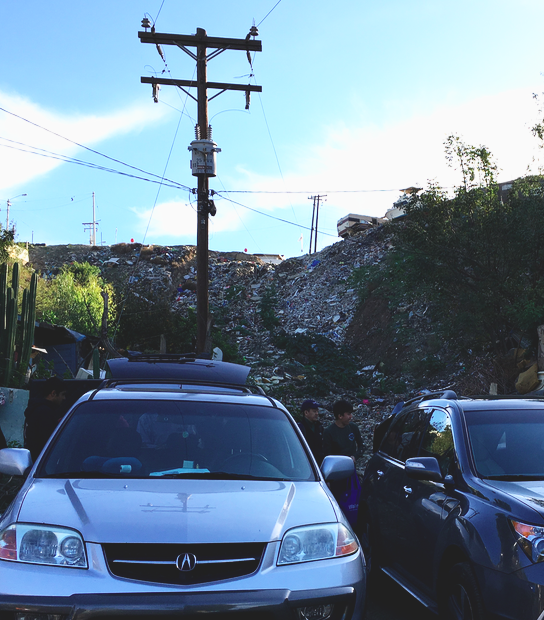 The building site was situated towards the more poverty-stricken areas in Tijuana, closer to its edge.
While driving through the city to the site, we couldn't help but feel alien with our shiny SUVs amidst dilapidated homes and roads.
In Tijuana, the poverty was palpable. Houses were scattered on mountains of rock, mud, and garbage, with only walls made of old tires preventing potential landslides. Fences of cracked wood and frayed ropes were all that separated different families.
The roads, especially to the building site, were steep and precarious to drive on. During many instances, if we drove a little too far to the left, our cars would have gotten stuck in ditches and muddy holes. If we drove too far to the right, we would have fallen off a cliff.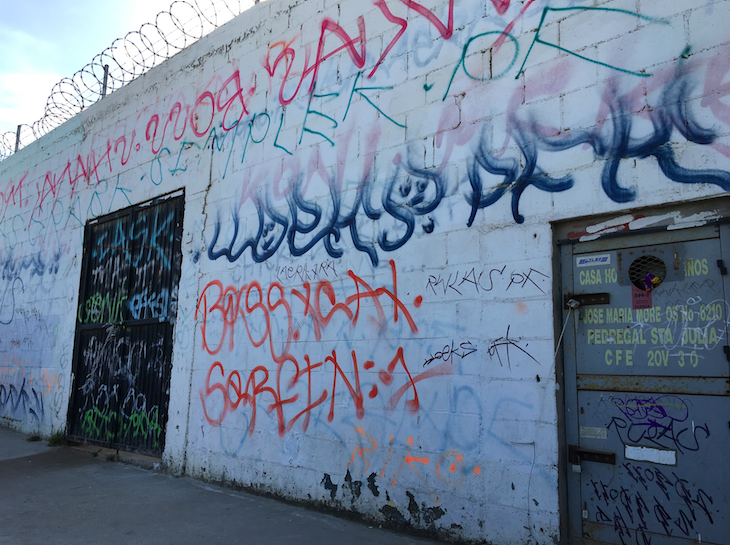 Glass shards from old beer bottles were scattered across the streets of even the more well-off communities. Small stands were set up along the roads as parents brought their children out to help sell various miscellaneous items such as clothing and hand-made wooden toys to neighbors to earn any amount of money possible. Stray dogs ran around with flies and whispers of "don't pet the dog, you might get sick" from parents in our group to young children following their trails. Graffiti covered up nearly all visible cement surfaces, including the walls of schools, the orphanage and churches.
But despite these situations, boys still ran around on the dusty streets and girls helped their mothers cook on outdoor stoves, all with smiles on their faces. Children were playing soccer on basketball courts with basketball hoops that had no nets. At least not anymore. Children were sitting outside cramped convenience stores with their parents and grandparents listening to music on old radios with intermittent static. Children were happily sweeping the sides of the roads with brooms to clear out some of the trash and dirt.
Inevitably, we couldn't help but feel sorry for them since all we'd known in our lives were video games, iPhones, laptops and TVs. But perhaps it was the fact that children Tijuana have known nothing else but their current destitute situations that made them so appreciative of what they had.
In sharp contrast, I embarrassingly found myself complaining to my mother about having to put on sunscreen — while she furiously lathered it all over my face —because "it made me feel sticky."
Throughout the week while working and eating lunch there, Andrew told us a bit about the city's economic situations.
Tijuana and DOXA's History
In the mid 1980s, Tijuana's population began to rapidly increase as people moved to the border city in hopes of finding local jobs or crossing into the United States.
"A majority [of families in Tijuana] are living in a self-constructed home out of materials that they find, for example, old garage doors for walls. Then they will tie those together and find tarps and wood to make a house. A lot of those homes don't have concrete floors so they just have a dirt floor, [which] can also be a big health issue," said Andrew,
To combat this, the non-profit DOXA was founded, which has a history that reaches back to the '90s. Tony Ralph, the founder of Casa Hogar de los Niños, cooperated with one of his friends to design DOXA's current house model: a 12 foot by 24 foot wood frame house, built on a four- inch concrete slab, buildable with just hammers and saws; the entire project is relatively inexpensive.
Shortly after, the original non-profit Homes Without Boundaries (HWB) was founded after Ralph suggested that several pastors from a Seattle youth group try out the house design for their annual house building Easter mission. Due to its success, HWB was officially formed in 1998.
In early 2007, the board members wanted to expand HWB's mission to include education and community development, DOXA's other current volunteering opportunities, in addition to house building. Because of this, the name "Homes Without Boundaries" no longer encompassed the organization's mission and HWB was subsequently renamed DOXA, which was officially formed in 2011. So far, DOXA has built 1,500 homes, housing more than 5,000 people.
"Coming someone who's been a part of the organization for many years and has seen how it has evolved, our mission statement is essentially to expose particular people from the U.S. to other cultures and other levels of poverty. And in doing that, [it] help[s] the community and provide[s] a home for a family that's deserving," stated Andrew.
In reality, DOXA doesn't need volunteers to build houses. It has experienced workers and construction crews who can easily build a home in a day while we took a week. While watching Andrew hammer in a nail with two hits while it took several volunteers 20, some of us wondered why volunteers are even necessary when so many more houses can be built without our inexperienced hands doing the work.
But ultimately, in hopes to bridge the understanding gap between Americans and those living in other economic situations, DOXA strives not just to build a home and alleviate poverty but also to educate. Each time a new group of inexperienced people comes to Tijuana, a more experienced and culturally aware group leaves. More specifically, a group with a deeper understanding and appreciation of their privilege and a stronger desire to give back to those less fortunate.
"The most impactful decision that I made was that after finishing university, I came down to Tijuana to live here for about a year and a half. And just being exposed to a different culture for that amount of time and immersing myself in it was a very powerful experience. [Building homes] keeps me grounded. Especially when working as a full time real estate agent, it's easy to forget about the rest of the world and this lets me continue to remember what money really means," said Andrew.
Because of the increased number of houses being built by organizations such as DOXA, Tijuana residents are now treating the city more and more as a permanent home rather than a transitional spot. An increased number people are settling in the city, developing their communities and sending their children to school, whereas often when people instead opted to cross the border, they had difficulty finding jobs and getting an education in the United States.
In the early 2000s as more people began to settle, the city started creating the infrastructure of water and sewer systems and began removing septic tanks, one of which Casa Hogar de los Niños was located on until around 2004-2005.
Unfortunately, poverty is still widespread in many communities. Ashamedly, I am not a teenager with an extraordinarily clear understanding about salaries and financial issues in general. But when I learned that people in Tijuana today can live off of annual salaries of as little as $300, I didn't have to do any calculations in my head to realize how little that is compared to the amount of money it takes to allow for the lifestyle I have today.
Building the House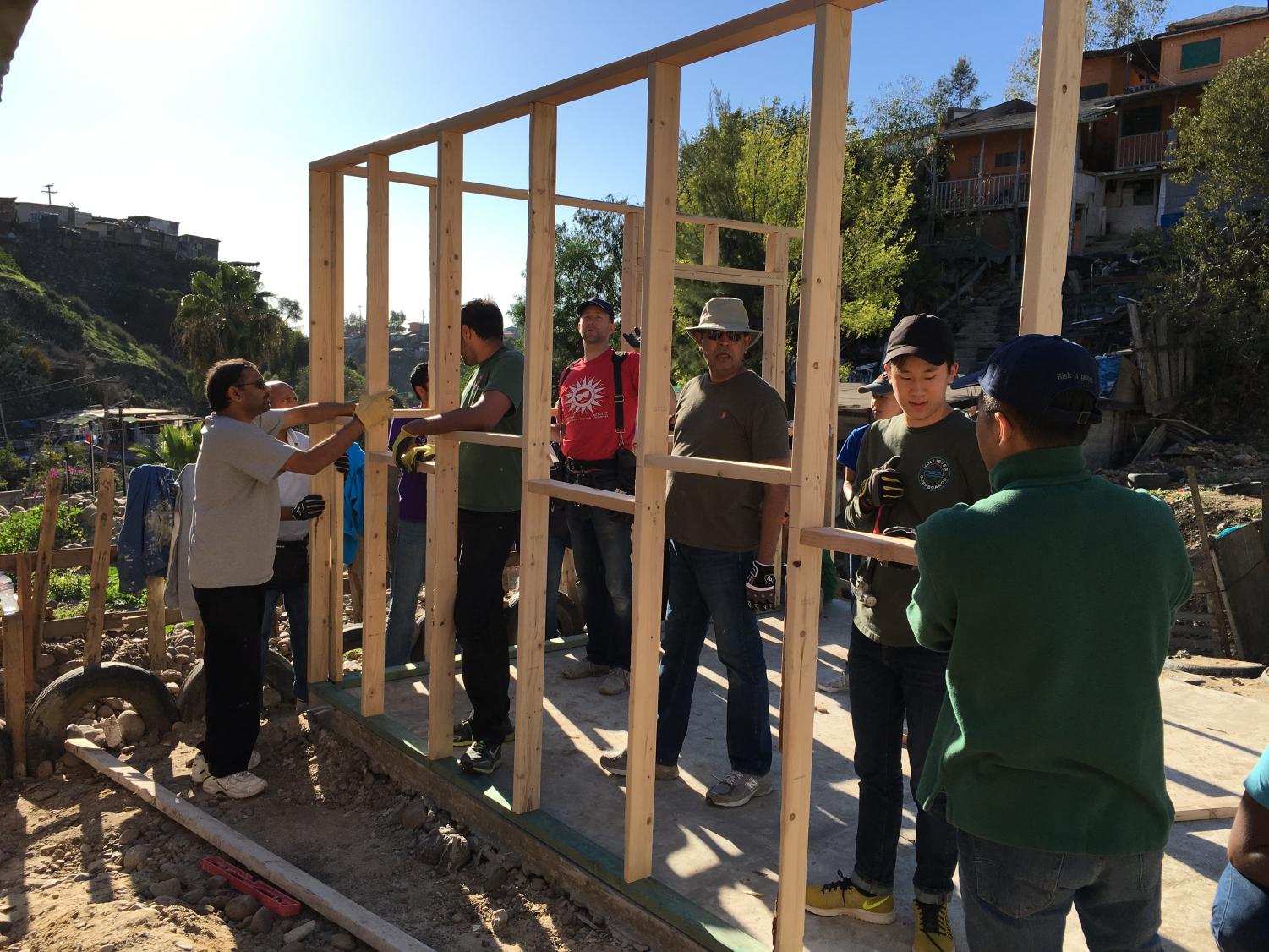 The house building process itself was not terribly complicated, but was at times, incredibly taxing. We first hammered together the wood we sawed and measured on the first day to construct the wall frames. Then we nailed on sky blue plywood— a color chosen by the family— trims, the door and windows. Several volunteers climbed on ladders to hammer in rafters for the roofing to sit on, then climbed onto the roof frames for hours under the scorching sun to nail in the roofing plywood and tar paper.
Although the meals eaten throughout the trip were simple sandwiches, packed beforehand for lunch, and home cooked meals made by the mothers that came on the trip, everyone ate heartily after laboring for hours under the blistering sun and working up enormous appetites. And because of the different families that came on the trip, each mother was able to showcase their diverse and unique recipes, ranging from chai tea to chicken.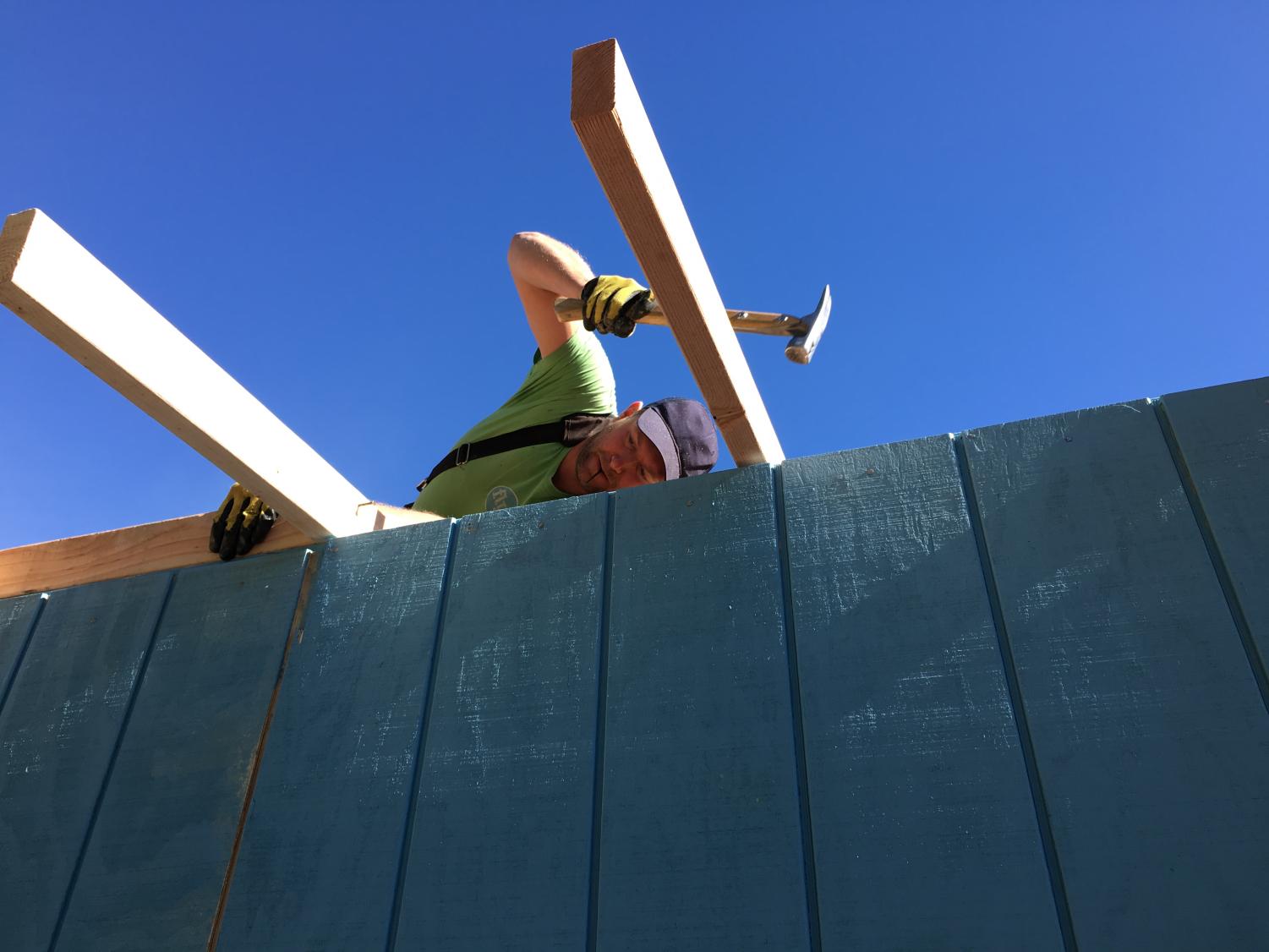 On one of the hottest days at the building site, the mother of the family receiving the home came with her 3-year-old son to the building site and brought us four bottles of soda while we were working. Because of the language barrier, all she could do was hand them to us and smile. But we understood immediately and made sure not to leave a single drop, aware that while some Americans can unhesitatingly throw away half a bottle without giving it a second thought, Tijuana residents may view a bottle as a day's pay.
During the days following, the walls were repainted several times and curtains were set up for the windows, a gift from the very first recipient a DOXA house 25 years ago. As a seamstress, she made it a tradition to gift curtains she has sewn for every new house that is built as a thank-you-gift to DOXA. Although her appearance was brief and I myself didn't actually get to interact with her, her story moved each of us since we knew she didn't have very much herself, but still strove to give back and help others.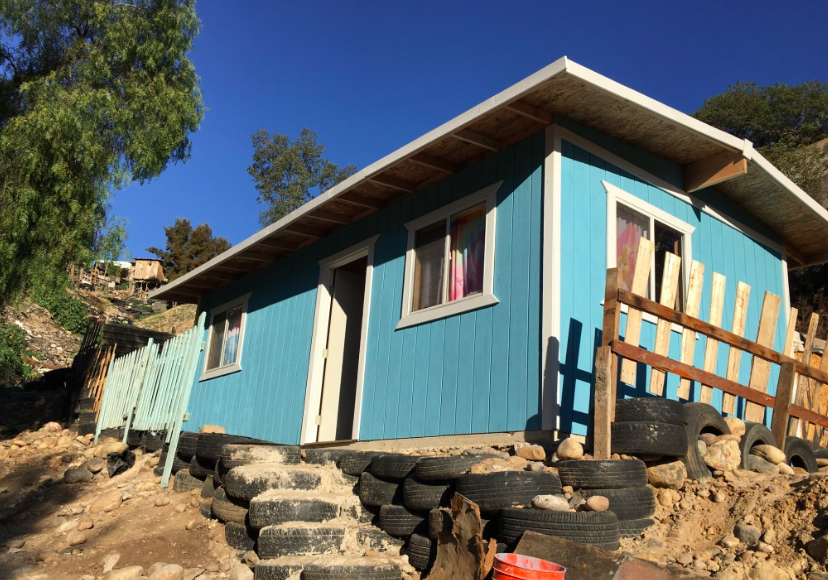 Then finally, after days of hammering, nailing, painting, sawing and relatively arduous labor that students, including myself, who spend the majority of the their times in classrooms aren't accustomed to, the home was finished.
"We got to learn so much about how to to build a house and working together and it was really nice to see the family when they got [the home] because you can tell it really means a lot for them," said Stuti Upadhyay, a freshman at Monta Vista High School in Cupertino.
"The high point [of the trip] was obviously that hand-off to the family. But there were countless moments of caring, sharing and cooperation … that I will cherish forever. [The children] definitely had a lot of fun and kudos to all the parents for bringing up such well-balanced, intelligent and disciplined kids. The teamwork [was] also exemplary at the building site. If someone was thirsty, there was someone else ready with a drink. If someone was tired, someone else was always ready to take over," added Abhijit Kumar, the father of Aditesh Kumar, a junior from Monta Vista High School.
The Family and the Hand-Off
Prior to us arriving to build the house, the family was living on the site in a poorly-constructed home made from wood and other materials collected from other broken down houses near the dumpster. The father, Alfredo (last name concealed for privacy reasons), currently works in a restaurant, while the mother, Veronica, stays at home to take care of their three sons: Ricardo (3-years-old), Oswaldo (13-years-old) and Alfredo Jr. (21-years-old), who is currently studying engineering in college.
For a family like Alfredo and Veronica's to apply for DOXA to come build a home, there are several criteria that often must be fulfilled, the first of which is that the family needs to have ownership of the land.
"When we first started out, unfortunately we built for a few people that did not have titles and the actual owners came in and took the houses away," Andrew said.
The second is that DOXA requests that families submit documentation regarding how many people are in their family, what kind of jobs they have, if they have any disabilities or issues that prevent them from working, how much money they are making, whether their kids are in school getting an education, etc.
Then, based on those criteria, DOXA determines if the family has a need for a home to be built for them.
Andrew added, "A lot of the families that we are building for are stuck in situations where they are paying rent. And the fact that they are paying high rent [instead of owning a home] prevents them from sending their kids to school or having other opportunities to advance. By receiving a home, they are then also able to educate their family."
Another criteria is that the families actually have to donate around 100 volunteer hours. Either the children or the parents themselves have to do some volunteer work around the orphanage or elsewhere in local area to give back and aid in community development.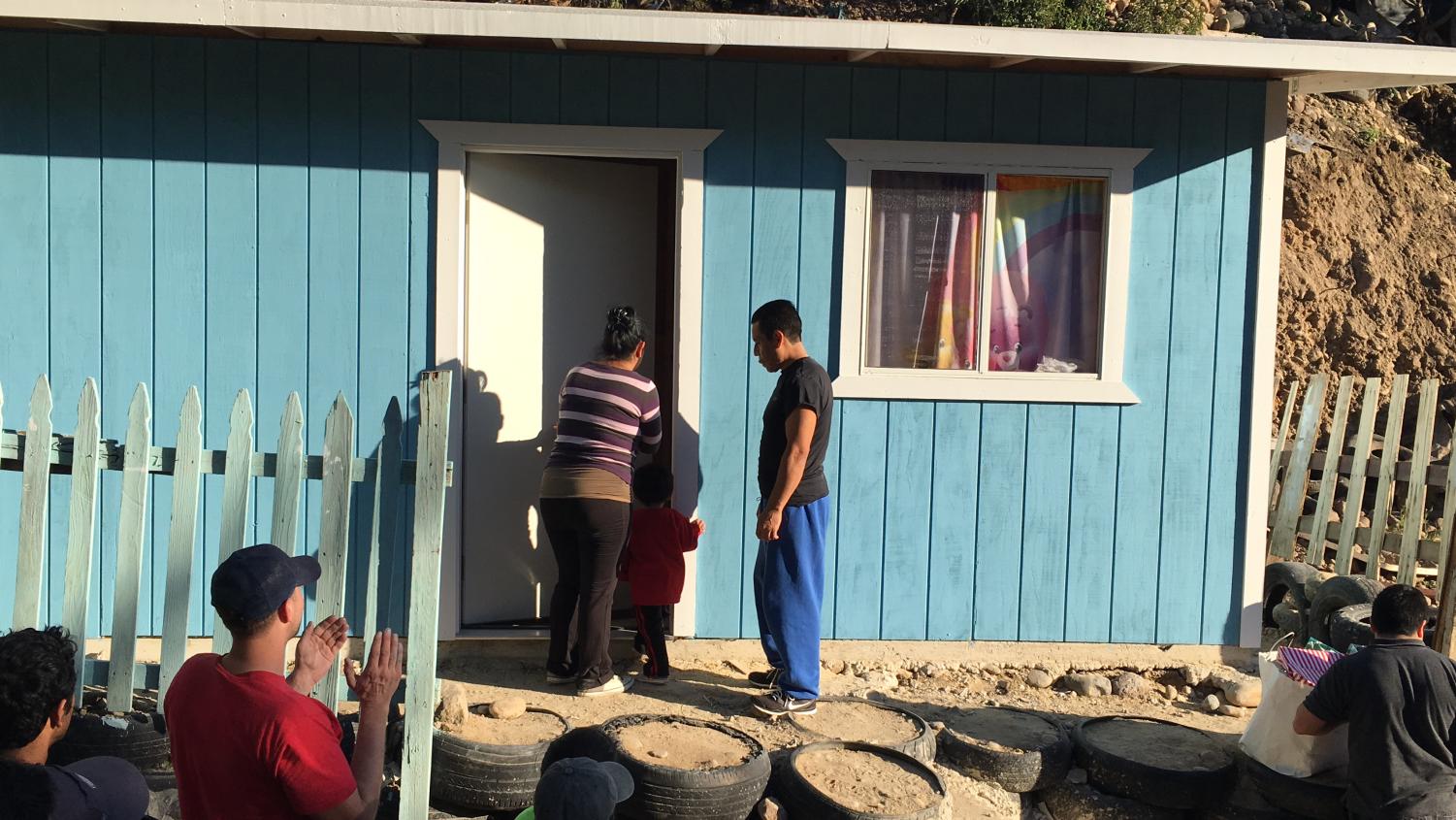 During a brief ceremony, the family received the key to the house, then unlocked it and went inside for the first time. Volunteers gave several gifts to the family and the happy cries of 3-year-old Ricardo, as he dashed through the rooms of his new home and ripped apart the wrapping paper from his basketball toy and new clothes, pervaded the atmosphere and elicited resounding laughter and tears.
Alfredo Sr. stated, "Thank you very much. It's a beautiful home. We are very thankful" (translated from Spanish by Andrew).
"We've waited a long time for a house. We are very thankful and thank you to God for bringing people like you to build a home for us," added Veronica (translated from Spanish by Andrew).
As I rushed into the home to see the family's reactions when they walked inside, expecting smiles and laughter, I stood there instead paralyzed with shock.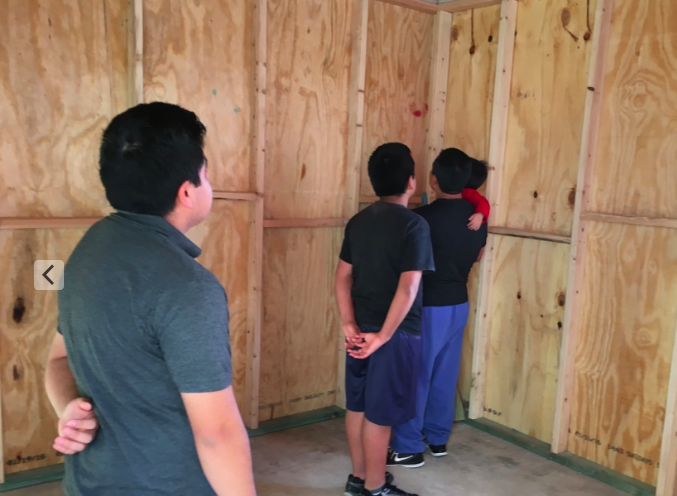 Although it was scalding outside, the rooms were cool. The house smelled faintly of sawdust and the sun peeked through the rainbow curtains, causing colors to flood the cement floor. The room was filled with deafening silence.
Alfredo Sr. was holding Ricardo in his arms, staring into the corner of a wall at seemingly nothing with Oswaldo and Alfredo Jr. by his side. As he slowly turned around, the man we had met on previous days, remembered as someone with a serious face and solemn disposition, had tears in his eyes.
Both the mother and father stopped putting on fronts of composure and just rejoiced. As they hastily wiped tears away and exited the home, their sons, three boys who had only known homelessness up to that day, beamed with pride.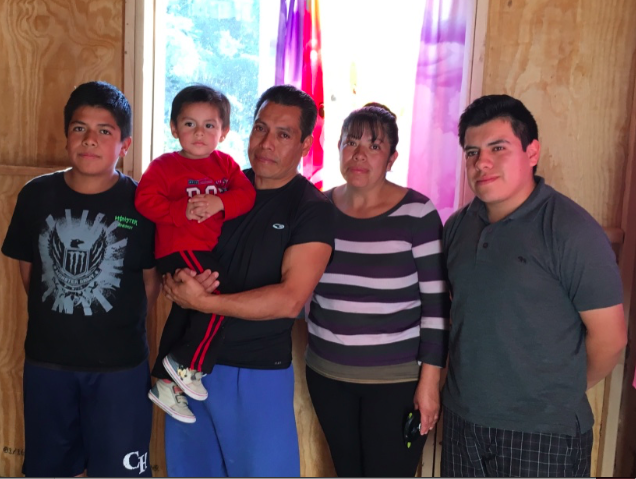 There stood a family of five whose life had been wrought with unimaginable difficulties. But in those moments, the tremble in their voices as they spoke and the look on their faces as they heard the first click from the house unlocking helped me start to understand.
That day wasn't marked by our simple achievement of building a house, but by the uncontainable tears of joy and laughter from a family of resolute faith, who after years of waiting for their new lives to begin, finally had a home.