Volleyball Captain Cynthia Zhu sets team up for success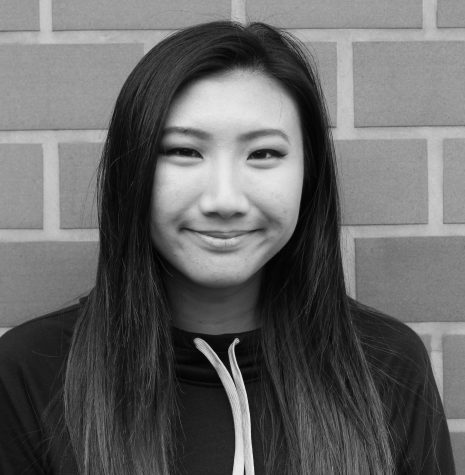 After 24 high school volleyball games over the course of four years, senior player Cynthia Zhu has come a long way since freshman year. Starting off with zero experience in the sport on the freshman team, she is now one of the three team captains as well as one of the most crucial players.
Zhu recalled that her older brother was actually the one who encouraged her to try out for the sport after she had moved to San Ramon in freshman year.
"He thought it would be a great chance to meet new people before walking into a school knowing nobody," Zhu said. Initially known to be the shy girl in the background, Zhu has transformed dramatically within the past year, on the court and off the court.
"Last year, she followed the crowd and was in the background," Coach Clemente, who helps with the girls' conditioning practices, said. "This year, she's gotten a certain maturity, and now she's in the forefront."
More than just becoming outgoing, her skills have improved greatly, all because of the hours upon hours of practice she has dedicated to the sport.
"Over the summer, she came to every conditioning," Women's Volleyball Coach Jennifer Cincotta said. "She worked hard and would train the younger kids. I knew I could count on her for anything."
Even Clemente recalls how she showed up every day, did the work without complaint, always had a smile on her face and always completed the workout, no matter how sore she was from the day before. Her dedication over the summer and during practice translates to her prowess on the court during the games.
"When the team is going in a lull during a game, she steps up and demands that she gets sets and kills," Cincotta said. "Then, that fires up the team, because it's fun to watch, and it's impressive." Cincotta particularly remembers the first California High match of the season as the game that defined Cynthia's abilities.
Besides being a strong asset to the team technically, Zhu is an integral piece in the girls' emotional unity. With her quirky sense of humor, she always adds glamour and a certain flair that makes even practices memorable.
"During practices, she would say something funny to cheer the teammates up by yelling out random foods like 'chicken'," junior Abigail Longson said with a chortle.
Zhu's bright personality, work ethic and contributions to team unity establish her role as a natural leader on the team.
"She's a great leader, and everyone gets along with her," Longson said. "I was expecting her to become the third captain because she would be a good captain."
As the season comes to a close, Zhu considers whether volleyball should remain part of her as she enters college.
"By playing at college level, she'll learn a lot in balancing school and sports," Clemente suggested. "I think she should at least give that a shot because she's definitely good enough to play on that level."
No matter what she chooses, one thing remains true.
"It's going to be really hard when she leaves," Longson said.