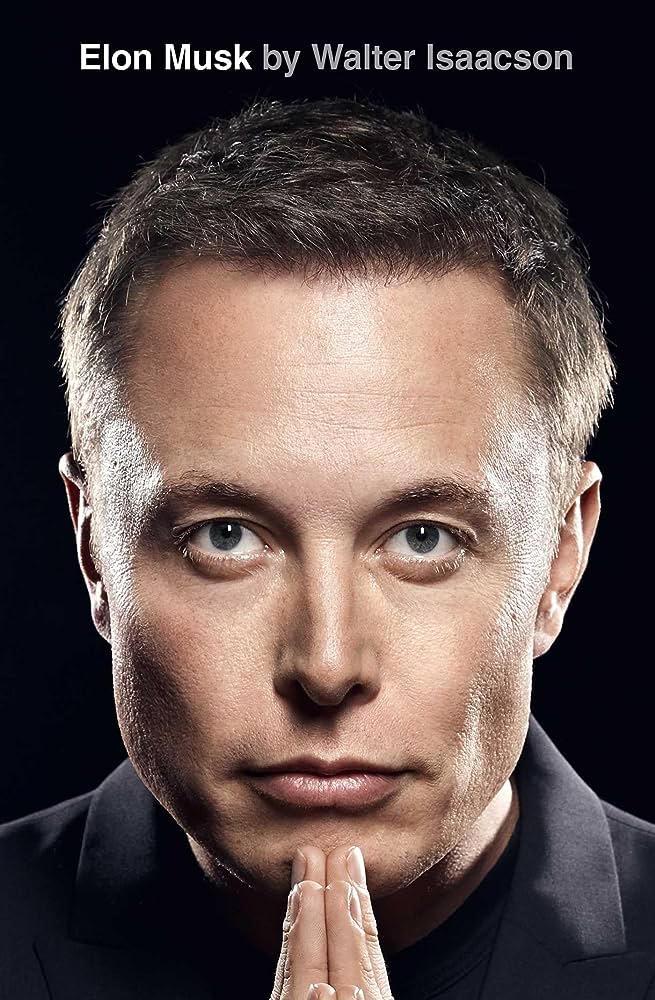 A chronology of the events and perspectives surrounding the richest person alive, "Elon Musk" by Walter Isaacson captivates readers through riveting storytelling and drama.
The 688-page biography, released on Sept. 12, 2023, features insights and details into Musk's complex character. Isaacson takes readers along a rags-to-riches story charged with obstacles and betrayal. With its unparalleled insights and pure entertainment value, "Elon Musk" is a must-read.
In the prologue titled "Muse of Fire," Isaacson opens with an anecdote on Musk's childhood experience at "veldskool," a wilderness survival camp in South Africa: "It was a paramilitary 'Lord of the Flies' where bullying was considered a virtue and kids were divided into groups and told to attack each other," recalled Musk.  Throughout the rest of the prologue, Isaacson explores Musk's countless experiences with adversity, ranging from the time he was pushed down concrete steps by bullies to the time SpaceX and Tesla were simultaneously pushed to the brink of collapse. Isaacson masterfully concludes the prologue with the idea of a metaphorical "playground" full of hostility and danger, much like "veldskool." Isaacson conjectures that Musk's erratic decisions are due to his lifetime of traumatic experiences on this "playground."
Isaacson's style of storytelling — chronological anecdotes crescendoing into major insights into Musk's character — is highly compelling. It allows for a thorough sweep of Musk's life while preserving a sense of flow and direction. In Chapter 28, Isaacson details stories of financial problems at Tesla and rocket failures at SpaceX that pushed the two companies to the brink of bankruptcy, building up to the intense moment when Musk refused to choose to give up one company in the hopes of saving the other: "I couldn't bring myself to decide that one was going to die, so I decided I had to give my all to save both," Musk said. As the culmination of various problems presented earlier in the chapter, Musk's decision adds impact to the narratives and characterizes him as someone willing to risk everything in order to fulfill his vision.
"
Whether Musk is braving a blindfolded knife-thrower or depositing almost all of his own capital into his companies, Isaacson dutifully transcribes these moments into captivating scenes. 
Taking tremendous risks is intrinsic to Musk's character, which Isaacson capitalizes on effectively with his use of entertaining and gripping scenes. Whether Musk is braving a blindfolded knife-thrower or depositing almost all of his own capital into his companies, Isaacson dutifully transcribes these moments into captivating scenes. 
A prime example lies in Chapter 46: Fremont Factory Hell, which begins with Musk promising Wall Street that the Fremont Tesla factory would be producing five thousand Model 3 vehicles per week by the end of June (for reference, it was currently April, and the factory was producing only two thousand vehicles per week). Failure to meet this "magic number" of five thousand would cause a catastrophic plummet in stock prices and the possible bankruptcy of Tesla, a dark possibility that seemed inevitable. 
After captivating readers with this upfront presentation of a seemingly hopeless situation, Isaacson expertly conveys the rest of the story in an equally engaging way. The chapter leads into a so-called "surge" ordered by Musk, the mention of flocks of "short-sellers" (who would make money if Tesla's stock price fell) who made Tesla the most shorted stock in history, and Musk personally walking through the factory and making decisions on the fly. All the while, the suspense swells until at last, on the June 30 deadline, Musk realizes that Tesla would succeed. 
Throughout his book, Isaacson explores the inner workings of Musk to an extensive degree, providing insight into his ambitious vision and erratic actions. His coverage of such a remarkably unique individual explores the underlying theme of ambition and ruthlessness: the question of whether someone as driven as Musk could succeed without constantly operating in a mode of crisis. To readers looking for biographies with a similar style, Isaacson's coverage of other prominent individuals — Steve Jobs, Jennifer Doudna, and Einstein included — may be of interest.