"Not goodbye but rather see you later."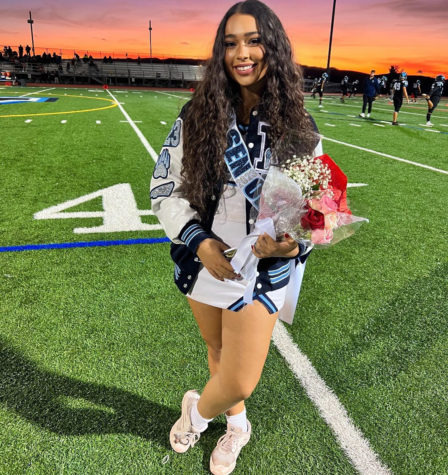 Next week, the Dougherty Valley graduating class of 2023 will walk across the graduation stage and say goodbye to high school forever. The seniors won't only be saying goodbye to the people, but also to the memories they've made in their time in Wildcat athletics programs. Here are some athletes who reflected on their years of being a Wildcat. 
Mia Verlatti: 
Senior Mia Verlatti has been a part of the DVHS athletics program for her entire high school career and will miss being a part of it after she leaves to continue her education at DVC and possibly transfer to a four-year university. 
Verlatti started off her athletics career on the girls soccer team her freshman year. She then spent her next three years training and getting deeply involved with the cheer team. 
"The biggest thing I've learned [is] accountability. If you don't do your part, everyone else fails. It really is a team effort. So accountability and  patience, you really have to work with a group of people. If you don't have patience at all, it all falls down," Verlatti said. 
"I would say leadership [is also really important] because you really have to do your part. You need to know how to communicate with a bigger group of people effectively." 
Cheer team culture has not only helped her shape personal life skills but has also allowed Verlatti to create many meaningful memories and relationships. 
"I'm really going to miss the people and the community and just knowing that they have your back," Verlatti said. "Amai Dozier was my [best friend in] cheer. I love all of my teammates, but Amai specifically and all my coaches like Coach Salonia. For soccer, [my close friend was]  Venla [Mantyvara]. They were all so supportive. If I ever had a bad day they would wipe my tears."
Verlatti also emphasizes the true strength and effort that cheer and soccer took throughout the years. With her experience, she gives advice to those who may be wanting to try out in the future or are considering joining a DVHS sport. Leaving the DVHS community has proved to be emotional and bittersweet for her.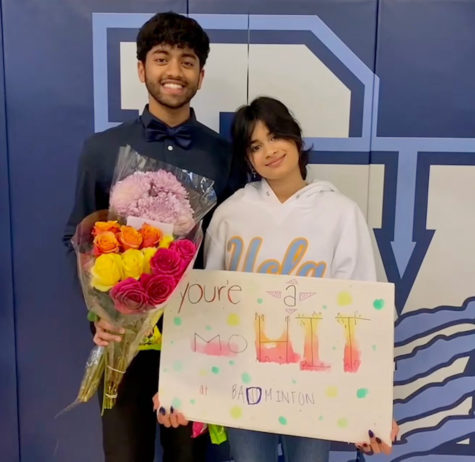 Verlatti said, "[It's] not goodbye but rather see you later."
Mohit Sudhir
Senior year was full of firsts and lasts for Mohit Sudhir. This year will be his official first and last season of badminton. 
"I played [badminton] when I was little with my dad, and now I have recently started to like it again." Sudhir said. 
For him, badminton became a mode of socializing and creating bonds that allowed much of his season to be enjoyable and more lighthearted. Even with just being on the team for a year, with no plans to continue playing competitively at Arizona State University (ASU), where he'll be headed next, Sudhir was still able to grow and take valuable lessons from being on the team. 
"[Badminton taught me] about not letting yourself get to your head. If you're just not playing your best, I feel better by thinking that you're just not doing your best that one day," Sudhir said.
Guolin Wu 
Senior Guolin Wu has been an athlete at Dougherty Valley since the moment he first stepped on campus. Wu played for the football team as a wide receiver and long snapper his entire high school career. He has also been on the DVHS baseball team as a pitcher for three years. 
Nearing the end of his last high school baseball season, Wu will be attending Diablo Valley College (DVC) to pursue an education and play baseball. 
"I always played [baseball and football] growing up, but I never played in competitive leagues," Wu explained. "A lot of people find it surprising, but I was always dedicated to [my] sports side, and that is why I will continue to play."
Wu reflected on memorable moments about his teammates and his growth, not only as an athlete but also as a person. And along with his personal growth, Wu was able to feel the changes within his teams.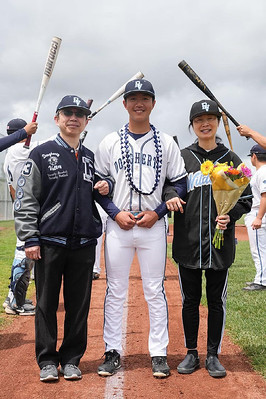 "Football-wise, working out during the summer, making friends with all my teammates, winning like those first few games and bringing back that culture of 'DV can actually win some football games' was definitely inspiring," Wu said.
Wu believes that being a part of the Dougherty Valley sports programs has helped contribute to his discipline as an athlete and as a person. Through the experience, he was able to make meaningful connections with coaches and teammates who grew along with him in his high school journey. 
"I just want to give a big thanks to all my coaches. Coach Clemente, Coach Nichols and Coach Wengel [are] big inspirations to me," Wu said. "And a big thanks to my [baseball] teammates Evon [Williams] and Cody [Williams], who I've been with for years, and my [football] teammate Theo [Leong], who has been a big help in football." 
As Wu gets ready to graduate and leave high school athletics, he reflects on the highs and lows and his feelings regarding his departure. He will miss the DVHS athletics program as he invested his time and effort into the sports he loves.