NMIXX shows off their vocal prowess in debut EP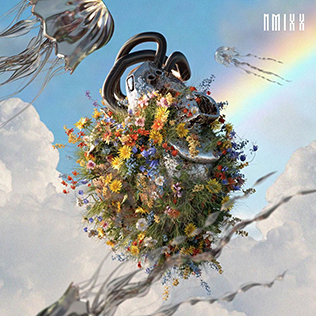 On Mar. 20, six-member K-pop girl group NMIXX released their first EP, "Expérgo," with six tracks highlighting the group's boundless energy and vocal versatility. 
The EP was preceded by the single "Young, Dumb, Stupid." With a catchy chorus sampling nursery rhyme "Frère Jacques," the upbeat song drew upon the song's themes of enjoying youth without fears (and aptly so, as most of the members are still teenagers).
However, "Young, Dumb, Stupid" fell into the same trap as NMIXX's Feb. 2022 track "Tank"– the repetition in both songs' choruses made it easy for listeners to overlook their incredibly powerful bridges.
On the other hand, lead single "Love Me Like This" seamlessly mixes the R&B-style vocal runs of 90s girl groups like En Vogue with the empowering sound of contemporary girl groups like Little Mix.
This uninterrupted blending of styles marks a notable departure from NMIXX's intended sound. Self-described as "mixxpop," the group initially aimed to combine multiple genres or have drastically different parts (such as one fast-paced rap verse and one softer sung verse) within one song.
With their past singles "O.O" and "Dice," NMIXX received criticism for causing listeners a sort of mental "whiplash" due to the sudden and stark transitions. However, their absurdist style has subverted the K-pop industry trend of manufacturing sonically similar earworms, almost to a rote effect. When NMIXX landed on the NME 100 this past January, contributor Derrick Tan wrote that the group "may divide opinion with their radical sonic experimentation, but…have both substance and style."
Despite this, with the recent explosion of other rookie K-Pop girl groups (like NewJeans and Le Sserafim), it has been difficult for NMIXX to carve a place for themselves in the fourth generation (last five years within the K-Pop industry) canon. Especially as "Expérgo" is NMIXX's first release since member Jinni's departure last December, it's easy to feel like the EP is missing some of the signature spark that defined the group's past releases.
But this release does a marvelous job of leaning into the members' vocal talents, and it's this attention to vocals that sets NMIXX apart from other K-Pop groups.
In the past, NMIXX has been praised for their minimal reliance on vocal backing tracks during live performances, which is considered impressive and fairly unusual within the K-Pop sphere as of late, where dancing and visual appeal take precedence for the entertainment companies managing their artists.
It's not the fact that the six members of NMIXX are distributed an equal amount of lines, which is not the case; rather, it appears that on a track-by-track basis, the most lines are given to the member whose musical style fits the song the most, while also frequently utilizing harmonies and stacked group vocals (a wonderful example being in the jazzy "Pitch Perfect"-esque track "PAXXWORD").
As a result, it's refreshing to hear the ways in which each member of NMIXX shows their singing chops on "Expérgo." For example, member Haewon's light and airy tone shines on top of the guitar-led track "My Gosh," while the album's anthemic closing track "Home" utilizes member Bae's R&B-influenced lower register.
These intentional details allow the listener to feel NMIXX's ownership of their unique sound. Though the songs on "Expérgo" lack the shock value of their past releases' experimental style, each track still succeeds in subverting the listener's expectations, leaving little room for disappointment.
NMIXX initially turned heads with their refusal to fit into musical boundaries, but their outstanding vocal skills and high energy performances will keep audiences captivated. As member Jiwoo raps on "Young, Dumb, Stupid," the group has "no genre [for their] movie / Not a moment predictable." With "Expérgo," the six members have proven that no matter which sonic direction their music will take, they are undoubtedly here to stay.