Senior Madison Macachor brings home first-ever girls EBAL wrestling title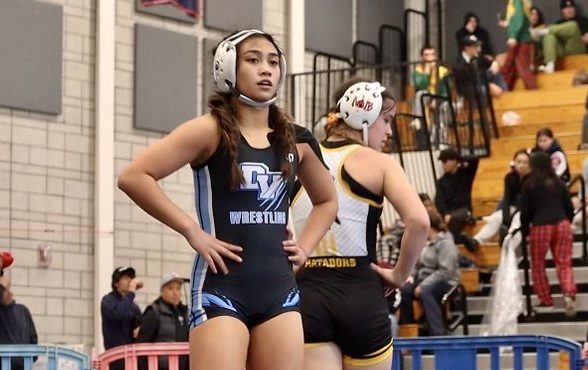 Dougherty Valley varsity wrestling co-captain, senior Madison Macachor, won first in the East Bay Athletic League (EBAL) wrestling championship at Dublin High School on Feb. 11, advancing to compete in the North Coast Section (NCS) championships held at Albany High School on Feb. 17 and 18.
Macachor competed against five other girls in her weight bracket for the EBAL title. Due to the low number of athletes in Macachor's weight bracket, all of the girls were eligible to compete in the NCS championship tournament, regardless of their performance in the EBAL tournament. Her teammate, freshman Reyna Jimenez, also took home an EBAL title as the only girl in her weight bracket. While the competition wasn't plentiful, in previous years, Macachor and other girls on the Dougherty Valley wrestling team were forced to compete in athletic leagues in San Lorenzo due to the shortage of athletes in our area. This year's girls EBAL championship was the first of its league. 
"Last year, and at the beginning of this year, there weren't a lot of girls duals. I'm considered pretty good, so I was wrestling in the boys duals last year for EBAL. This year, I went to a boys dual tournament. I was the only girl that did it in the past three years," Macachor said.
Macachor won all three matches she played at EBAL, ending the championships undefeated. She was crowned the first-ever EBAL girls wrestling champion of her weight bracket.
"In the EBAL matches she dominated every single match. Throughout the whole season, she's been basically guaranteed to win," junior Dylan Macalino, Macachor's practice partner, said. "She persevered through every match, even if it's against a boy. [Once], in a dual meet against Foothill, she was down 12 points, and then she still ended up pinning the guy and winning."
"[Winning the EBAL title] was really cool because it was my last year [in high school]," Macachor said. "It was exciting because I've never really had a winning title before and because my team was proud of me."
Macalino, who watched Macachor compete in the EBAL championships, knew that her title win was also significant because she was breaking a boundary in women's wrestling.
"It was just a big moment for all of us, as it was the first time in women's EBAL history that we got a league champion," he said.
The next tournament ahead of Macachor was the NCS championship. The top four athletes in each bracket at NCS advance to the state championships. Last season, Macachor was sick and unable to compete. This year, she hoped to place high enough to qualify for the state championships. 
The NCS championships were held at Albany High School on Feb. 17 and 18. Losing two matches eliminates wrestlers from advancing further in the competition. Although Macachor's success in the EBAL boded well for her NCS prospects, Macachor faced familiar opponents during the seven NCS matches she wrestled in.
"There [were] four girls that [I] wrestled at NCS that I've wrestled before. Wrestling the same person more than once gets harder, because now they know how you wrestle, and I know how they wrestle," Macachor said. "You have to think a little bit more."
"
I just tried to do my best or try as hard as I could, even if I didn't want to, because I knew that this might be the last time
— Madison Macachor
Macachor won her first two NCS matches before losing to Willits High School's Maryann Bertolino. The defeat wasn't unexpected, since Macachor had lost to Bertolino twice before this season. The next two matches went in Macachor's favor. The fourth match, against McKaylah Youngblood of Vintage High, ended in a 10-6 loss that took Macachor out of the running in the NCS championships. She won one last match afterwards, but the two losses had stopped her from advancing any farther.
On Feb. 18, with a record of 5-2, Macachor placed fifth out of 32 girls competing at the NCS wrestling championships in her weight bracket. Youngblood got third place in the NCS, with Bertolino coming at fourth as the last athlete to qualify for state. 
"I cried for like 20 minutes after [the tournament]. I was sad—not that I lost, but I was sad that the opportunity was gone, [even though] I did my best," Macachor said. "Practicing everyday is really hard, and having high expectations of getting first in EBAL and placing high at NCS definitely took a toll on me. I was just trying to work as hard as I could in the short amount of time to make those goals happen. Even though I fell a little bit [short], I still think that I tried the best I could."
As a senior, Macachor had gone into her last wrestling season with clear goals: to make the most out of her time left. Macachor doesn't have plans to compete on the collegiate level, so she focused on savoring every opportunity to wrestle.
"I just tried to do my best or try as hard as I could, even if I didn't want to, because I knew that this might be the last time. Things happen, and you can get hurt midseason, so I wrestled all of my matches like [they were] going to be my last," Macachor said. "I couldn't be scared of losing."
Despite missing her goal of the top four by one place at NCS, Macachor's victory at EBAL allowed her to end her last season on a high note. 
"I'm really happy with how my season ended," Macachor said. "And I'm ready to move on." 
Before joining the wrestling team in her freshman year, Macachor competed in gymnastics, danced for more than ten years, and cheered on Dougherty Valley's team. She tried out for wrestling because of her family's connection to the sport; her dad had wrestled in high school, and his old practice partner was the coach of Dougherty's wrestling team in Macachor's first year. Despite her success as a wrestler, Macachor has mixed feelings about leaving behind the other sports she has competed in.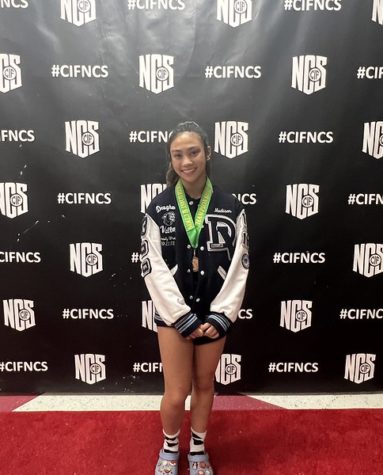 "They were just for fun. There were no expectations," Macachor said. "Going into an individual sport where you can't rely on anyone else made it a lot harder. I missed the freedom of it."
Gymnastics, cheerleading and dance are sports where a team's success often depends on the group's performance as a whole. On the other hand, wrestling depends almost entirely on individual performance, except in dual meets. While Macachor fosters team spirit as captain, she has also come to recognize the level of individual dedication and self-discipline that wrestling requires.
"At tournaments, we all watch each other's matches, and we all support each other. But at the end of the day, I can't wrestle for my teammate. It's you and yourself only. No matter how much I cheer you on, I can't do anything for them," Macachor said.
But wrestling teammates like Macachor's younger sister, freshman Charlotte, believe that her sister's presence and support do make a difference in her matches.
"She encouraged the whole team," Charlotte said. "She would always push us harder. Whenever we were in a match, she would go in our corner and she would just talk to us the whole time, telling us what to do."
Ever since she made varsity her freshman year, Macachor has devoted herself to wrestling, practicing six days a week during the high school season and with her club. But her dedication and success have taken a toll. 
"With any sport, if you want to be good, you have to practice a lot and put [in] a lot of time and dedication. It took away from my social life," Macachor said. "The low points were definitely the grind."
Along with the time she poured into the sport came the expectation, and growing pressure, that she would keep winning. 
"I've almost always placed at a tournament [after freshman year], so my parents have always seen me do well. So it's hard when I don't do well, because it's like I let people down. So ever since I started, there's always been a high expectation for me to be good," she said.
But the pressure hasn't taken away her love for the sport. With her last season behind her, Macachor will take the lessons she's learned into the next stage of her life. 
"This was the hardest thing I've ever done in my life," Macachor said. "I couldn't rely on anyone else. And even when I wanted to quit, I didn't, so I had to [have] a lot of endurance."